Smithsonian Celebrates Women's History Month
February 29, 2012
News Release
Addthis Share Tools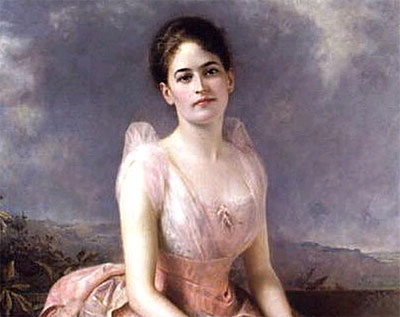 The Smithsonian celebrates Women's History Month in March with a series of films, lectures and performances at museums around the Institution. All programs are free unless otherwise indicated.
Feature Event
The Institution will kick off Women's History Month at the National Portrait Gallery Saturday, March 3, from 11:30 a.m. to 3 p.m., with its "Women's History Month Family Day: A Celebration of Innovation and Invention." The day includes a vintage Girl Scout uniform fashion show, presentations on women inventors, video interviews of audience members by teen videographers, musical performances and stamp-collecting activities.
Films
The National Museum of the American Indian will show Mohawk Girls (2005, 53 minutes) daily, except Wednesdays, at 3:30 p.m. through March. This documentary provides an insider's look at life on the Kahnawake reserve, located across the St. Lawrence River from Montreal. It tells the story of three young Mohawk women at the threshold of adulthood as they reveal their hopes and heartaches.
The Anacostia Community Museum will show Pray the Devil Back to Hell (2008, 72 minutes) Wednesday, March 21, at 7 p.m. This documentary tells the story of a group of courageous and visionary women who demanded peace for Liberia, a nation torn by a decades-old civil war. A discussion of the film will be lead by Emira Woods of the Institute for Policy Studies. Call (202) 633-4844 for reservations and information.
Lecture and Book Signing
The National Portrait Gallery will feature author Stacy Cordery, who will discuss her book, Juliette Gordon Low: The Remarkable Founder of the Girl Scouts, in the museum's Robert and Arlene Kogod Courtyard, Wednesday, March 14, at 6 p.m. Cordery will offer insight into the life of the woman whose legacy continues to inspire girls around the world. The author will also be available for book signing.
The Anacostia Community Museum will present artist Diana Baird N'Diaye, Smithsonian's Center for Folklife and Cultural Heritage curator, and aesthetic plastic surgeon Dr. Monte Harris, who will lead a community discussion on hair, health, heritage, identity and the "will to adorn." Participants are invited to share snapshots of their own cultural journeys through hairstyles. "Head's Up!" will be presented at the museum Sunday, March 4, at 2 p.m. The public may call (202) 633-4844 for reservations and information.
For Children
Through compelling story and beautiful dance, chant and song, performer Thirza Dafoe recreates the pioneering spirit of Sacagawea, the only woman in Lewis and Clark's cross-country expedition. "Sacagawea Sisters" will be presented at the National Museum of the American Indian's Rasmuson Theater Tuesday, March 13, and Wednesday, March 14, at 10:15 and 11:30 a.m. This program is recommended for children ages 7 and up. Tickets are required: adults, $8; children, $6; Resident Associate members, $5; children under 2 years old, $3. Call (202) 633-8700 or visit discoverytheater.org.
The National Air and Space Museum at the Steven F. Udvar-Hazy Center will present "Women in Aviation and Space" Saturday, March 24, from 10 a.m. to 3 p.m. In an event for the whole family, visitors will learn about the incredible contributions of women in aviation, science and aerospace. The day includes hands-on activities, guest speakers, a theatrical presentation, book signings and "Flights of Fancy Story Time" for the youngest visitors. The event is in partnership with the Girl Scouts and helps commemorate their 100th anniversary. It is free, but parking is $15.
Demonstrations
The Daughters of Dorcas & Sons Quilt Group will present a quilting demonstration at the Anacostia Community Museum Saturday, March 17, from 10:30 a.m. to 1 p.m. Participants will learn basic hand-quilting techniques, make small projects and add new quilt blocks to personal collections. No experience needed. Call (202) 633-4844 for reservations and information.
Exhibitions
The Smithsonian American Art Museum will offer a free tour of "Annie Liebovitz: Pilgrimage," an exhibition of photographs by Annie Liebovitz. The free tour is lead by museum docents; tour repeats every Wednesday in March at 12:30 p.m. Tour attendees should meet in the museum's F Street lobby. The exhibition is on view at the Smithsonian American Art Museum through May 20.
The National Museum of American History presents "The First Ladies," a permanent exhibition that explores the unofficial but important position of First Lady and the ways different women have shaped the role to make their own contributions to the presidential administrations and the nation. It features more than two dozen gowns from the Smithsonian's collection, including those worn by Frances Cleveland, Lou Hoover, Jacqueline Kennedy, Laura Bush and Michelle Obama. A section titled "Changing Times, Changing First Ladies" highlights the roles played by Dolley Madison, Mary Lincoln, Edith Roosevelt and Lady Bird Johnson.
All programs are subject to change. For more information about the Women's History Month programs, visit: www.SmithsonianEducation.org/Heritage or email heritagemonths@si.edu. For general Smithsonian information, the public may call (202) 633-1000.
# # #
SI-95-2012