Smithsonian Books Releases "Last Days of the Concorde"
Account of Historic Plane Crash Available Now
September 27, 2018
News Release
Addthis Share Tools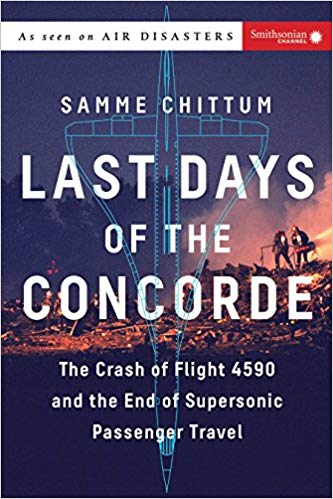 Smithsonian Books has released Last Days of the Concorde: The Crash of Flight 4590 and the End of Supersonic Passenger Travel, by journalist Samme Chittum. On July 25, 2000, a Concorde, the world's fastest passenger plane, took off from Charles de Gaulle airport in Paris and suddenly burst into flames. A revolutionary airliner capable of flying at more than twice the speed of sound, Concorde had completed 25 years of successful service, whisking wealthy passengers—from diplomats to rock stars to corporate titans—between continents on brief and glamorous flights. Yet on this fateful day, the chartered Concorde jet, en route to New York, crashed and killed all 109 passengers and crew onboard and four people on the ground.
Urgent questions arose as investigators on two continents worked to uncover what had gone wrong. What caused the fire? Could it have been prevented? And was Concorde still safe to fly? Last Days of the Concorde addresses these issues and many more, offering an insider's look at the development of supersonic jets, the crash, the hunt for clues and the question of whether faster-than-sound travel might ever again prove feasible in today's aviation industry.
About the Author
Chittum is a narrative journalist and Pulitzer Traveling Fellowship recipient who explores the intersection of current events and history. Her work has been published by the New York Times, New York Daily News, New York Post and Village Voice.
About the Book
Title: Last Days of the Concorde: The Crash of Flight 4590 and the End of Supersonic Passenger Travel
Author: Samme Chittum
On-Sale Date: 9/25/18
Price: $24.95 / Pages: 272
ISBN: 978-1-58834-629-2
Smithsonian Books
# # #
SI-523-2018