The Smithsonian Associates Presents May Program Highlights
May 1, 2015
News Release
Addthis Share Tools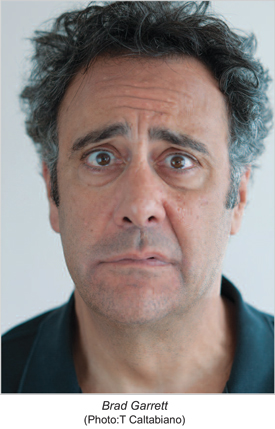 The May issue of the Smithsonian Associates' program guide features a variety of educational and cultural programs, including seminars, lectures, studio arts classes, performances for adults and children and local and regional study tours. Highlights this month include:
Brad Garrett: Laughing at Middle Age
Wednesday, May 6; 6:45 p.m. to 8:15 p.m.
Smithsonian's S. Dillon Ripley Center
Brad Garrett, best known for his role as Robert on Everybody Loves Raymond, sits down with Linda Holmes, editor of NPR's entertainment and pop culture blog Monkey See, for an evening of irreverent, laugh-out-loud honesty. He will advise the audience on how to best approach the dreaded "second half" of life. His book, When the Balls Drop (Simon and Schuster), will be available for signing.
Carmina Burana: The Cantata That Conquered the World
Wednesday, May 6; 7 p.m. to 8:30 p.m.
National Museum of the American Indian's Rasmuson Theater
Scott Tucker, artistic director of the Choral Arts Society of Washington, explores the musical structure, text and cultural history of Carmina Burana, one of the most frequently programmed works in concert halls around the world. He also discusses the motivations of its enigmatic composer. Musical examples are provided by recordings and live performances.
5-Star Design: Patrick O'Connell of the Inn at Little Washington
Thursday, May 7; 6:45 p.m. to 8:15 p.m.
Smithsonian's S. Dillon Ripley Center
Chef Patrick O'Connell shares the secrets behind the transformation of a humble garage into a spectacular country-house hotel in the foothills of the Blue Ridge Mountains. Andrea Mitchell of NBC News, who was married at the Inn, moderates the program. O'Connell's book, The Inn at Little Washington: A Magnificent Obsession (Rizzoli) will be available for signing.
The Lusitania: 100 Years Later
Thursday, May 7; 6:45 p.m. to 8:45 p.m.
Smithsonian's S. Dillon Ripley Center
To mark the centennial of the event, the new Smithsonian Channel documentary, Sinking the Lusitania: An American Tragedy, will be screened. The film draws heavily on the work of British historian Diana Preston, whose definitive book Lusitania: An Epic Tragedy (Bloomsbury) is being reissued for the centenary of the sinking. A discussion with Preston follows the film screening.
# # #
SI-216-2015