Smithsonian Associates Presents March Program Highlights
March 1, 2017
News Release
Addthis Share Tools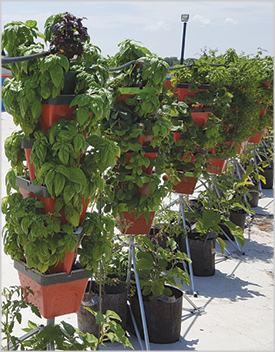 The March issue of the Smithsonian Associates' program guide features a variety of educational and cultural programs, including seminars, lectures, studio arts classes, performances for adults and children and local and regional study tours. Highlights this month include:
John Feinstein: Basketball, Legends, March Madness and More
Tuesday, March 7; 6:45 p.m. to 8:45 p.m.
Hirshhorn Museum and Sculpture Garden's Marion and Gustave Ring Auditorium
Sports writer John Feinstein shares stories from his newest book (on college basketball's fiercest rivalry among three North Carolina coaches), previews March Madness and talks with announcer Phil Hochberg about the sports world he knows so well.
Saturday, March 18; 1 p.m. to 3 p.m.
Smithsonian's S. Dillon Ripley Center
Vertical gardens are cropping up all over town, and can provide great inspirations for making one's own space-saving green dreams a reality. Participants learn about the principles, technologies and techniques of this unique approach to growing herbs, flowers and produce from two local urban-farming pros: Niraj Ray, founder of Cultivate the City, which works with urban farmers, community gardens and schools, and Mary Ackley, founder of the Washington, D.C., urban farm Little Wild Things, which specializes in microgreens, salad greens and edible flowers grown on plots of less than a quarter acre.
Emerson String Quartet 37th Season
Sunday, March 19; 6 p.m. to 8 p.m.
National Museum of Natural History's Baird Auditorium
The Grammy Award-winning ensemble (violinists Eugene Drucker and Philip Setzer, violist Lawrence Dutton and cellist Paul Watkins) offers a repertoire that includes masterworks by Mozart, Beethoven, Ravel, Berg, Debussy, Dvorak and other greats as well as Setzer's solo recital featuring pianist Hsin-Chiao Liao.
Physicist Lawrence Krauss: Why Are We Here?
Wednesday, March 22; 6:45 p.m. to 8:15 p.m.
National Museum of Natural History's Baird Auditorium
In his bestselling book, A Universe from Nothing, the internationally renowned theoretical physicist Lawrence Krauss revealed how the entire universe could arise from nothing. Now, Krauss draws on his blend of reason, rigorous research and engaging storytelling to present a dramatic story of the discovery of the hidden world of reality and the scientists who have helped to unravel its unexpected fabric.
# # #
SI-127-2017