Smithsonian Associates Presents "Diane Rehm: In Conversation"
February 23, 2017
News Release
Addthis Share Tools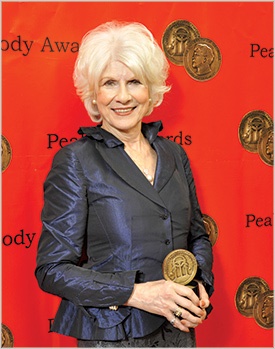 Smithsonian Associates presents an evening with NPR veteran broadcaster, Diane Rehm, Tuesday, March 28, at 6:45 p.m. in Baird Auditorium at the Smithsonian's National Museum of Natural History. In a wide-ranging conversation with NPR correspondent Tom Gjelten, the audience will learn a bit more about the person behind the radio voice.
At the helm of The Diane Rehm Show for 37 years, Rehm has interviewed prominent newsmakers, journalists and authors, including former Presidents Barack Obama, Bill Clinton and Jimmy Carter; former Vice President Dick Cheney; former secretaries of state Colin Powell and Hillary Clinton; retired Justice Sandra Day O'Connor; Nobel laureate and Pulitzer Prize-winning author Toni Morrison; and actors Cate Blanchett and Kevin Spacey. These are just a few of the interviews audiences have listened to over the years. Rehm has been named "Washingtonian of the Year," and one of the "150 Most Influential People in Washington" by Washingtonian magazine. In 2014, Obama presented her with the National Humanities Medal.
Ticket prices for the Smithsonian Associates' presentation are $40 for general admission and $30 for Associate members. Rehm's book On My Own (Knopf) will be available for sale and signing. For tickets and information, the public may call (202) 633-3030 or visit www.smithsonianassociates.org.
Smithsonian Associates—the largest museum-based education program in the world—produces vibrant educational and cultural programming inspired by the Smithsonian's research, collections and exhibitions. Each year more than 750 individual programs are presented to spark creativity and excite learning in people of all ages in the Washington, D.C., area and across the country. Smithsonian Associates brings the Smithsonian to life through seminars, performances, lectures, studio arts classes and local and regional study tours, as well as many engaging programs for children, including performances and summer day camps.
# # #
SI-121-2017