Smithsonian Associates Launches Inside Science Program Series
August 15, 2017
News Release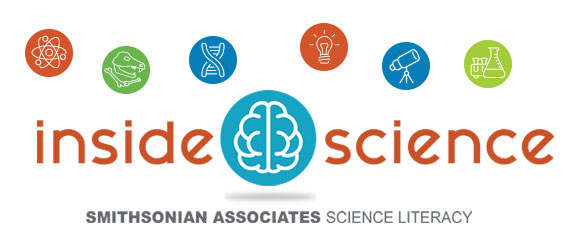 Smithsonian Associates presents Inside Science, a series of ongoing expert-led programming to help people expand their knowledge and understanding of science in all its forms. Participants will attend programs that expand and deepen their science literacy, have the opportunity to engage in a lively online learning exchange with like-minded individuals and earn digital badges through Moodle, the online learning platform. The kickoff event will take place Monday, Sept. 11, at the Smithsonian's S. Dillon Ripley Center.
For science fans or those curious about the world around them, Inside Science offers a valuable and rewarding way to better understand science in the context of their own lives. Programs led by Smithsonian specialists and other experts will cover topics including brain science, chemistry, environmental science, human biology, the universe, paleontology, physics and zoology. In addition to attending programs across a wide range of scientific topics and accessing the Inside Science online learning community through Moodle, participants will enjoy unique behind-the-scenes tours and attend special events. Registration for the series is free; tickets for participating programs are available for purchase individually. For tickets and information, the public may call (202) 633-3030 or visit www.smithsonianassociates.org.
Programs include:
Science in Our Lives
Monday, Sept. 11; 6:45 p.m.
Smithsonian's S. Dillon Ripley Center
With discoveries in topics ranging from the origins of the universe to the human microbiome rapidly unfolding, science is more important now than ever. In this kickoff event, geologist and science educator Callan Bentley analyzes why science—and science literacy—matters.
Poachers and Piano Keys: Cristián Samper on Elephants and the Ivory Trade
Thursday, Sept. 14; 6:45 p.m.
Smithsonian's S. Dillon Ripley Center
President and CEO of the Wildlife Conservation Society Cristián Samper explains the nuanced issues of elephant poaching, the ivory trade and the role museums and conservationists play in the protection of elephants and other ivory-producing species.
The Golden Age of Steam: Strasburg Rail Excursion and the Railroad Museum of Pennsylvania
Saturday, Sept. 16; 8:30 a.m. to 7 p.m.
All-day tour departs from the Holiday Inn Capitol at 550 C St. S.W.
Participants will climb on board with railroad historian Joseph Nevin for a steam train excursion through the Pennsylvania Dutch countryside and an afternoon at one of America's finest rail museums.
Animals on the Move: Following Digital Footprints
Wednesday, Sept. 20; 6:45 p.m.
Smithsonian's S. Dillon Ripley Center
Understanding the forces that set nature in motion is vital as efforts to maintain global diversity, map conservations hotspots, manage human-wildlife conflict and even monitor the spread of pandemic disease continue to face challenges. Participants will learn about the growing array of technologies, from drones to satellite tracking, that are behind a revolution in animal tracking today.
The Sputnik Years
Wednesday, Oct. 4; 6:45 p.m.
Smithsonian's S. Dillon Ripley Center
When a Russian rocket lofted Sputnik 1 into orbit on Oct. 4, 1957, the Space Age—and the Space Race—had begun. Explore the events leading up to Sputnik's launch, the political fallout that led to America's response (Explorer 1), the formation of NASA and the role that everyday citizens played in tracking the first satellites.
What Dinosaurs Tell Us
Thursday, Oct. 5; 6:45 p.m.
Smithsonian's S. Dillon Ripley Center
What can long-dead animals teach people? Plenty, according to paleontologist Kenneth Lacovara—including helping them to understand the planet's geological origins, the nature of deep time, the meaning of fossils and their place on Earth.
De-extinction: Genomic Engineering of Mammoth Proportions
Wednesday, Oct. 11; 6:45 p.m.
Smithsonian's S. Dillon Ripley Center
Geneticist George Church, one of the founders of the Human Genome Project, discusses how research into DNA sequencing might hold the key to bringing back the woolly mammoth. Author Ben Mezrich, who has chronicled the project in a book, and Scott Stossel, editor of The Atlantic, are part of the conversation.
Make the Most of Your Memory: The Science and Strategies You Need To Remember
Saturday, Oct. 14; 9:30 a.m. to 3:30 p.m.
Smithsonian's S. Dillon Ripley Center
Memory is critical to every insight and idea, and the better memory is, the better the mind functions. Peter Vishton, associate professor in the department of psychology at William and Mary, shares the science of how human memory functions and how people can enhance memory and reduce forgetfulness.
String Theory Explained
Tuesday, Oct. 17; 6:45 p.m.
Smithsonian's S. Dillon Ripley Center
In the last few decades, scientists have come to believe they have found the key that finally unlocks the secrets of the universe—dangling from something called string theory. Professor of physics Steven Gubser explains how string theory relates to the forces that drive the universe and also to the real world.
Mindshift: Learning How To Learn
Wednesday, Oct. 18; 6:45 p.m.
Smithsonian's S. Dillon Ripley Center
This evening, Barbara Oakley shares insights into how everyone can learn how to learn, no matter their age or stage of life.  Participants will walk away with practical tools based on solid research—and have fun along the way!
How the Brain Works
Tuesday, Oct. 24; 6:45 p.m.
Smithsonian's S. Dillon Ripley Center
Neuroscientist Moran Cerf looks at how the brain influences behavior, emotion, decision-making and dreams. He also offers a new perspective on how much free will people have.
Neuroscience and Art: A Creative Connection
Tuesday, Nov. 7 and 14; 10:30 a.m.
2-Session Daytime Course
Smithsonian's S. Dillon Ripley Center
Participants will merge recent findings on visual perception with familiar elements of art to discover how their landscape and still-life paintings can take on new and fresh creative edges.
Smithsonian Associates—the largest museum-based education program in the world—produces vibrant educational and cultural programming inspired by the Smithsonian's research, collections and exhibitions. Each year more than 750 individual programs are presented to spark creativity and excite learning in people of all ages in the Washington, D.C., area and across the country. Smithsonian Associates brings the Smithsonian to life through seminars, performances, lectures, studio arts classes and local and regional study tours, as well as many engaging programs for children, including performances and summer day camps.
# # #
SI-446-2017