Smithsonian Associates Announces 2020 Dates for "Smithsonian Sleepovers"
Thirteen Overnight Adventures Await Children at Three Smithsonian Museums
March 10, 2020
News Release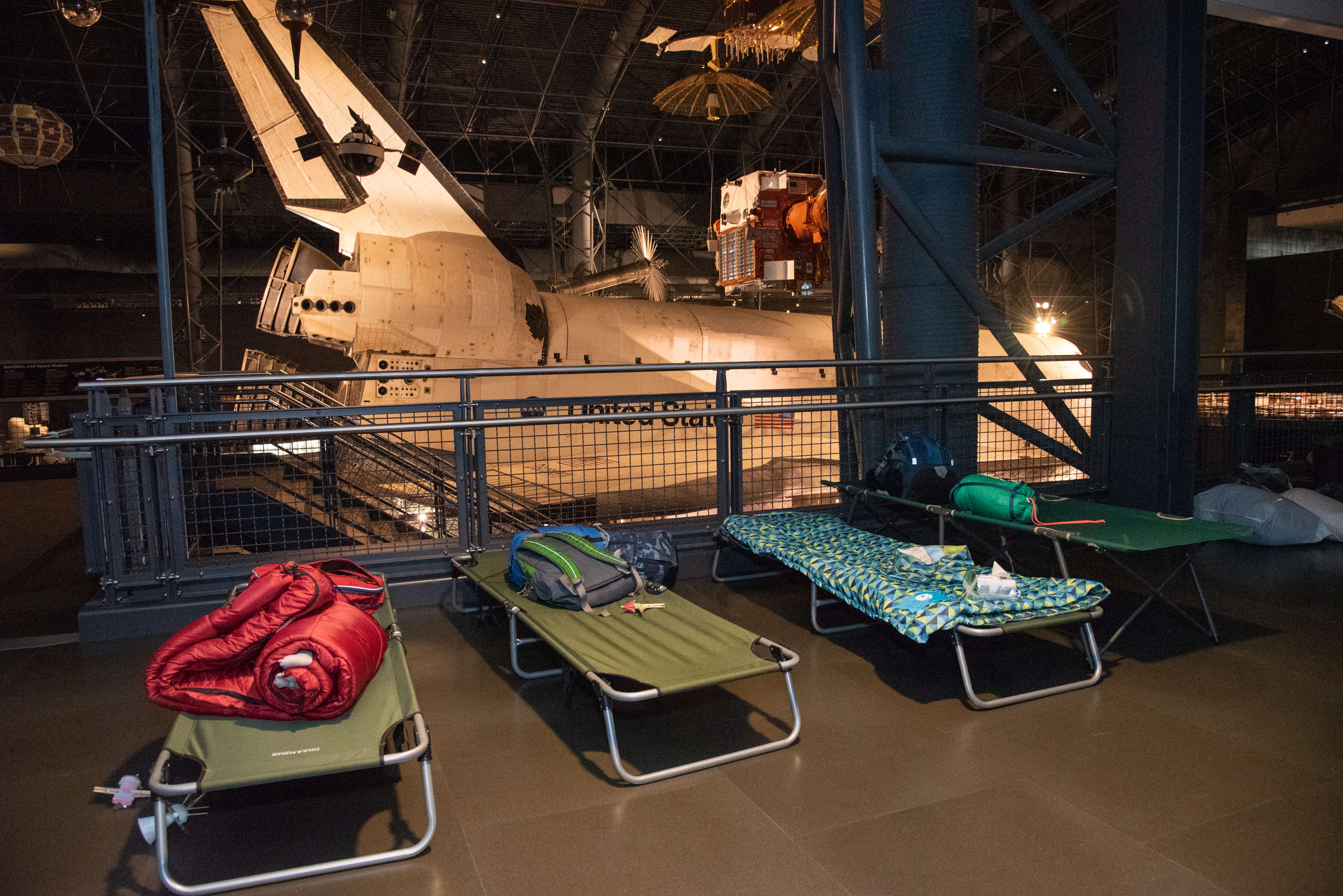 Smithsonian Associates presents real Night at the Museum experiences for children in the National Museum of Natural History, the National Museum of American History and the National Air and Space Museum's Steven F. Udvar-Hazy Center in Chantilly, Va. Sleepovers will be held from May through August beginning at 7 p.m. and ending at 8:45 a.m. the next morning. Children and their chaperones can choose their adventure, whether it is journeying back in time to discover a prehistoric world, taking a cross-country road trip or going on a mission to discover the world of flight. They will experience the museums in a whole new way during a night of fun that features demonstrations, games, crafts and more.
National Museum of Natural History Sleepovers
Sleepover guests will join a small group of fellow adventurers and wander into the new David H. Koch Hall of Fossils, where dinosaurs cast giant shadows. They will learn about Earth's past, discover the ocean's aquatic wonders and walk softly pass mysterious mammals—did that one blink? Guests enjoy hands-on crafts and games, and even learn how to eat like a T. rex. Then as the lights dim, they roll their sleeping bags out and dream away, knowing that Phoenix the whale is keeping watch throughout their night in the museum. Sleepovers at Natural History will be held May 9, May 22, June 19, July 17, Aug.7 and Aug. 14.
National Museum of American History Sleepovers
Participants will hit the road, cruising across America to explore national treasures both big and small. They will travel from sea to shining sea, uncovering fascinating stories behind the American History Museum's collection—and so much more. Sleepover guests enjoy a night of games, hands-on activities and crafts that shine a light on American history and discover some unique roadside attractions along the way. Sleepovers at American History will be held June 6, June 26, July 24 and Aug. 28.
National Air and Space Museum's Steven F. Udvar Hazy Center Sleepovers
Kids and their chaperones will explore the whole world of flight, from its pioneering days through the era of commercial aviation to the excitement of today's space program. After they grab a flight checklist, they will take off for a night that includes plenty of games, art activities and close-up looks at some of the most historic and fascinating aircraft ever to take to the skies. Udvar-Hazy Center staff are on hand to offer information and insights about the aviation treasures on view. Sleepovers at the Udvar-Hazy Center will be held July 11, Aug. 1 and Aug. 22.
Children ages 8 to 14 may participate in sleepovers. There must be at least one adult for every four children in any group that registers. Chaperones must be 21 years or older. No adults without children. All participants must pre-register by calling (202) 633-3030 or visiting www.smithsoniansleepovers.org or the Smithsonian Associates box office located in the S. Dillon Ripley Center at 1100 Jefferson Dr. SW, Suite 3077.
Ticket prices are $120 for general admission and $100 for Smithsonian Associate members. The price includes exclusive access and activities in the museum, an evening snack, interactive exploration, arts and crafts activities and a light breakfast. T-shirts are available for purchase while at the sleepover. Reduced rates are available for groups of 10 people or more and for military families.
For more than 50 years, Smithsonian Associates—the largest museum-based education program in the world—has produced vibrant educational and cultural programming that brings the Smithsonian to life. Inspired by the Smithsonian's research, collections, and exhibitions, each year nearly 1,000 public programs spark creativity and excite learning in people of all ages.
# # #
SI-99-20