Smithsonian Asian Pacific American Center Presents Bravespace
New Music Compilation Featuring Over a Dozen Asian American Artists Reflecting on Meditation, Mindfulness and Collective Healing
January 9, 2023
News Release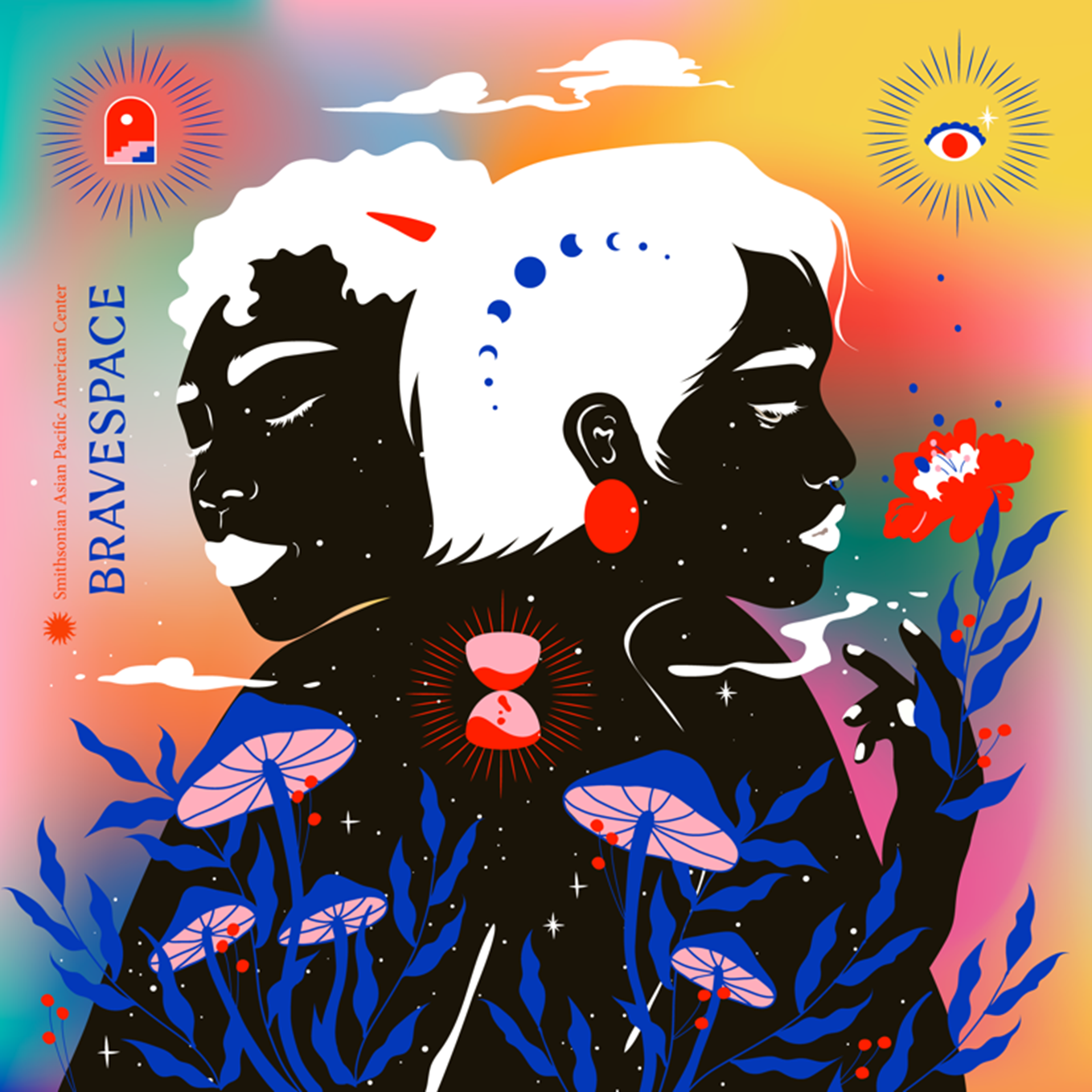 The Smithsonian Asian Pacific American Center (APAC) has released Bravespace, a compilation of original songs, sounds and meditations created by Asian American women and non-binary artists and musicians. Arriving amidst a period of collective trauma and heightened xenophobic violence, Bravespace offers listeners a refuge for contemplation, grief and growth. 
Released Jan. 6, Bravespace is available as an album across digital music streaming platforms including Spotify, Apple Music, Tidal, YouTube Music, Pandora and Amazon Music.
"During the pandemic period, so many people gravitated to meditation and mindfulness practices, which are often rooted in Asian traditions such as qigong and ayurveda," said Adriel Luis, APAC's curator of digital and emerging practice. "Bravespace sheds much-needed light on how these are not merely trends, but instead come from rich cultural histories. By deepening this understanding, we can find healing for ourselves and our society."
Bravespace demonstrates how Asian Americans have played a critical role in America's notion of mindfulness and healing arts. It features seasoned and emerging artists who are celebrated in a wide array of genres and disciplines, including Low Leaf, MILCK, Arushi Jain, Ana Roxanne, mayx, Chong the Nomad, Hollis, Erika Shimizu, JusMoni, Kwonyin and Our Daughter, with original illustrations and animations by acclaimed visual artist Amanda Phingbodhipakkiya. Commissioned at the beginning of the 2020 COVID-19 lockdown, APAC spent almost three years collaborating with these musicians, artists and cultural practitioners to vividly capture how an intensely challenging moment could lead to personal discovery and collective healing. Bravespace, which received critical support from the Smithsonian American Women's History Initiative, adds complexity to the greater landscape of meditation and healing arts tools by centering perspectives that have long been marginalized. 
Throughout 2023, APAC will unveil additional ways for the public to interact with Bravespace. For more information, visit the center's website.
About the Smithsonian Asian Pacific American Center
The Smithsonian Asian Pacific American Center (APAC) was founded in 1997 as a mission-critical initiative to further the inclusion of Asian Pacific Americans across the Smithsonian's collections, research, exhibitions and programs. Having celebrated its 25th year in 2022, APAC is focused on building a national program supporting K–12 education and a future gallery on the National Mall. Follow APAC on Twitter and Instagram: @SmithsonianAPA.
# # #
SI-4-2023