Smithsonian Asian-Latino Festival Explores Cultural Intersections
Public Programs Begin July 24
July 10, 2013
News Release
Addthis Share Tools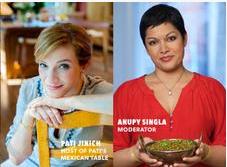 To celebrate the cultural intersections of Asian Americans and Latinos, the two fastest growing populations in the United States, the Smithsonian Asian Pacific American Center and the Smithsonian Latino Center are collaborating on a monthlong series of activities, including three public programs and an innovative social media campaign.
The public programs begin July 24 with "Gourmet Intersections: Asian-Latino Food Crossings," a lively discussion about the changing shape of shared food traditions in the home and in the restaurant industry. Panelists include Cristeta Comerford, White House executive chef; Trevor Corson, Iron Chef America judge and author; and Pati Jinich, host of the PBS show Pati's Mexican Table. The program will be moderated by Anupy Singla, cookbook author and founder of "Indian as Apple Pie." This July 24 program is sold out, but the public may view the event live via a webcast at http://bit.ly/apawebcast. The webcast will go live at 6:45 p.m. the evening of the event.
Next in the series is the two-day program "Art Intersections: An Asian-Latino Pop-up Gallery" Aug. 6-7, which will project the visual stories of Asian-Latino shared culture onto the canvas of downtown Silver Spring, Md. Home to a diverse range of immigrant communities, Silver Spring is the perfect site to explore how cultures overlap with and change one another.
The festival will also feature a social media campaign running through July and early August that creates a national visual experience of Asian-Latino intersections in food. The campaign will gather images, video and links to stories of how food traditions chart, preserve and reimagine shared cultural identities. The campaign will also feature a microsite (http://gourmetintersections.com) highlighting a different Korean/Asian American taco truck in 7–10 cities. The public may also visit http://apa.si.edu/asianlatino/ for more information on all festival activities.
A full listing of events and activities follows:

Social Media Campaign

Gourmet Intersections
July 8-Aug. 9
Facebook, Twitter, APAC microsite
A group of "all-star" Guest Posters—food bloggers, chefs, restaurateurs, food truck entrepreneurs and food scholars—via Facebook, Twitter and a special "Korean Food Truck Microsite" will build a social media map of Asian-Latino food cultures, telling shared stories through food. The microsite will include a page for each truck featuring a narrative description, a spotlight on how each truck is made unique by its regional location, the communities it serves and its particular blending of Asian and Latino food and food cultures.

Panel Discussion

Gourmet Intersections: Asian-Latino Food Crossings
July 24; 7-8 p.m.; book signing 8-8:30 p.m.
Rasmuson Theater, National Museum of the American Indian
"Asian-Latino Fusion" has been a popular restaurant industry concept for more than two decades. But Asian and Latino food cultures have a much longer and richer history of intersection, stretching from the farm to the home table, from the mercado to the food truck. "Gourmet Intersections: Asian-Latino Food Crossings" considers Asian-Latino food traditions through a broad lens, tracing connections across a range of histories, geographies and cultures.

Art Performance

Program 1: Art Intersections: Asian-Latino Pop-up Gallery
Aug. 6; 8-10 p.m.
Veterans Plaza, Silver Spring

Program 2: Art Intersections: Asian-Latino Pop-up Gallery
Aug. 7; 8-10 p.m.
Veterans Plaza, Silver Spring
Asian-Latino intersections frequently emerge in urban spaces, and so street art is often the visual record of these connections—and a way of reimagining the shapes and boundaries of cultures and cities alike. The shows will be staged in downtown Silver Spring and will feature work and curation by a range of celebrated artists exploring Asian-Latino intersections, including Eric Nakamura, Shizu Saldamando, Lalo Alcaraz, Adriel Luis, Albert Reyes, Ana Serrano, Clement Hanami, kozyndan, Favianna Rodriguez, Mia Nakano, Steve Alfaro, Studio Revolt and Monica Ramos.
# # #
SI-278-2013