Smithsonian American Art Museum Reexamines Narratives of the American West in Major Exhibition Bringing Together Works by 48 Contemporary Artists
Only Venue on the National Tour Located East of the Rocky Mountains
July 28, 2023
News Release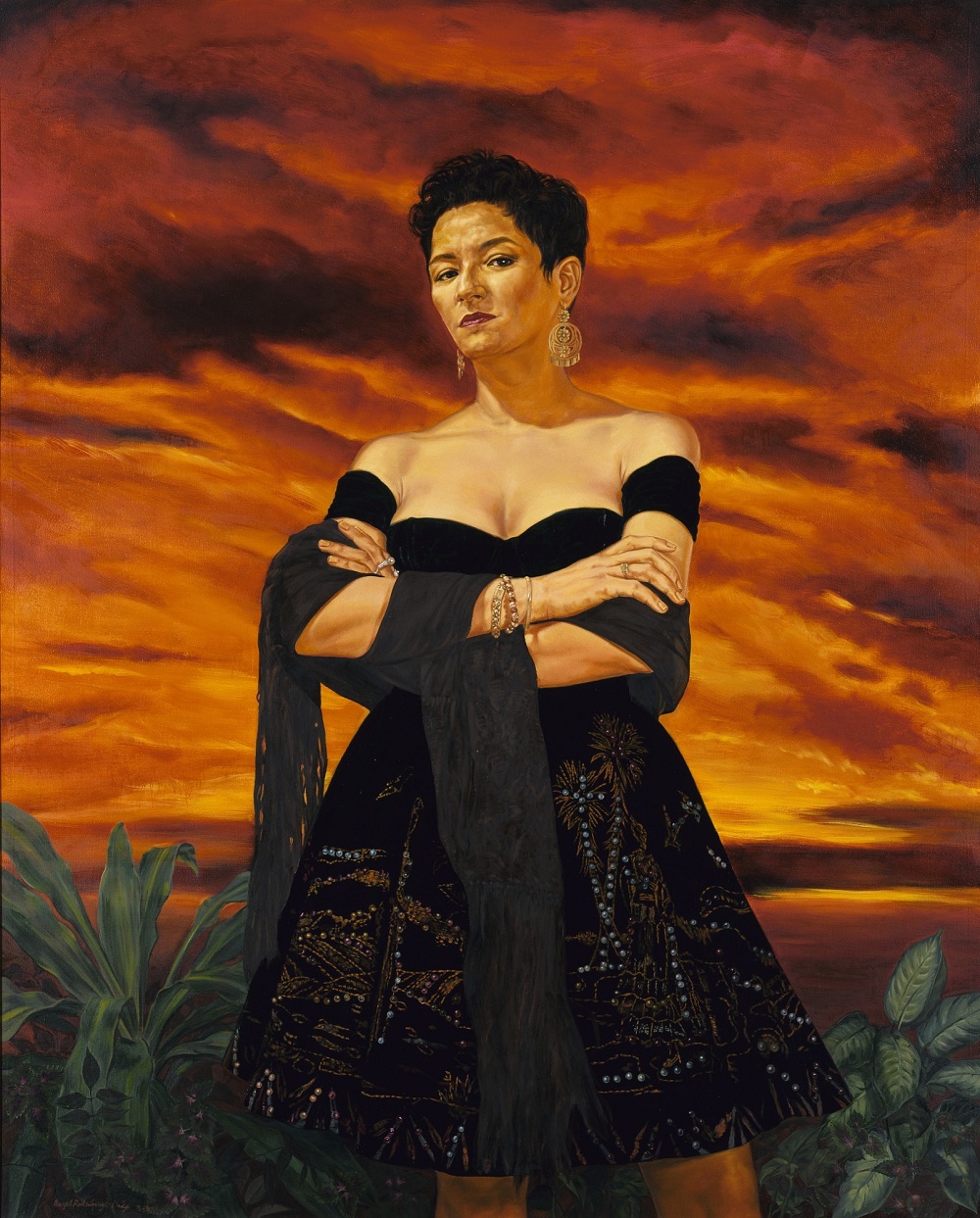 Commonly accepted ideas about the American West, both in popular culture and in dominant historical narratives, are often based on a past that never was. They frequently diminish, if not overlook entirely, important viewpoints and experiences. "Many Wests: Artists Shape an American Idea," opening July 28, offers counterviews of "the West" through the perspectives of 48 modern and contemporary artists especially those who identify as Asian American, Black, Indigenous, LGBTQ+ and Latinx who offer a broader and more inclusive view of this region. Their artworks question old and sometimes racist clichés, examine tragic and sidelined histories, and illuminate the multiple communities and events that contribute to the past and present of this region of the United States.
The Smithsonian American Art Museum is the final stop on the highly acclaimed national tour. "Many Wests" is on view from July 28 through Jan. 14, 2024. Anne Hyland, curatorial assistant and coordinator for the Art Bridges Cohort Program, organized the presentation in Washington, D.C.
The exhibition is the culmination of a multi-year Art Bridges Initiative organized by the Smithsonian American Art Museum. Since 2019, the museum has partnered with four museums located in some of the fastest-growing cities and states in the Western region of the United States—the Boise Art Museum in Idaho; the Utah Museum of Fine Arts in Salt Lake City; the Jordan Schnitzer Museum of Art in Eugene, Oregon; and the Whatcom Museum in Bellingham, Washington. "Many Wests" brings together artworks from the permanent collections of all five museums.
The team that organized the exhibition includes Amy Chaloupka, curator of art, Whatcom Museum; Melanie Fales, executive director and chief executive officer, Boise Art Museum; Danielle Knapp, McCosh Curator, Jordan Schnitzer Museum of Art, University of Oregon; E. Carmen Ramos, former curator of Latinx art and Art Bridges Initiative project director, Smithsonian American Art Museum; Whitney Tassie, senior curator and curator of modern and contemporary art, Utah Museum of Fine Arts; and Hyland. 
"This nationally touring exhibition, organized through a deeply collaborative process with our colleagues, shows how art can help us reflect on history, examine the present and envision a more inclusive future," said Stephanie Stebich, the Margaret and Terry Stent Director of the Smithsonian American Art Museum. "Thanks to the generous support and encouragement from Art Bridges to think differently about how art is seen in communities across the United States, we believe this as a model for both collection sharing and better understanding the rich and varied, and sometimes contradictory, stories of the American people and their histories."  
The exhibition's three sections—"Caretakers," "Memory Makers" and "Boundary Breakers"—highlight the various ways artists challenge mythic conceptions of the American West, often demonstrating the resilience of marginalized communities. They reveal that "the West" has always been a place of many stories, experiences and cultures. Working in various media, from painting and sculpture to photography and mixed media, the artists featured in the exhibition bring a nuanced and multifaceted history into view.
"Caretakers" examines how artists can redefine what it means to take care of themselves, their communities and their futures. Featured artists include Ka'ila Farrell-Smith (Klamath Modoc), Awa Tsireh/Alfonso Roybal (San Ildefonso Pueblo), Miguel Gandert and Marie Watt (Seneca). Through their work, these artists demonstrate a commitment to the stewardship of land, history, language and culture. They draw upon personal narratives, communal ties and collective experience in the American West to honor the past and shape legacies for generations to come.
"Memory Makers" explores how artists act as transmitters of cultural memory as they bring forth neglected histories of the West through their work. Featured artists include Jacob Lawrence, Roger Shimomura, Christina Fernandez and others who go beyond the familiar accounts of European settlers and bring to light lived histories and identities that are essential to a truthful history.
"Boundary Breakers" highlights artists that unsettle common beliefs that inform the popular understanding of the American West. Their representations break away from myths and assert their continued presence despite centuries of omission and erasure by mainstream culture. They question simplified notions of identity, affirm their lived experiences and refute romanticized imagery. Featured artists include Angela Ellsworth, Raphael Montañez Ortiz and Angel Rodríguez-Díaz.
Featured Artists
Laura Aguilar, Neal Ambrose-Smith, Alfredo Arreguin, Rick Bartow, Melissa Bob (Lummi), Michael Brophy, Jason Elliot Clark, Juan de Dios Mora, Marita Dingus, Angela Ellsworth, Marcos Ramírez ERRE, Ka'ila Farrell-Smith, Christina Fernandez, Sandra C. Fernández, Miguel A. Gandert, Tony Gleaton, Ken Gonzales-Day, James Lavadour, Jacob Lawrence, Hung Liu, V. Maldonado, Wendy Maruyama, Delilah Montoya, Patrick Nagatani, Raphael Montañez Ortiz, Wendy Red Star (Apsáalooke/Crow), Al Rendón, Angel Rodríguez-Díaz, Fritz Scholder, Roger Shimomura, David Taylor, Barbara Earl Thomas, Rubén Trejo, Gail Tremblay, Awa Tsireh, also known as Alfonso Roybal (San Ildefonso Pueblo), George Tsutakawa and Marie Watt (Seneca).
Virtual and In-Person Public Programs
Museum staff have organized a series of free and ticketed public programs in conjunction with the exhibition. Gallery talks include Zoe Weldon-Yochim, a Douglass Foundation Predoctoral Fellow at the museum, discussing Patrick Nagatani's "Trinity Site, Jornada Del Muerto, New Mexico" from the series "Nuclear Enchantments" Friday, July 28, at 12:15 p.m.; and Hyland will take visitors on an exhibition tour Friday, Sept. 22, at 12:30 p.m.
Artist and scholar Debra Yepa-Pappan (Jemez Pueblo and Korean) presents the second lecture in the Smithsonian American Art Museum's annual Clarice Smith Distinguished Lecture Series Wednesday, Oct. 11, at 6:30 p.m. ET. She was an important voice in shaping the "Many Wests" exhibition. The lecture is virtual and in person; registration is required.
A virtual panel discussion with representatives from each partner museum will take place Thursday, Oct. 26, at 7 p.m. ET. Registration is required. Hyland will discuss the exhibition Wednesday, Nov. 29, at 6:45 p.m. in the museum's McEvoy Auditorium. This program is presented in partnership with Smithsonian Associates. Tickets are required ($20 for Associates members and $25 for nonmembers).
Details about these programs and additional events are available on the museum's website.
Credit
"Many Wests: Artists Shape an American Idea" is one in a series of American art exhibitions created through a multi-year, multi-institutional partnership formed by the Smithsonian American Art Museum as part of the Art Bridges Cohort Program.
About the Smithsonian American Art Museum
The Smithsonian American Art Museum is the flagship museum in the United States for American art and craft. It is home to one of the most significant and inclusive collections of American art in the world. The museum's main building, located at Eighth and G streets N.W., is open daily from 11:30 a.m. to 7 p.m. The museum's Renwick Gallery, a branch museum dedicated to contemporary craft, is located on Pennsylvania Avenue at 17th Street N.W. and is open daily from 10 a.m. to 5:30 p.m. Check online for current hours and admission information. Admission is free. Follow the museum on Facebook, Instagram, Twitter and YouTube. Smithsonian information: (202) 633-1000. Museum information (recorded): (202) 633-7970. Website: americanart.si.edu.
# # #
SI-229-2023