Smithsonian Affiliations Celebrates 20th Anniversary in 2016
Celebrating 20 Years of the "Smithsonian in Your Neighborhood"
October 20, 2015
News Release
Addthis Share Tools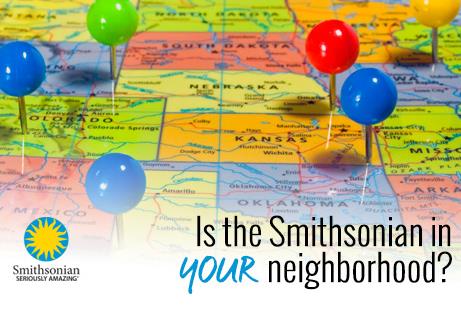 Twenty years ago, during the 150th anniversary celebration of the Smithsonian Institution, Secretary I. Michael Heyman announced the creation of a national outreach program that would extend the reach of the Smithsonian collections to communities, museums and research organizations across the nation. To fulfill the Smithsonian's mission for the "increase and diffusion of knowledge," Smithsonian Affiliations was created to provide access to Smithsonian collections and vast resources. The program's goal was to make sure those who cannot travel to Washington, D.C., could experience and enjoy the Smithsonian in their own neighborhoods.
At the end of its first year, Smithsonian Affiliations welcomed 21 museums as Affiliates. Today, the program has established partnerships with more than 200 organizations in 45 states, Puerto Rico and Panama.
Through the Smithsonian Affiliations program and the participation of all of the Smithsonian's museums, more than 8,000 items have been loaned and displayed at Affiliate locations. These loans include iconic national treasures and other artifacts, artworks and scientific specimens that reflect the heritage and history of American communities. The Apollo 13 space craft, Superman's costume, Albert Einstein's pipe, boxing gloves worn by Joe Louis, sculptures and paintings from the Smithsonian art museums and ethnographic and mineral collections are among the many items that the Smithsonian has shared through its Affiliations program.
Smithsonian Affiliate museums have hosted more than 350 traveling exhibitions, all drawing on the diverse interests of the Smithsonian, from art to zoo. In addition, Smithsonian Affiliations has expanded the educational outreach of the Smithsonian through youth-engagement projects that include collecting oral histories in Asian American communities, creating astrophotography art projects using Smithsonian telescopes and documenting wildlife in backyards.
The 20th-anniversary year will continue with programs and exhibitions opening in Affiliate communities across the U.S. The culminating event will be the Smithsonian Affiliations National Conference, Oct. 17–20, 2016.
"The Smithsonian is an endless place of discovery and inspiration," said Harold A. Closter, Smithsonian Affiliations director. "We are honored to share our collections and programs with so many people, especially those unable to visit us in person. Through our Affiliate partners, we reach millions of people, giving them an opportunity to experience to the seriously amazing work that goes on at the Smithsonian every day."
Social media followers are invited to share their Smithsonian in Your Neighborhood highlights by using the hashtag #SIYN20 on Instagram, Twitter and Facebook.
About Smithsonian Affiliations
Established in 1996, Smithsonian Affiliations is a national outreach program that develops long-term collaborative partnerships with museums, educational and cultural organizations to enrich communities with Smithsonian resources. The long-term goal of Smithsonian Affiliations is to facilitate a two-way relationship among Affiliate organizations and the Smithsonian Institution to increase discovery and inspire lifelong learning in communities across America. More information about the Smithsonian Affiliations program and Affiliate activity is available at www.affiliations.si.edu.
# # #
SI-452-2015