Smithsonian Acquires Several Important Archives
November 29, 2010
News Release
Addthis Share Tools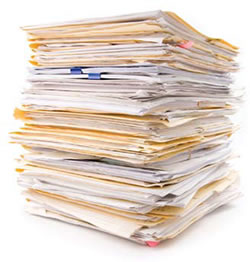 The Smithsonian's Archives of American Art has recently acquired the records of the influential Holly Solomon Gallery, the papers of conceptual and installation artist David Ireland and the records of the Galerie Darthea Speyer. Collectively totaling close to 275 linear feet of primary-source material, these archives will be processed, preserved and made available for public research.
"The Archives of American Art is thrilled to add these three new, highly important collections to our holdings," said John Smith, director of the Archives. "Each occupies a unique place in the history of art, and their individual visions have had a tremendous influence in expanding and fostering a greater appreciation and understanding of contemporary art and culture."
The Holly Solomon Gallery records document the history and business of this groundbreaking gallery from its SoHo opening in 1975 until Solomon's death in 2002. Included are significant records of 98 Greene Street Loft and rich correspondence with the artists whom Solomon championed, including Valerie Jaudon, Gordon Matta-Clark, Nam June Paik and William Wegman. Researchers will also find photographs, printed material and an extensive collection of audiovisual material recorded at openings, parties and performances.
Born Hollis Dworken in Bridgeport, Conn., in 1934, Solomon attended Vassar College and Sarah Lawrence College. Her early ambitions included a career in acting, but after marrying Horace Solomon, her interest in collecting art took center stage. After amassing an impressive collection of pop art, the Solomons established themselves as dealers. Solomon was a glamorous fixture of the New York art scene during a critical transition period in the art market. The scope and depth of these gallery records will provide historians and scholars unparalleled insight into an era critical to the development of art history and visual culture. The collection came as a gift from Thomas and John Solomon.
Ireland, born in Bellingham, Wash., in 1930, earned a degree in printmaking from the California College of Arts and Crafts. After a brief stint in the military, he founded Hunter Africa, an artifacts import concern, later expanded to include guided African safaris. In 1970, Ireland turned his attention to a career as an artist. He received a graduate degree from the San Francisco Art Institute in the mid-1970s and soon found himself at the center of the Bay Area conceptual movement. Ireland's masterpiece is his Victorian home he bought in 1975 at 500 Capp Street in San Francisco's Mission District. Over the next 30 years, Ireland transformed this dilapidated structure into an ever-evolving installation piece. He also won commissions for installations around the world using cement, plaster, discarded objects and even materials harvested from the structures housing his installations to shed light on the curious archaeology of built environments, their passage through time and the many signs of human habitation that mark them.
Ireland's papers include photographs, drawings, notes, project files, correspondence, daybooks and audiovisual material. The collection, which spans from 1936 to 2004, is particularly rich in installation photographs and correspondence. Noteworthy correspondents include Ann Hamilton, Paul Kos, Tom Marioni and Martin Puryear.
The Galerie Darthea Speyer records contain photographs, correspondence and business records from its opening in 1968 until it closed in 2009. After working in France for the U.S. Information Service during World War II, Speyer, a Pittsburgh native, permanently relocated to Paris, where she help to found the American Cultural Center to showcase the work of important American artists such as Léon Golub and Beauford Delaney. She launched her own gallery in 1968 with the landmark exhibition "Twelve Americans," which included John Marin, Jackson Pollock and David Smith. Over the next 40 years Speyer remained a powerful advocate for American artists in the European market.
The Smithsonian's Archives of American Art is the world's pre-eminent resource dedicated to collecting and preserving the papers and primary records of the visual arts in America. For more information visit the Archives' website http://aaa.si.edu.
# # #
SI-488-2010