Satisfy Your Curiosity about Mars at the National Air and Space Museum's "Mars Day!" July 13
June 27, 2012
News Release
Addthis Share Tools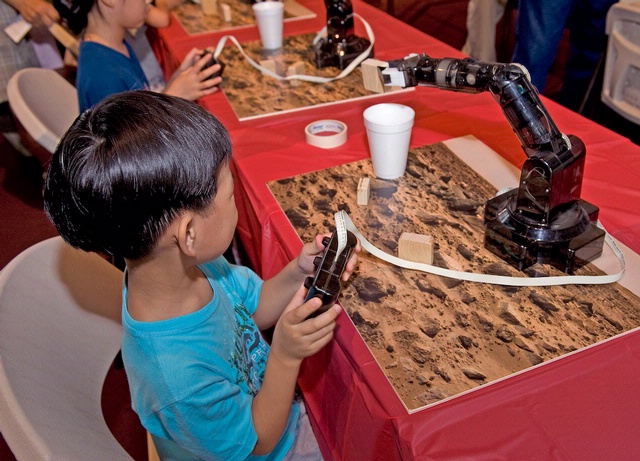 In preparation for the Aug. 6 landing of the Mars Science Laboratory's Curiosity rover at Mars' Gale crater, future astronauts, scientists and armchair space travelers are invited to the National Air and Space Museum July 13 for "Mars Day!" to learn all they need to know about the "Red Planet" so they can out-geek their friends and impress their coworkers.
Mars Day! will take place from 10 a.m. to 3 p.m. at the museum's National Mall building and feature presentations and fun family activities throughout the museum. Presented by the museum's Center for Earth and Planetary Studies, this annual event enables visitors to interact with staff scientists and experts from the Smithsonian's National Museum of Natural History and NASA.
Visitors who are curious about Curiosity will have the opportunity to ask Mars Science Laboratory science team member John Grant about the mission's goals and the new high-tech equipment on the rover, they can tour Mars landing sites with the museum's Google Earth Station and learn about the rocks and minerals Curiosity may find in Gale Crater with planetary geologist Jim Zimbelman.
Additional Mars Day! displays and activities include:
Presentations from NASA's Planetary Science Division director Jim Green and Doug McCuistion, director of the Mars Exploration Program, about missions of exploration
Planetary geologist Ross Irwin will talk about the history of water on Mars
Mars Radar—Visitors can learn how to see beneath the surface of Mars with planetary geophysicist Bruce Campbell
Mars on Earth—Planetary geologist Bob Craddock will talk about geologic features that are common to both Earth and Mars and what can be learned from them
Mars art and story times for kids
A full-scale model of the Mars Exploration Rovers currently operating on Mars and information about the ongoing mission with planetary geologist Ross Irwin
MARSIS—Planetary scientist Tom Watters will talk about radar mapping of Mars on the European Mars Express mission
Polar Places—Visitors will learn about the Martian polar regions and how Antarctica can be a laboratory for studying Mars, with planetary scientists Maria Banks, Gareth Morgan and Michelle Selvans
Red Planet Quiz Show with Martian of Ceremonies Meghan McCarthy
Views of the surface of Mars in 3-D and detailed high-resolution images straight from the Mars Reconnaissance Orbiter
An actual Mars meteorite from the National Museum of Natural History
Robot Explorers, a hands-on activity that allows visitors to maneuver small robots
An informative planetarium show will display Mars as seen from Earth and from orbit
For more information visit the Mars Day! website.
Mars Day! is held annually to mark the July 1976 landing of Viking 1, the first spacecraft to operate on Mars. A test version of Viking 1 is displayed in the Milestones of Flight gallery at the museum's building in Washington. This year's program is made possible by the support of BAE Systems.
The National Air and Space Museum is on the National Mall in Washington, D.C., at Sixth Street and Independence Avenue S.W. The museum's Steven F. Udvar-Hazy Center is located in Chantilly, Va., near Washington Dulles International Airport. Both facilities are open daily from 10 a.m. until 5:30 p.m. (closed Dec. 25). Admission is free, but there is a $15 fee for parking at the Udvar-Hazy Center.
# # #
SI-305-2012