Quileute Nation Reveals Wolf Tales and History Not Depicted in the Twilight Saga
Tribe's Heritage Does Not Include Werewolves
December 16, 2011
News Release
Addthis Share Tools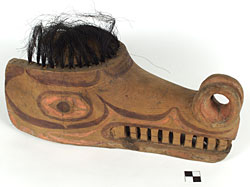 "Behind the Scenes: The Real Story of the Quileute Wolves" is an exhibition at the Smithsonian's National Museum of the American Indian that brings together rare works of Quileute art as a counterpoint to the supernatural storyline depicted in the popular Twilight books and movies. Opening Jan. 13, 2012, the exhibition will be on view through May 9, 2012, in the museum's second-level Sealaska Gallery.
The exhibition showcases 23 objects, including elaborate wolf headdresses, rattles, baskets and a whale-bone dance club. Historic drawings created by Quileute teens who attended the Quileute Day School at Mora, near La Push, Wash., from 1905 through 1908, depict activities, including wolf ritual dances and shamanistic performances, house posts that were part of the Potlatch Hall and a whaling scene that shows a crew of eight men coming alongside a whale in their cedar canoe.
Visitors will be able to learn more about Quileute ritual life and the five secret societies that maintained balance between the human and spirit realms, including the Wolf society for warriors, the Fisherman's society for fisherman and sealers, the Hunter's or Elk society for land-animal hunters, the Whale Hunters and the Weatherman's Society, who predicted the weather. Whaling was an important but dangerous endeavor as the giant sea mammals where hunted on the open ocean from 35-foot dugout canoes.
The exhibition also includes a map of Quileute language place names of the modern village and the vast aboriginal territories stretching from the ocean to the Olympic Mountains, a timeline of Quileute history and a 12-minute looped video that illuminates the history and oral and cultural traditions through interviews with tribal members and teens as they describe the phenomenon and effect of the Twilight films in their own words.
Replicas of items used in the Twilight films include a paddle necklace worn by the character Emily portrayed by actor Tinsel Korey, a traditional Quileute hand drum that hangs in Emily's house, a shell necklace of Olivella shells that was on the wall of her house and the dream catcher that Jacob gives to Bella as a gift.
During the exhibition's opening weekend, Quileute tribal member and one of only two fluent speakers left in the tribe, Chris Morganroth III, will tell traditional stories for kids and families in the museum's imagiNATIONS Activity Center at 1:30 p.m. as well as presenting Quileute culture and stories in the Rasmuson Theater at 11 a.m. and 3 p.m. during the Native Storytelling Festival, Saturday and Sunday, Jan. 14 and 15.
This exhibition was organized by the Quileute Nation and the Seattle Art Museum, where it was on view August 2010 through August 2011.
# # #
SI-537-2011