Portraits Created from Rice, Glitter, Thread and Video Included in the National Portrait Gallery's "Outwin Boochever Portrait Competition 2013"
October 12, 2012
News Release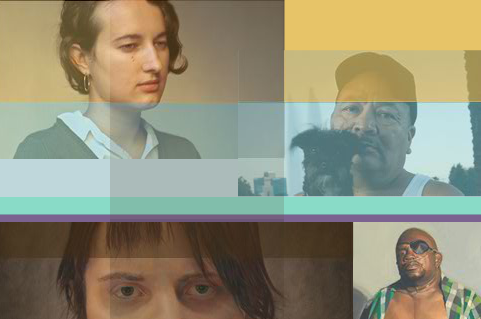 The Smithsonian's National Portrait Gallery has selected the portraits that will be included in the "Outwin Boochever Portrait Competition." The juried exhibition includes 48 works created from traditional media like oil paintings, drawings and photographs as well as more surprising materials such as rice, glitter, thread and video. The exhibition will be on view from March 23, 2013, through Feb. 23, 2014.
Of these pieces, submitted by artists from across the nation, seven were selected for the short list. Each of these seven artists will win cash awards, and the first prize will include an award of $25,000 and a commission to create a portrait of a living individual for the museum's permanent collection. The prizes will be announced in a private event March 22. A list of the artists included in the show follows at the end of this release.
"The vision of Virginia Outwin Boochever was to increase awareness about portraiture as a vibrant art form," said Wendy Wick Reaves, interim director of the museum. "I think that this installation will dazzle people with the wide variety of materials used to make portraits."
The competition received more than 3,000 entries in a variety of visual arts media. Submissions included digital animation and video, large-scale drawings, prints, photographs, textiles, as well as painted and sculpted portraits. It was open to artists working in the United States who had created portraits after Jan. 1, 2010, in any visual art form.
External jurors for the competition were critic Peter Frank, artist Hung Liu, art historian Richard Powell, photographer Alec Soth, and National Portrait Gallery staff Brandon Brame Fortune, chief curator, Dorothy Moss, assistant curator of painting and sculpture, and Reaves.
The exhibition will be accompanied by a publication illustrating each of the 48 finalists' works. It includes an essay by Mary Sherriff, the W.R. Kenan, Jr. distinguished Professor of Art History at the University of North Carolina, Chapel Hill.
A separate online teen portrait competition was completed in June of this year. This was the National Portrait Gallery's first-ever teen competition. The photographs by the grand-prize winners McNeal Mann (14, Alaska) and Allen Chiu (17, Calif.) will be displayed near the entrance to the Outwin Boochever Portrait Competition.
Outwin Boochever Portrait Competition
The Outwin Boochever Portrait Competition is a triennial event that invites figurative artists to submit entries in all media to be considered for prizes and display at the National Portrait Gallery. During the exhibition, museum and web visitors can vote for their favorite pieces as part of the "People's Choice Award," and winners of this part of the competition will be announced in September 2013. The endowment from the late Virginia Outwin Boochever has enabled the museum to conduct a national portrait competition and exhibition that encourages artists to explore the art of portraiture.
Outwin Boochever Portrait Competition Finalists and Short-listed Artists
Leslie Adams, Toledo, Ohio
Veronika Adaskova, Brooklyn, N.Y.
Keliy Anderson-Staley, Russellville, Ark.
Sequoyah Aono, New York*
Bo Bartlett, Vashon, Wash.
Aaron Morgan Brown, Selinsgrove, Pa.
Laura Chasman, Roslindale, Mass.
Sean Cheetham, Los Angeles
Lia Cook, Berkeley, Calif.
Paul D'Amato, Riverside, Ill.*
Lynn Davison, Naples, Fla.
Ray DiCapua, Storrs, Conn.
Willard Dixon, San Rafael, Calif.
Tim Doud, Washington, D.C.
Martha Mayer Erlebacher, Elkins Park, Pa.*
Heidi Fancher, Washington, D.C.*
Carole Feuerman, New York
Lucy Fradkin, Staten Island, N.Y.
Rieko Fujinami, Beacon, N.Y.
Bo Gehring, Beacon, N.Y.*
Vincent Giarrano, Washington Depot, Conn.
Philip Grausman, Washington, Conn.
Jason Hanasik, San Francisco
Gwen Hardie, New York
Anne Harris, Riverside, Ill.
Erik Hougen, Brooklyn, N.Y.
Edgar Jerins, New York City
David Kassan, Brooklyn, N.Y.
Saeri Kiritani, Forest Hills, N.Y.
Bridget Lanigan, Coram, N.Y.
Megan Ledbetter, Jamaica Plain, Mass.
Jennifer Levonian, Philadelphia*
Beverly McIver, Durham, N.C.*
Tina Mion, Winslow, Ariz.
Katie O'Hagan, Beacon, N.Y.
Louie Palu, Washington, D.C.
Bly Pope, New Richmond, Wis.
Catherine Prescott, Mechanicsburg, Pa.
Caitlin Teal Price, Washington, D.C.
Carolyn Schlam, Taos, N.M.
Neil Shigley, San Diego
Burton Philip Silverman, New York City
Michael A. Smith, Ottsville, Pa.
Ginny Stanford, Sebastopol, Calif.
Tema Stauffer, Brooklyn, N.Y.
Tun Ping Wang, Long Island City, N.Y.
Jill Wissmiller, Memphis, Tenn.
Kumi Yamashita, New York
*artists on the shortlist.
###
SI-447-2012