Portrait of Kevin Spacey at the Smithsonian's National Portrait Gallery
Painting of the Actor by Jonathan Yeo To Be Unveiled in February
January 15, 2016
News Release
Addthis Share Tools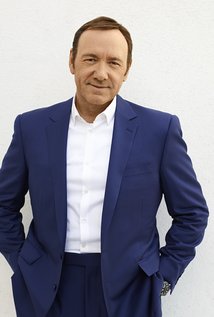 The Smithsonian's National Portrait Gallery will exhibit a new portrait of Kevin Spacey by British painter Jonathan Yeo beginning in February. The work will be on long-term loan to the museum.
Spacey and Yeo have collaborated together before on a work that depicted Spacey as Richard III. It was unveiled at the National Portrait Gallery in London in 2013.
"Before its public debut, the most important relationship is that between the artist and their subject," said Kim Sajet, director of the Smithsonian's National Portrait Gallery. "In this painting, the tremendous rapport between Kevin Spacey and Jonathan Yeo is clearly evident. But a portrait isn't finished until it is seen by others. I look forward to having our visitors 'complete' the project. This painting is a fine example of how Kevin Spacey constructs his image and Jonathan Yeo interprets it."    
"It is hard to imagine a greater honor than painting one of the finest actors of our age for one of the most important institutions in the world," said Yeo. "It is also a great pleasure to continue this creative collaboration with Kevin, which we began at London's National Portrait Gallery; this time bringing a new work to his home soil in the U.S."
It will be the first time Yeo's work has been exhibited at Washington's National Portrait Gallery.
Kevin Spacey
Spacey is an award-winning film and theater actor. He is currently best known for his role as congressman turned president Frank Underwood in the popular Netflix drama House of Cards, for which he won a Golden Globe Award in 2015. Spacey has had a successful and diverse movie career with lead roles in such popular films as The Usual Suspects (1995), winning an Oscar for best supporting actor. He won a second Oscar for best actor for his role in American Beauty (1999). Spacey's theater work has included both acting and directing in such productions as The Philadelphia Story (2005) and Shakespeare's Richard III (2011).
Jonathan Yeo
Yeo produces his paintings through multiple meetings with the subject. His sitters have included many of the world's best known cultural, media and political figures, including David Attenborough, Tony Blair, Helena Bonham Carter, HRH Prince Philip Duke of Edinburgh, Idris Elba, Damien Hirst, Dennis Hopper, Nicole Kidman, Jude Law, Baz Luhrmann, Sienna Miller, Jamie Oliver and Malala Yousafzai.
Between 2013 and 2014, Yeo was the subject of museum exhibitions at London's National Portrait Gallery, the Lowry (Salford, England) and the Laing Art Gallery (Newcastle-upon-Tyne, England) and has an upcoming retrospective at Denmark's National History Museum in 2016. He has exhibited widely in group and solo shows in the U.S., Europe and the Far East.
National Portrait Gallery
The Smithsonian's National Portrait Gallery tells the multifaceted story of America through the individuals who have shaped its culture. Through the visual arts, performing arts and new media, the Portrait Gallery portrays poets and presidents, visionaries and villains, actors and activists whose lives tell the American story.
The National Portrait Gallery is part of the Donald W. Reynolds Center for American
Art and Portraiture at Eighth and F streets N.W., Washington, D.C. Smithsonian Information: (202) 633-1000. Website: npg.si.edu. Connect with the museum at @NPG, Facebook, YouTube, Instagram and Tumblr.
# # #
SI-19-2016