Portrait Gallery Unveils Video Portrait of Esperanza Spalding on YouTube
Work Is a Commission from 2013 Outwin Boochever Portrait Competition Winner Bo Gehring
July 15, 2014
News Release
Addthis Share Tools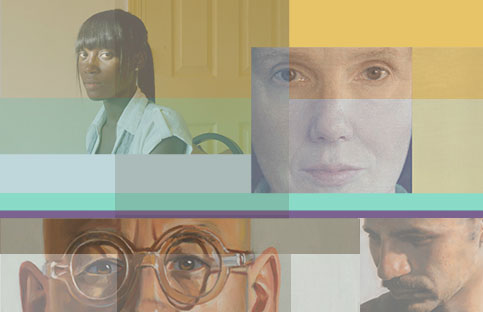 The Smithsonian's National Portrait Gallery will reveal a portrait of jazz musician Esperanza Spalding July 16 at 8 a.m. The work, commissioned for the museum from 2013 Outwin Boochever Portrait Competition winner Bo Gehring, will be showcased first on the Portrait Gallery's YouTube page. The work will be exhibited in the museum in May 2015.
"This commission of Esperanza Spalding by Bo Gehring is the fifth digital video portrait to enter into the National Portrait Gallery's growing collection of time-based media art," said Kim Sajet, director of the museum. "That the artist, Bo Gehring, is also the winner of the last Outwin Boochever Portrait Competition is a thrilling example of how the Portrait Gallery supports contemporary artists and expands the traditional boundaries of portraiture."
To create a work, Gehring plays a piece of music of his sitter's choosing while he or she lies on a low table. A camera, suspended overhead on a track, begins at the feet and slowly moves up the body to reveal the subject's face. The motion of the computer-controlled camera is exactly synchronized to the person's height and the duration of his or her chosen music. The integral role of music in his portraits made Spalding, a bassist, vocalist and composer, an ideal candidate for the commissioned work.
Spalding chose Wayne Shorter's "Tarde" from the 1974 album Native Dancer to be part of her portrait. In the track, Shorter plays tenor saxophone, vocals are by Milton Nascimento, Herbie Hancock is on the electric piano, David Amaro is on guitar, David McDaniel plays bass, and Roberto Silva plays the drums. Spalding says this piece of music is important because, "Herbie, Wayne and Milton are part of me."
For the sitting, Spalding wore jewelry from Red Earth Trading Co. Her skirt is by Tara St. James of Study, a New York-based ethical brand using sustainable materials, and the dress under the skirt is from Tamara Horton of Studio Samuel, a small company that goes to Ethiopia to teach women to sew. The shoes are from What's More Alive Than You, an Italian company that makes high heels out of old tables.
At the end of portrait session, Spalding thanked Gehring for "reminding me to slow down and enjoy life."
Gehring considers his video portraits to be extensions of the work of pioneering documentary portrait photographers August Sander and Richard Avedon with the added dimensions of music, movement and sound. He has been working with this method of portraiture since 2010 and has created 60 pieces so far.
Spalding won Best New Artist at the 53rd Grammy Awards, which was the first by a jazz musician. Her 2008 international debut recording of Esperanza quickly topped Billboard's Contemporary Jazz Chart and became that year's best-selling jazz album worldwide. Spalding joins other notable female American musicians in the museum's collection, including Maria Callas, Ella Fitzgerald, Roberta Flack, Deborah Harry, Chippie Hill, Billie Holiday, Janis Joplin, Madonna, Anita O'Day, Katy Perry, Bessie Smith, Patti Smith, Sarah Vaughn, Dinah Washington and Ethel Waters.
Outwin Boochever Portrait Competition
The Outwin Boochever Portrait Competition is a triennial competition open to artists living or working in the United States. Entries for the 2016 competition will be accepted Aug. 1 through Nov. 30. The winner of each competition receives a cash award of $25,000 and is given the opportunity for a separate commission to portray a remarkable living American for the Portrait Gallery's collection. Past winners' commissioned works include David Lenz's (2006) portrait of Eunice Kennedy Shriver for the museum's collection and Dave Woody's (2009) portrait of Alice Waters. For more information and to submit work, visit www.portraitcompetition.si.edu.
National Portrait Gallery
The Smithsonian's National Portrait Gallery tells the history of America through the individuals who have shaped its culture. Through the visual arts, performing arts and new media, the Portrait Gallery portrays poets and presidents, visionaries and villains, actors and activists whose lives tell the American story. The National Portrait Gallery, part of the Donald W. Reynolds Center for American Art and Portraiture, is located at Eighth and F streets N.W., Washington, D.C. Smithsonian Information: (202) 633-1000. Website: npg.si.edu; Facebook facebook.com/npg.smithsonian; Instagram http://instagram.com/smithsoniannpg; blog face2face.si.edu; Twitter twitter.com/npg; YouTube youtube.com/NatlPortraitGallery.
# # # 
 
SI-353-2014