Portrait of AIDS Research Pioneer Mathilde Krim On View at the National Portrait Gallery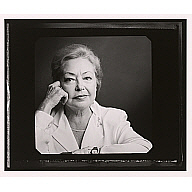 The Smithsonian's National Portrait Gallery recognizes the life and accomplishments of AIDS research pioneer Dr. Mathilde Krim with a photograph by Annie Leibovitz. The portrait is installed in the museum's In Memoriam space on the first floor. In Leibovitz's bust-length photo taken in 1998, Krim wears a looped AIDS-awareness pin on her jacket's lapel. The work was acquired by the Portrait Gallery in 2015 through the generosity of the American Foundation for AIDS Research (amfAR).
Krim, a scientist specializing in cancer research, recognized the potential severity of the AIDS epidemic in America when it appeared in 1981. With a small group of concerned physicians and researchers, she launched early efforts to educate the public about the disease and began the medical research necessary to understand and treat AIDS. While serving as a leading member of the research team at New York's Sloan Kettering Institute for Cancer Research, Krim created the AIDS Medical Foundation in 1983. It merged with a California-based AIDS research and education initiative in 1990 to become amfAR, which remains at the forefront in the fight against AIDS. Krim was awarded the Presidential Medal of Freedom in 2000 for her invaluable contribution to the country in science and her tireless work in AIDS research and awareness. Krim was born in Italy and received her doctorate from the University of Geneva in 1952.
National Portrait Gallery
The Smithsonian's National Portrait Gallery tells the multifaceted story of the United States through the individuals who have shaped American culture. Spanning the visual arts, performing arts and new media, the Portrait Gallery portrays poets and presidents, visionaries and villains, actors and activists, whose lives tell the American story.
The National Portrait Gallery is part of the Donald W. Reynolds Center for American Art and Portraiture at Eighth and F streets N.W., Washington, D.C. Smithsonian Information: (202) 633-1000. Connect with the museum at npg.si.edu, Facebook, Instagram, Twitter, YouTube and the museum's blog.
# # #
SI-39-2018