"Poetic Likeness: Modern American Poets" Charts a New Language, a Distinct American Voice
August 13, 2012
News Release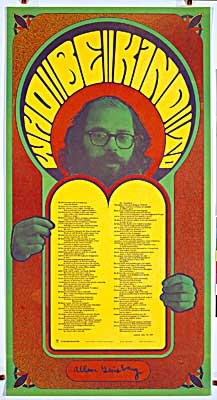 When Walt Whitman published the first edition of Leaves of Grass (1855), it was a shocking departure from the current literary tradition. This first example of free verse was considered irreverent and dismissed by much of the literary establishment. However, astonishing as a new form may have been, Whitman's inclusion of topics that described ordinary life was scandalous. For Whitman, writing poems was an expression of democracy, and including the everyday experience was a key element to this credo. His work, and the work of many poets who followed, developed a distinct American voice. Using portraiture, biography and verse, the Smithsonian's National Portrait Gallery will map this language evolution in the exhibition "Poetic Likeness: Modern American Poets," open Oct. 12 through April 28, 2013.
Following Whitman half a century later, Ezra Pound charged fellow poets to "make it new." Over the course of the next century, these two poets and their fellow writers developed a new language for poetry. "Poetic Likeness," will consider biographies of poets whose work developed a unique American voice, departing from mid-19th century poetry, which was influenced by Europeans.
"'Poetic Likeness' features men and women from our rich collection who used verse to help us understand what it means to be an American," said Wendy Wick Reaves, interim director of the National Portrait Gallery. "Together they tell a story about the development of an American voice." The shift in style and content paved the way for such poets as Robert Frost, Langston Hughes, E.E. Cummings, Allen Ginsberg, Marianne Moore, Sylvia Plath, Anne Sexton, Audre Lorde and William Carlos Williams to use new forms of verse to express this voice.
Some works included in "Poetic Likeness" are:
Whitman by Samuel Hollyer and Thomas Eakins
Pound photographed by Alvin Langdon Coburn and Richard Avedon
Williams photographed by Man Ray
Hart Crane photographed by Walker Evans
Frost photographed by Clara Sipprell and Lotte Jacobi
Hughes photographed by Edward Weston, Carl Van Vechten and Arnold Newman
Moore painted by Marguerite Zorach and photographed by George Platt Lynes
Marsden Hartley photographed by Paul Strand
Edna St. Vincent Millay photographed by Berenice Abbott
W.H. Auden photographed by Irving Penn
Frank O'Hara painted by Alice Neel and drawn by Don Bachardy
Elizabeth Bishop photographed by Rollie McKenna
Ginsberg photographed by William S. Burroughs and in another photo by Newman
Plath photographed by McKenna
John Ashbery photographed by Peter Hujar
Yusef Komunyakaa photographed by Juliet van Otteren
The exhibition curator is National Portrait Gallery historian David C. Ward.
This exhibition has been made possible through the Abraham and Virginia Weiss Charitable Trust, Amy and Marc Meadows, and Catherine V. Dawson. The Smithsonian's National Portrait Gallery The Smithsonian's National Portrait Gallery tells the history of America through the individuals who have shaped its culture. Through the visual arts, performing arts and new media, the Portrait Gallery portrays poets and presidents, visionaries and villains, actors and activists whose lives tell the American story.
The National Portrait Gallery is part of the Donald W. Reynolds Center for American Art and Portraiture at Eighth and F streets N.W., Washington, D.C. Website: npg.si.edu. Smithsonian Information: (202) 633-1000.
# # #
SI-359-2012