New Exhibition "Crosscurrents" Explores the Interplay Between American and European Modernists
Display Features Rarely Seen Works by Romare Bearden, Alice Neel, Georgia O'Keeffe, Pablo Picasso and Wayne Thiebaud
October 28, 2015
News Release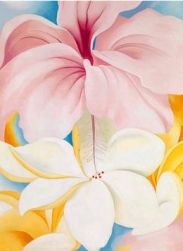 The artworks on display in "Crosscurrents: Modern Art from the Sam Rose and Julie Walters Collection" convey clearly that the river of intellectual and artistic commerce flowed both ways between Europe and America throughout the 20th century. The exhibition features this global perspective through 88 paintings and sculptures by major American artists Romare Bearden, Alexander Calder, David Hockney, Roy Lichtenstein, Alice Neel, Georgia O'Keeffe, Wayne Thiebaud and others alongside European giants such as Joan Miró and Pablo Picasso.
"Crosscurrents" will be on view from Oct. 30 through April 10, 2016. The exhibition is organized by Virginia Mecklenburg, chief curator, and features several gifts to the museum as well as artworks that are rarely seen by the public. The exhibition is a unique opportunity for visitors in Washington, D.C., to see so many portraits and ceramic pieces by Picasso—nine paintings and nine ceramics—in a public museum.
"'Crosscurrents' is the latest in a series of projects at the Smithsonian American Art Museum that has illuminated the global nature of art," said Betsy Broun, The Margaret and Terry Stent Director of the Smithsonian American Art Museum. "To understand the sheer force of the modernist enterprise in action, we need to begin the story with Picasso, who stands astride 20th-century art like a colossus, permeating the work of the avant-garde artists in Europe and the Americans who followed."
"In the international arena of modern art, ideas and influences respected no borders," said Mecklenburg. "They swirled around and circled back, as artists looked across time and national boundaries in a constant search to find inspiration. It's been rewarding to see these crosscurrents on display in a single collection that features in depth so many American artists—Romare Bearden, Roy Lichtenstein, Joseph Stella, Wayne Thiebaud—artists who also have been championed over the years by the Smithsonian American Art Museum."
The 33 artists presented in this exhibition reflect many of the defining moments in what is now broadly called modernism. Picasso, Miró, O'Keeffe, Jackson Pollock and Andy Warhol created artworks that defined cubism, surrealism, American modernism, abstract expressionism and pop. This display features artists of singular vision who looked to the worlds of art and nature and to their own interior thoughts to illuminate continuities and confluences shared by those who broke rules and forever altered not just the "what" of art—its subjects and themes—but the "how." Hockney, for example, used fax and photocopy machines; David Smith welded together fragments of junk metal he picked up in an industrial fabricating plant. Picasso's portraits are distorted almost beyond recognition, and Lichtenstein turned to comic books.
The experience of two world wars; travel by car and plane; and movies, radio and television that broadcast news and culture around the world brought a new internationalism. The artworks in the exhibition, which is arranged chronologically by artist, share six broad themes—"Myth and Metaphor," "Nature and Culture," "Intimations of Intimacy," "Issues and Affirmations," "Double Takes" and "A Material World." The art and myths of ancient people inflected the work of Miró and Marsden Hartley; nature was the starting point for O'Keeffe and Hockney. Picasso and Neel probed likeness and autobiography; Botero and Lichtenstein use humor and parody. Smith and Richard Diebenkorn, who explored the materiality of the tangible world, redefined relationships between man and the physical environment.
Among the artworks on view are seven that are partial and promised gifts to the museum, including paintings by Hartley, Edward Hopper, Alex Katz, O'Keeffe and Thiebaud and a sculpture by Smith.
Free Public Program
The museum will present a series of talks Friday, Oct. 30, at 5:30 p.m. in the museum's McEvoy Auditorium. The evening begins with Annie Cohen-Solal, a French writer, who discusses European and American modernism, the work of Niki de Saint Phalle and the interactions among art, literature and society. Then, Mecklenburg sits down with Rose and Walters for a conversation about their collection. The evening concludes with a discussion of Picasso by Dutch art historian Gijs van Hensbergen. Additional information about programs is available online at americanart.si.edu/calendar.
Publication
An accompanying catalog, co-published with D. Giles Ltd, London, includes a foreword by Broun, an essay by Mecklenburg and contributions by curators Karen Lemmey, Joann Moser and E. Carmen Ramos. It will be for sale in the museum's store and online ($54.95, hardcover; $39.95, softcover).
Credit
"Crosscurrents: Modern Art from the Sam Rose and Julie Walters Collection" is organized by the Smithsonian American Art Museum with generous support from Robert Castellini in honor of James Dicke, the Gene Davis Memorial Fund, the James F. Dicke Family Endowment, Tania and Tom Evans, Paula and Peter Lunder, the Michael A. and the Honorable Marilyn Logsdon Mennello Endowment, the James F. Petersen Charitable Fund in honor of Tania and Tom Evans, and Pam and Scott Ulm.
About the Smithsonian American Art Museum
The Smithsonian American Art Museum celebrates the vision and creativity of Americans with artworks in all media spanning more than three centuries. Its National Historic Landmark building is located at Eighth and F streets N.W., above the Gallery Place/Chinatown Metrorail station. Museum hours are 11:30 a.m. to 7 p.m. daily (closed Dec. 25). Admission is free. Follow the museum on Twitter, YouTube, Tumblr, Instagram, Facebook, Flickr, Pinterest, iTunes U and ArtBabble. Museum information (recorded): (202) 633-7970. Smithsonian information: (202) 633-1000. Website: americanart.si.edu.
# # #
Note to editors: Selected high-resolution images for publicity only may be downloaded from americanart.si.edu/pr. Email americanartpressoffice@si.edu for the password.
SI-390A-2015