New Culture Wing Showcases Role of Entertainment in American Life
Avedon Photographs and Iconic TV, Film, Theater, Sports and Music Artifacts On View Dec. 9
December 8, 2022
News Release
Addthis Share Tools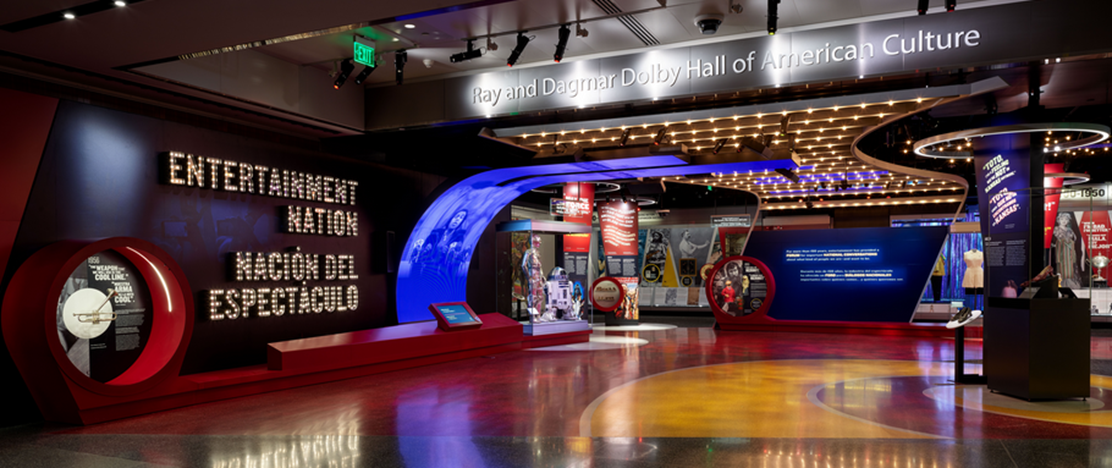 The new Culture Wing at the Smithsonian's National Museum of American History will showcase how entertainment plays a role in shaping the national conversation through two new exhibition galleries opening Dec. 9. The Ray and Dagmar Dolby Hall of American Culture will host "Entertainment Nation/"Nacion del espectaculo" in a 7,200-square-foot gallery with the Smithsonian's first dedicated exploration of entertainment history. The Marcia and Frank Carlucci Hall of Culture and the Arts provides a changing gallery for a rich rotation of shows that will draw on the museum's extensive holdings. The inaugural exhibition will be "(re)Framing Conversations: Richard Avedon Photographs 1946-1965," with 20 iconic black-and-white portraits in a setting that invites discussion.  
"The power of American culture will be on full view through our unparalleled collections and thoughtful scholarship," said Anthea M. Hartig, the Elizabeth MacMillan Director of the National Museum of American History. "These galleries will transform how our visitors experience entertainment in new and unexpected ways, expanding on the promise of our democracy." 
At the heart of the Culture Wing is the Nicholas F. and Eugenia Taubman Hall of Music with side-lobby displays of the museum's compelling jazz and classical instrument collections. The hall is flanked by two cases highlighting recent acquisitions to the arts and culture collections. Displays include noted author Maya Angelou's typewriter and a basketball jersey worn by a teenage Giannis Antetokounmpo before he because a National Basketball Association player.
The "Pause & Replay" installation space offers visitors a chance to recharge and reminisce about video games and take a nostalgic look through archival images, animations and retro games.  
Both galleries are designed with accessibility features and universal design principles and present content in a fully bilingual English and Spanish format. Visitors will enter the third-floor wing through the "Ray Dolby Gateway to Culture," which originally opened in fall 2018 and highlights music and sound through the "America's Listening" display. It focuses on the public's experience with recorded sound, including five of the innovations that have kept them listening: Thomas Edison's phonograph, Alexander Graham Bell's graphophone, Emile Berliner's gramophone, Ray Dolby's noise-reduction system and Apple's iPod. This display leads to the Culture Wing's landmark object—a 14-foot stained-glass window, one of four that originally graced the tower of the Victor Company's headquarters in Camden, New Jersey. Its image of "Nipper," the dog listening to his master's recorded voice, became RCA's trademark image. 
The grand-opening festival will run Dec. 9–18 with visitors invited to join dynamic conversations about the cultural impact of entertainment, intimate talks with curators, sneak peeks at objects from the national collections and film screenings of the pop culture classics The Wizard of Oz (1939) and Batman (1989). Daily activities will include hands-on family crafts, pop-up concerts and photo opportunities with beloved characters from film and television. More information is available on the museum's website. 
Through incomparable collections, rigorous research and dynamic public outreach, the National Museum of American History explores the infinite richness and complexity of American history. It helps people understand the past in order to make sense of the present and shape a more humane future. The museum is located on Constitution Avenue N.W., between 12th and 14th streets, and is open daily from 10 a.m. to 5:30 p.m. (closed Dec. 25). Admission is free. For more information, visit http://americanhistory.si.edu. For Smithsonian information, the public may call (202) 633-1000.
# # #
SI-408-2022