New Cookbook Available from the National Museum of the American Indian's Acclaimed Mitsitam Cafe
October 26, 2010
News Release
Addthis Share Tools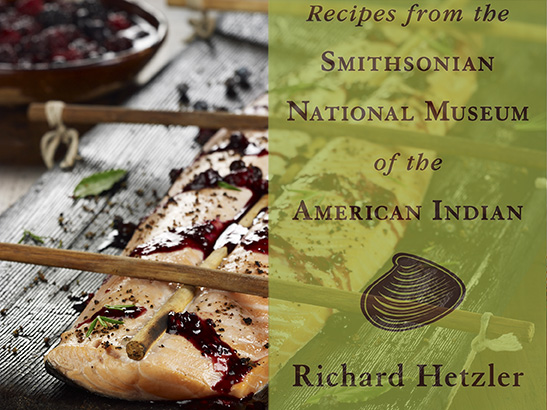 The Smithsonian's National Museum of the American Indian, together with Fulcrum Books, will be releasing "The Mitsitam Cafe Cookbook"—a collection of favorite recipes from the museum's renowned restaurant—Nov. 9 at bookstores nationwide. A unique introduction to indigenous culture and cuisine, the book features 90 Native-inspired dishes in vivid color photography, as well as dozens of historic images of Native food preparation and objects from the museum's unparalleled collection.
From roasted venison and Peruvian ceviche to pork pibil tacos and quinoa salad, the museum's Mitsitam Cafe offers a modern perspective on foods that have been grown, raised and harvested in North and South America for thousands of years. Mitsitam (mitt-SEE-tom), which means "let's eat" in the Piscataway and Delaware languages, expresses the museum's belief that sharing meals not only brings families and communities together, it also cultivates a greater understanding of the history, culture and values of those who prepare them.
"These are foods that became as fundamental to indigenous cultures as song, dance, story, art and ceremony," said museum director Kevin Gover (Pawnee). "The Mitsitam Cafe allows our visitors to experience Native cultures and indigenous foods in ways that appeal to all the senses, transcending the limits of a museum exhibition."
Educational as well as enticing, these recipes showcase the culinary customs of South America, Mesoamerica, the Northern Woodlands, the Great Plains and the Northwest Coast and reflect the diversity of the hemisphere's Native cultures. Dishes include:
Cedar-Planked Fire-Roasted Salmon

Smoked Trout and Dandelion Green Sandwiches

Corn and Chocolate Tamales

Fiddlehead Fern Salad

Squash Blossom Soup

Buffalo Chili and Fry Bread

Sugarcane and Mint Agua Fresca
This one-of-a-kind cookbook allows the public to explore the history of Native peoples through delicious meals and fascinating stories about traditional food preparation. Learn about the Maya and Aztec peoples, who valued cacao pods as symbols of life, fertility and even currency, and who thickened their chocolate drinks with ground maize to create a thick, nourishing porridge. Or discover how the Ojibwe families of Minnesota's White Earth reservation continue to harvest wild rice in canoes—just as their ancestors did.
"Native food reconnects us to the land," said author and Mitsitam Cafe executive chef Richard Hetzler. "Simple, abundant and—most of all—flavorful, it is life-giving and a way of life. These meals celebrate the truly native bounty of the Americas with indigenous staples such as chocolate, chiles, tomatoes, blueberries and corn, among so many others." 
The cookbook also includes a glossary of Native ingredients such as chayote, masa harina and tamarind pulp, as well as a list of websites and specialty markets from which these ingredients can be ordered. The book, which retails for $22.95, will be available at bookstores nationwide, Amazon.com and the website and museum store of the National Museum of the American Indian.
During the six years since the opening of the museum in Washington, D.C., the museum's Zagat-rated Mitsitam Cafe has become a destination in its own right. Featured on National Public Radio and Food Network shows, including "Chef vs. City" and Rachael Ray's "Tasty Travels," the restaurant continues to entice and inspire visitors and food critics alike. To watch a video discussion between museum director Kevin Gover and Mitsitam Cafe executive chef Richard Hetzler about Native American culinary traditions, click here. For more information, visit www.AmericanIndian.si.edu/.
# # #
SI-472-2010