Native American Mascot Controversy Takes Center Stage at the National Museum of the American Indian
Commentators and Community Members Discuss Stereotypes in Sports
January 24, 2012
News Release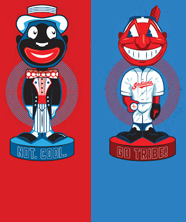 The Smithsonian's National Museum of the American Indian presents "Racist Stereotypes and Cultural Appropriation in American Sports," a symposium and community conversation Thursday, Feb. 7, 2013, from 10 a.m. to 5:45 p.m. in the museum's Rasmuson Theater in Washington, D.C.
"What better place to address this issue than the Smithsonian's National Museum of the American Indian on the National Mall," said Kevin Gover (Pawnee), director of the museum. "The Smithsonian Institution is the ideal forum to bring people together to ask tough questions."
The lively panel discussions will feature sports writers, scholars, commentators, authors and representatives from Indian nations and the NCAA. Panelists will explore the mythology and psychology of stereotypes in sports, the history of ethnic "identity theft" and recent efforts to retire and revive "Native American" sports references at the University of Oklahoma, Stanford University, Dartmouth College and Syracuse University. The symposium advances a movement endorsed by the U.S. Commission on Civil Rights in 2001 and addressed last year by the U.S. Senate Committee on Indian Affairs.
The program will also feature a spirited community conversation about the Washington, D.C., professional football team's name and logo moderated by Philip J. Deloria (Standing Rock Sioux), author of Playing Indian and Indians in Unexpected Places, and the associate dean of Undergraduate Education at the University of Michigan's College of Literature, Science and the Arts. Deloria will be joined by Judith Bartnoff, deputy presiding judge of the District of Columbia Superior Court's Civil Division; Rev. Graylan Hagler of the Plymouth Congregational United Church of Christ and the former president of Ministers for Racial, Social and Economic Justice; Robert I. Holden (Choctaw/Chickasaw), deputy director of the National Congress of American Indians; Erik Brady, a sports reporter for USA Today; and Mike Wise, a sports columnist at The Washington Post.
Speakers include:
Kevin Gover, who will deliver opening remarks
Manley A. Begay Jr. (Navajo), moderator, associate social scientist/senior lecturer, American Indian Studies Program, University of Arizona, and co-director, Harvard Project on American Indian Economic Development at the John F. Kennedy School of Government, Harvard University
Lee Hester, associate professor and director of American Indian Studies and director of the Meredith Indigenous Humanities Center, The University of Science and Arts of Oklahoma
E. Newton Jackson, associate provost and professor of Sports Management, University of North Florida
N. Bruce Duthu (United Houma Nation of Louisiana), chair and professor, Native American Studies, Dartmouth College
Suzan Shown Harjo (Cheyenne/ Hodulgee Muscogee), moderator. President, Morning Star Institute and past executive director, National Congress of American Indians, and a founding trustee of the National Museum of the American Indian
C. Richard King, co-editor, Team Spirits, Native Athletes in Sport and Society, and Encyclopedia of Native Americans in Sports, and professor and chair of the Department of Critical Gender and Race Studies, Washington State University
Ben Nighthorse Campbell, Council of Chiefs, Northern Cheyenne Tribe; President, Nighthorse Consultants; Trustee, National Museum of the American Indian; Award-winning Artist/Jeweler, U.S. Representative of Colorado (1987-1993); and U.S. Senator of Colorado (1992-2005)
Delise O'Meally, director of Governance and International Affairs, NCAA
Lois J. Risling (Hoopa/Yurok/Karuk), educator and land specialist for the Hoopa Valley Tribes, and retired director, Center for Indian Community Development, Humboldt State University
Ellen Staurowsky, professor, Department of Sports Management, Goodwin School of Professional Studies, Drexel University
Linda M. Waggoner, author, Fire Light: The Life of Angel De Cora, Winnebago Artist; and "Playing Indian, Dreaming Indian: The Trial of William 'Lone Star' Dietz" (Montana: The History Magazine, Spring 2013), and lecturer, Multicultural Studies, Sonoma State University
The symposium will be webcast live here. Webcast viewers are encouraged to participate via Facebook and Twitter by using the hashtag #RacistSportsLogos. A reception will follow in the museum's Potomac Atrium. For more information, visit the museum's website at www.AmericanIndian.si.edu.
# # #
SI-467A-2013