National Postal Museum Presents Congressional Stamp Exhibit at the Rayburn House Office Building
July 16, 2010
News Release
Addthis Share Tools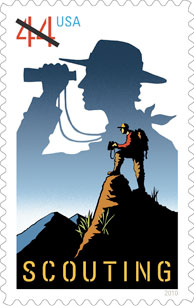 The Smithsonian's National Postal Museum will display philatelic items from the personal collections of U.S. Representatives Joe Pitts, Robert Aderholt, Silvestre Reyes, Pete Sessions, Gary Ackerman and Sen. Carl Levin. The exhibit will be open from 10 a.m. to 5 p.m. July 28 and from 9 a.m. to 5 p.m. July 29-30 in the Rayburn House Office Building at Independence Avenue and South Capitol Street S.W.
The exhibit is designed for collectors and non-collectors alike with unique philatelic material that has never before been seen by the public.
There will be an activity station called "Stamp Collecting 101" that will introduce the hobby of philately to non-collectors. Postage stamps, with their colorful images and real-life stories, have fascinated millions of adults and children over the years because they have something to interest everyone—nature, science, sports, music, etc. Activities and items for children will include a scavenger hunt, "eye-spy" game and a table where children can create their own mini-album page.
In addition, StampCamp USA will hold a three-day workshop for youth that introduces the hobby of stamp collecting from the basics up to exhibiting, using creative 3-D and traditional formats filled with hands-on activities. StampCamp USA is a collaborative educational program that boosts children's skills and knowledge through the use of stamps, envelopes and StampCamp cash. The workshop used stamps to motivate children to learn about the world around them.
Rep. Sessions, in collaboration with the Boy Scouts of America, will bring an exhibit on the  "2010 Celebrate Scouting" stamp. Visitors will also be able to create and mail a special cacheted and Capitol Hill-cancelled envelope from the exhibition.
The National Postal Museum is devoted to presenting the colorful and engaging history of the nation's mail service and showcasing one of the largest and most comprehensive collections of stamps and philatelic material in the world. It is located at 2 Massachusetts Avenue N.E., Washington, D.C., across from Union Station. The museum is open daily from 10 a.m. to 5:30 p.m. (closed Dec. 25). For more information about the Smithsonian, call (202) 633-1000. Visit the museum website at www.postalmuseum.si.edu.
# # #
SI-310-2010