National Portrait Gallery Presents Rarely Seen Portraits by Elaine de Kooning
Portrait Gallery Holds Largest Collection of de Kooning's Portraits and Will Display Major Retrospective of Her Work in the Genre
January 14, 2015
News Release
Addthis Share Tools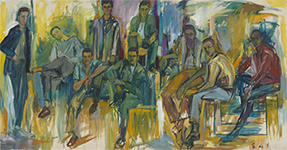 The Smithsonian's National Portrait Gallery has organized a major retrospective "Elaine de Kooning: Portraits."  Elaine de Kooning (1918–1989) created abstract and figurative paintings and drawings in New York City during the height of the Abstract Expressionist movement following World War II. The exhibition will include 66 of her portraits; it will be open March 13 through Jan. 10, 2016.
A vast majority of de Kooning's works reside within her estate and among family members and have rarely been seen by the public. The National Portrait Gallery holds the largest museum collection of her portraits with 13 drawings and paintings, and all will be on display. The exhibition will show nine drawings and paintings of John F. Kennedy by de Kooning, including the museum's painting of Kennedy, which is usually on long-term view in the museum's permanent collection exhibition, "America's Presidents"; it is one of two painted by women in the popular exhibition.
"Elaine de Kooning was one of the American artists who helped advance the reputation of American art in the mid-20th century as innovative, brash and highly individualistic," said Kim Sajet, director of the museum. "As a portraitist working in a gestural Abstract Expressionist mode, she never abandoned working with the figure but ensured that a person's likeness was linked to their innate vitality and spirit. The National Portrait Gallery is proud to own a number of major art works by Elaine such as the painted portrait of President John F. Kennedy; this exhibition is a perfect opportunity to present our collection, and her modernist spirit."       
Her colorful, fluid and gestural portraits of friends and family were much admired during her lifetime. Sitters include poets John Ashbery, Allen Ginsberg and Frank O'Hara, critic Harold Rosenberg, President John F. Kennedy, de Kooning's husband—painter Willem de Kooning—and painters Robert De Niro Sr. and Fairfield Porter, who commented that her images of men "are both sympathetic and frighteningly acute." 
The exhibition will also examine de Kooning's process by showing multiple versions of her work. She held that recognition is also greatly informed by a person's pose and bearing, that a person's face is a part of portrayal but not the only part.
In addition to featuring de Kooning's paintings and drawings, the Portrait Gallery's exhibition will include images of de Kooning in her studio and footage from several short films, including Betty Jean Thiebaud's 1976 film, Elaine de Kooning Paints a Portrait.
After her marriage to artist Willem de Kooning in December 1943, Elaine de Kooning began signing her portraits "E de K" to avoid confusion. Scholars have referred to her many different ways since then. In the show, the museum is breaking tradition and referring to her by her first name, primarily because friends and colleagues believe she would prefer to be called Elaine, as she was in life.
The exhibition is accompanied by a 144-page book published by Delmonico Books/Prestel; it will be available in the museum store and online for $49.95.
Support for "Elaine de Kooning: Portraits" has been provided by members of Elaine's List. The co-chairs for this philanthropic committee are: Joseph Ujobai and Eduardo Ardiles, Amy and Marc Meadows, Sakurako and William Fisher, Lillian Lovelace, The Honorable Bonnie McElveen-Hunter, Patricia and Walter Moore and Karla Scherer and Harve A. Ferrill.
National Portrait Gallery
The Smithsonian's National Portrait Gallery tells the history of America through the individuals who have shaped its culture. Through the visual arts, performing arts and new media, the Portrait Gallery portrays poets and presidents, visionaries and villains, actors and activists whose lives tell the American story.
The National Portrait Gallery is part of the Donald W. Reynolds Center for American Art and Portraiture at Eighth and F streets N.W., Washington, D.C. Smithsonian Information: (202) 633-1000. Website: npg.si.edu.
# # #
SI-12-2015