National Portrait Gallery Opens a New Exhibition of Photographs from the Harry Warnecke Studio
Features Brightly Colored Celebrity Portraits from the 1930s–40s
February 17, 2012
News Release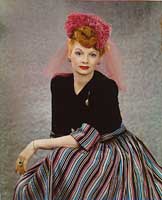 Press Open House: Feb. 28; 9:30 a.m. to 11:30 a.m.
Before color reproductions and color snapshots became commonplace, pioneering photographer Harry Warnecke (1903–1984) and his associates at the New York Daily News created brilliant, eye-popping color portraits for the newspaper's Sunday News magazine. The exhibition, "In Vibrant Color: Vintage Celebrity Portraits from the Harry Warnecke Studio," featuring celebrity portraits shot for that publication, will open March 2 and run through Sept. 9.
"This is a great opportunity for the Portrait Gallery to highlight these show-stopping photographs from the museum's permanent collection," said Martin Sullivan, director of the National Portrait Gallery. "Warnecke's subjects are pictured at the height of their careers when he was at the height of his."
Employing a special one-shot camera of his own design, Warnecke began producing color images for the Daily News in the mid-1930s by using the technically demanding tricolor carbro process—one of the first practical methods for color photography. The process is defined by the color separation negatives printed as three bromide prints, each of which is then pressed against a sensitized carbon tissue of the appropriate color. The tissues are then superimposed to create the final color photograph. Though the tricolor carbro method was used chiefly during the 1930s, Warnecke and his team photographed hundreds of people in the news, from popular film stars and musicians to athletes and military leaders, well into the 1940s. Drawing from the museum's collection of photographs by the Warnecke Studio, this exhibition will feature 24 color carbro portraits from the 1930s and 1940s, including celebrities such as Lucille Ball, Louie Armstrong, Jackie Robinson, "Babe" Didrikson, Gene Autry, Ethel Waters, Generals Dwight D. Eisenhower and George S. Patton and comedians W.C. Fields and Laurel and Hardy.
Ann Shumard, curator of photographs at the National Portrait Gallery, is the curator for this exhibition.
The Smithsonian's National Portrait Gallery
The Smithsonian's National Portrait Gallery tells the history of America through the individuals who have shaped its culture. Through the visual arts, performing arts and new media, the Portrait Gallery portrays poets and presidents, visionaries and villains, actors and activists whose lives tell the American story.
"The National Portrait Gallery is part of the Donald W. Reynolds Center for American Art and Portraiture at Eighth and F streets N.W., Washington, D.C. Website: npg.si.edu. Smithsonian Information: (202) 633-1000.
# # #
SI-78-2012