National Portrait Gallery Highlights Women's History Month With "Creativity Is Magic: Maya Lin Festival" and New Exhibitions
Highlights Include "Women of a Certain Age" on Google Arts & Culture
February 28, 2023
News Release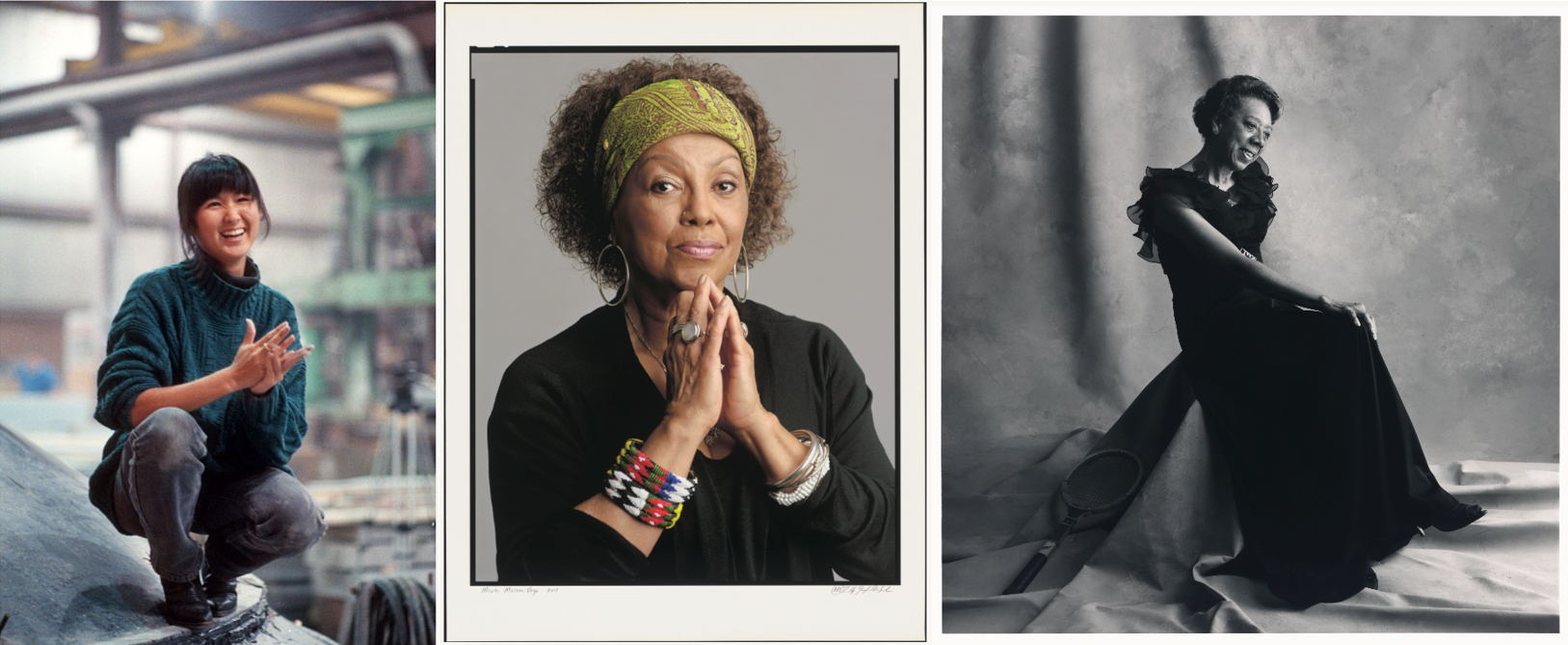 The Smithsonian's National Portrait Gallery will commemorate Women's History Month with several exhibitions and an all-ages festival celebrating the life and work of Maya Lin. As an architect, sculptor, environmentalist and designer of the Vietnam Veterans Memorial, Lin creates work that meets at the intersection of art and environmentalism. Visitors to "Creativity Is Magic: Maya Lin Festival" will be invited to tour the museum's "One Life: Maya Lin" exhibition, participate in Lin's multi-site memorial "What Is Missing?," engage in workshops and create art inspired by her designs. The festival is presented by the Portrait Gallery in collaboration with Smithsonian Gardens and the Smithsonian's National Postal Museum and will take place in the museum's Kogod Courtyard Saturday, March 11, from noon to 3 p.m. Admission is free. 
The Portrait Gallery will also launch the new digital exhibition "Women of a Certain Age" for International Women's Day March 8. It is one of the museum's 11 digital exhibitions dedicated to the history of women in the United States that are accessible on Google Arts & Culture's Women in Culture hub. Featuring portraits of 10 women leaders in different fields, it explores the careers of Leah Chase, Diane von Fürstenberg, Laura Gilpin, Katharine Graham, Gertrude Hadley Jeannette, Grandma Moses, Nampeyo, Alice Neel, Marta Moreno Vega and Hisaye Yamamoto. The digital exhibition complements "One Life: Maya Lin," on view at the museum through April 16, and "I Dream a World: Selections from Brian Lanker's Portrait of Remarkable Women" (Part II), which presents a suite of black-and-white photographs by the late photojournalist, on view at the museum through Aug. 27. 
Also on display are three recently commissioned works and one newly acquired photograph of the women who received the museum's 2022 Portrait of a Nation Award: Ava DuVernay, Marian Wright Edelman, Serena Williams and Venus Williams. As part of the museum's "Portrait of a Nation: 2022 Honorees" exhibition, the portraits will remain on view through Oct. 22.
Other digital exhibitions accessible on the Portrait Gallery's Google Arts & Culture page, which has received more than 2.2 million views, include: 
National Portrait Gallery
The Smithsonian's National Portrait Gallery tells the multifaceted story of the United States through the individuals who have shaped American culture. Spanning the visual arts, performing arts and new media, the Portrait Gallery portrays poets and presidents, visionaries and villains, actors and activists whose lives tell the nation's story.
The National Portrait Gallery is located at Eighth and G streets N.W., Washington, D.C. Smithsonian Information: (202) 633-1000. Connect with the museum at npg.si.edu and on Facebook, Instagram, Twitter and YouTube.
Google Arts & Culture 
Google Arts & Culture puts the treasures, stories and knowledge of over 3,000 cultural institutions from 80 countries at people's fingertips. If Google's mission is to make the world's information more accessible, then Arts & Culture's mission is to make the world's culture accessible to anyone, anywhere. It is people's doorway to explore art, history and wonders of the world. Discover stories about cultural heritage ranging from Van Gogh's bedroom paintings, Puerto Rico's heritage, Sports in Australia or the women's right movement to ancient Maya temples, Japanese Food and Indian Railways.
# # #
SI-58-2023