National Portrait Gallery Has Announced "Birthright" by Maren Hassinger
A Commission of the Portrait Gallery's "IDENTIFY" Series Dedicated to Performance Art
September 9, 2020
News Release
Addthis Share Tools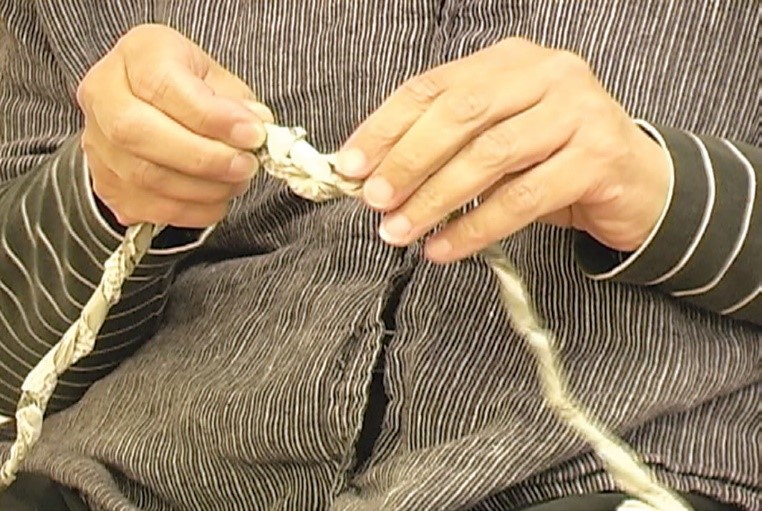 The Smithsonian's National Portrait Gallery has announced a new commission by New York City-based artist Maren Hassinger for the latest iteration of the museum's "IDENTIFY" series dedicated to performance art. Slated to premiere May 2021,"Birthright" will explore the complexity of individual family histories through collective ritual in a live performance based on the artist's 2005 video work of the same name. Hassinger's "IDENTIFY" commission will coincide with the artist's first public presence in Washington, D.C., celebrated by a new outdoor sculpture entitled "Monument" to be on view in Washington's Dupont neighborhood Oct. 19 through summer 2021. The Portrait Gallery will host a virtual discussion and video screening with the artist on Zoom Oct. 7 at 5:30 p.m. as a preview to her outdoor installation and upcoming spring performance. Free registration is available online.
"We are delighted to commission a new work by Maren Hassinger for the Portrait Gallery's 'IDENTIFY' series," said Charlotte Ickes, curator of time-based media art and special projects. "Hassinger's 'Birthright' generously shares her own familial history of loss, violence and trauma, interweaving her story with our own. We invite visitors to engage with 'Birthright' on various levels from the original video work, to a firsthand discussion with the artist, to the cumulative spring performance."
At the core of Hassinger's upcoming artist talk and live performance is "Birthright" (2005), a 12-minute video documenting the artist's first visit with her uncle, whom she had never met, in her effort to learn about the paternal branch of her family tree. After screening "Birthright," Hassinger will teach visitors how to twist pieces of newspaper, a meditative ritual she performs throughout the course of the video. As visitors manipulate the newspaper, they are invited to share their own family stories.
Born in 1947, Hassinger came of age as an artist in the avant-garde of Los Angeles in the 1970s. In addition to her solo practice, she participated in the loose artist collective Studio Z in Los Angeles, alongside notable peers including Senga Nengudi, Ulysses Jenkins and David Hammons, before relocating to New York in 1984. Her work spans sculpture, video, performance and public art. In the mid-'90s, Hassinger became head of the Rinehart School of Sculpture at the Maryland Institute College of Art in Baltimore. Her work is held in the permanent collections of major institutions in Baltimore, Chicago, Dallas, Los Angeles, New York and Washington, D.C.
Premiered in 2015, the Portrait Gallery's "IDENTIFY" series explores portraiture through performance art. Hassinger joins "IDENTIFY" commissioned artists María Magdalena Campos-Pons, Jeffrey Gibson, Sandy Huckleberry, James Luna, J.J. McCracken, Martha McDonald, Lee Mingwei, Wanda Raimundi-Ortiz, Sheldon Scott and Wilmer Wilson IV.
The Portrait Gallery presentation of "Birthright" will coincide with a public sculpture conceived by the artist and created in collaboration with volunteers as part of "Monument and Marker," presented by the Golden Triangle Business Improvement District (BID) and the Smithsonian American Women's History Initiative, "Because of Her Story." Hassinger's "Monument" will be on view on the Connecticut Avenue median at K Street N.W. in Washington, D.C.
National Portrait Gallery
The Smithsonian's National Portrait Gallery tells the multifaceted story of the United States through the individuals who have shaped American culture. Spanning the visual arts, performing arts and new media, the Portrait Gallery portrays poets and presidents, visionaries and villains, actors and activists whose lives tell the American story.
The National Portrait Gallery is part of the Donald W. Reynolds Center for American Art and Portraiture at Eighth and G streets N.W., Washington, D.C. Smithsonian Information: (202) 633-1000. Connect with the museum at npg.si.edu, Facebook, Instagram, Twitter and YouTube.
# # #
SI-258-2020