National Museum of Natural History Presents "Changing Tides: Bioluminescence in Art and Science"
November 8, 2012
News Release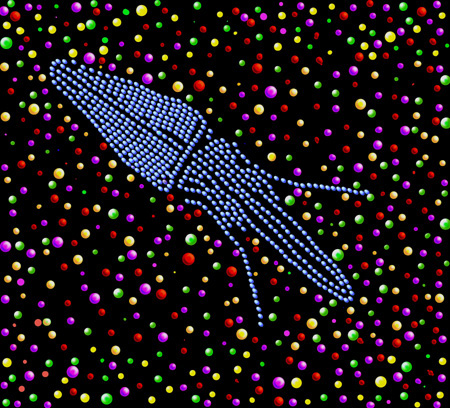 The Smithsonian's National Museum of Natural History will host "Changing Tides: Bioluminescence in Art and Science" a discussion with Edith A. Widder Nov. 8. The program will examine the intersection of science and art in the study of bioluminescence, exploring how the light made by living organisms is both scientifically illuminating and artistically inspiring. The presentation, a synthesis of information and images, will be held in the museum's Baird Auditorium from 4 to 5 p.m. Widder will be available for questions following the discussion.
"Edith Widder, winner of a MacArthur 'genius award,' has used her passion for light in the sea to make fundamental contributions to science, conservation and public understanding of ocean life," said Nancy Knowlton, the Sant Chair for Marine Science. "Her talks leave audiences spellbound."
"Changing Tides: Bioluminescence in Art and Science" seeks to instill scientific work with imagination and innovation. Widder's discussion of bioluminescence and its role in inspiring the artistic community is imaginative, and innovation is a primary feature of her research. Her studies have been used to preserve aquatic ecosystems through the use of bioluminescent bacteria to trace pollutants to their sources and to increase knowledge of Earth's deepest oceans through the development of innovative technologies. Her invention the Eye-in-the-Sea uses bioluminescence-inspired technology to bring to light never-before-documented behaviors of numerous deep-sea organisms, even discovering a new species of large squid.
The National Museum of Natural History is home to the largest marine collection in the world, housing more than 80 million specimens. The Sant Ocean Hall is the museum's largest exhibition, reflecting the museum's commitment to exploring Earth's oceans of the past, present and future. The collections on display are supplemented by the Ocean Portal website, and both emphasize the significance of studying Earth's oceans. The work of scientists like Widder and those at the Smithsonian is critical to enhance understanding of the affect of human activities on marine biodiversity.
"Bioluminescence in Art and Science" is part of the Changing Tides series presented by the National Museum of Natural History in partnership with the Centers for Ocean Sciences Education Excellence. Funding for Changing Tides is provided by the National Science Foundation. Widder is an internationally recognized MacArthur Fellow who serves as CEO, president and co-founder of the Ocean Research and Conservation Association. American Sign Language interpretation will be provided.
# # #
SI-490-2012