National Museum of Natural History Celebrates National Fossil Day Oct. 17
October 16, 2012
News Release
Addthis Share Tools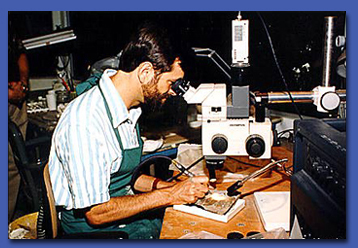 The Smithsonian's National Museum of Natural History will partner with the National Park Service and the American Geosciences Institute to celebrate the third annual National Fossil Day Oct. 17. The museum aims to raise public awareness of the importance of fossils as scientific and educational tools and highlight the critical need for fossils to be preserved for future generations. To achieve this goal, the museum is opening six different activity stations in the fossil halls on the first floor. This free celebration is open to the public from 10 a.m. to 2 p.m. along with related events taking place outdoors on the National Mall.
Activities within the museum include opportunities to separate plant and animal trace fossils from body fossils, learn more about the early history of sharks by exploring a variety of fossil shark teeth and identify the difference between dinosaurs and non-dinosaurs by contrasting physical characteristics of prehistoric reptiles with other reptiles. In addition, visitors to the museum will be able to speak with scientists from the museum and the U.S. Geological Survey at the "Ask a Paleontologist" station, and meet with paleontologists at the FossiLab to talk about the importance of fossil preparation. Participants will also be able to create their own "Paleo Art" by making fossil rubbings to take home.
For more information about National Fossil Day celebrations and other events at the National Museum of Natural History, visit http://www.mnh.si.edu/calendar.asp.
# # #
SI-459-2012