National Museum of Asian Art Presents "Park Chan-kyong: Gathering"
Exhibition Is First Solo Presentation of the Korean Artist's Work in a Major US Institution and Inaugurates the Museum's New Modern and Contemporary Galleries
August 7, 2023
News Release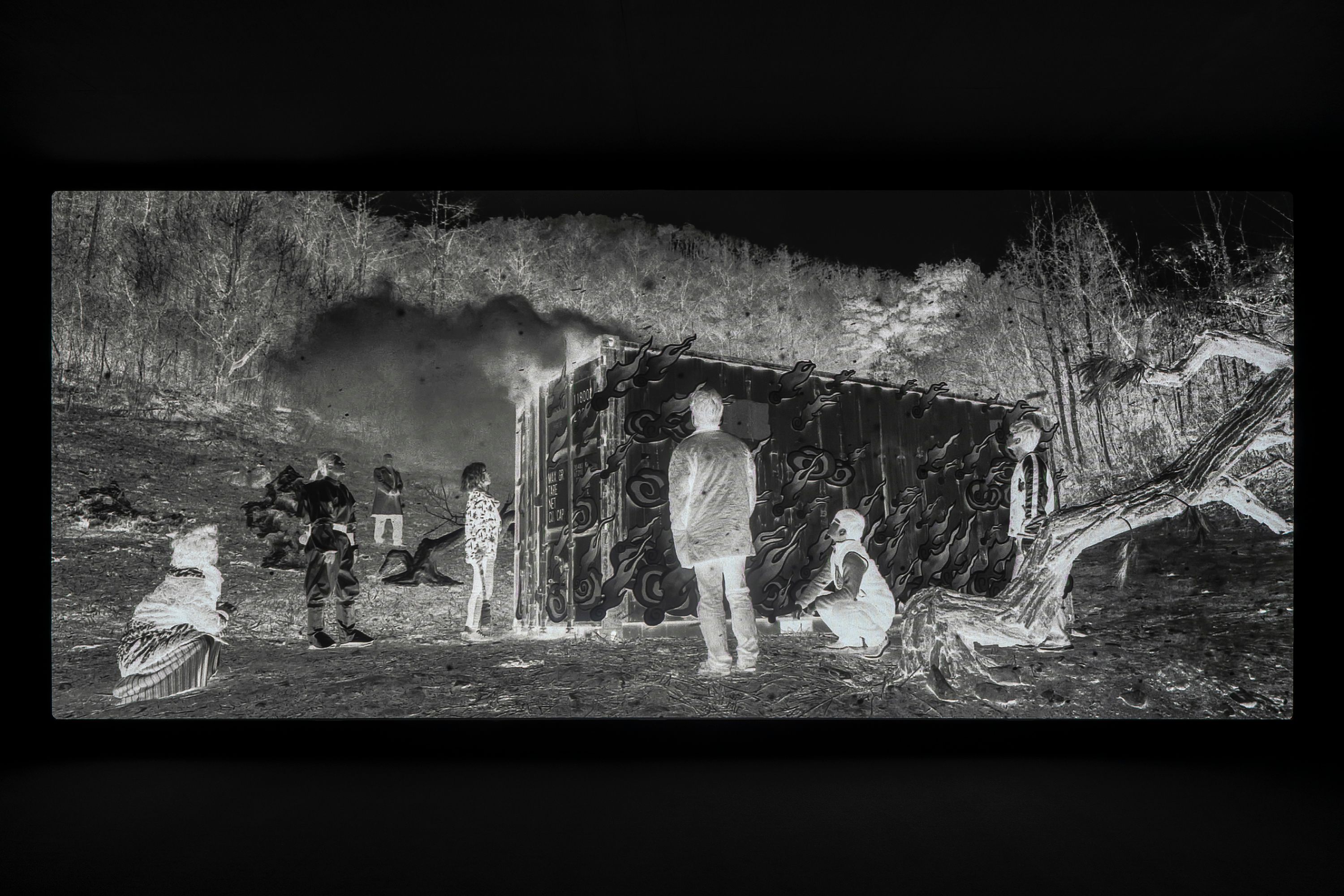 Seoul-based artist Park Chan-kyong has gained international recognition for his use of photography and film to examine the complex history of modern Korea. "Park Chan-kyong: Gathering" will be the first solo presentation of his work in a major U.S. museum. The exhibition will feature a range of works that highlight Park's masterful use of the photographic medium to explore the enduring traces of tradition, history and disaster in contemporary society. It will be on view at the Smithsonian's National Museum of Asian Art Oct. 7 through Oct. 13, 2024.

This will be the inaugural exhibition in the National Museum of Asian Art's modern and contemporary galleries, opening as the museum celebrates its centennial year. The galleries will become a space dedicated to engaging visitors in the myriad formats and media employed by artists to examine Asian society from the late-20th century to today, in context with Asian art dating from antiquity to the present that is on view throughout the museum.  

Park's multi-channel video, "Citizen's Forest," will anchor this exhibition of five recent works. A panoramic video presented in the format of a monumental landscape scroll painting, "Citizen's Forest" draws on the poetry of Kim Su-yeong (1921–68), Minjung painting and folk culture to reflect on major tragedies in South Korea's history from the late 19th century to the present. In "Belated Bosal" and "Fukushima: Autoradiography," inverted images and the natural landscape convey the inescapable sense of ecological disaster. Another installment in Park's study of the history of North and South Koreas, a series of still and moving image portraits titled "Child Soldier" reimagines the presence of a lonely North Korean soldier.

In-gallery public programs with the artist and guest speakers will accompany the exhibition, including a screening of a short film by Park and an artist-led discussion Oct. 22 (details below). The exhibition is an important opportunity to introduce visitors to a major figure in contemporary Asian art and engage them in multisensorial experiences and insights into modern and contemporary Korea.

Park studied fine arts at Seoul National University and earned a Master of Fine Arts at the California Institute of the Arts. Weaving together art historical and literary references, along with folk traditions and current events, he creates visually powerful works grounded in the enduring impact of rapid socioeconomic development and the Cold War on South Korean politics and society.  

"As the National Museum of Asian Art enters its next 100 years at the dawn of what is fast becoming the Asian century, we are even more committed to telling complex stories about objects from a variety of perspectives," said the museum's director Chase F. Robinson. "We are also dedicated to engaging new audiences with Asian arts, cultures and societies and using our platform to address present-day issues. The rich dialogue and learning engendered by contemporary exhibitions like Park Chan-kyong's enable us to reach these goals."

"I have followed Park Chan-kyong's work for years and am grateful to him for collaborating with us on this exciting project," said Carol Huh, associate curator of contemporary Asian art. "The opportunity to learn more about his use of the photographic medium and powerfully nuanced insights into Korean society today is an ideal way to usher in the next landmark chapter in the museum's groundbreaking contemporary Asian art program. As the museum embarks on its second century, this exhibition deepens our mission to examine evolving perspectives on the histories and cultures of Asia."

Following "Park Chan-kyong: Gathering," the museum's new modern and contemporary galleries will feature an exhibition of works by contemporary artist Munem Wasif (Bangladesh), opening in late 2024. Both exhibitions will treat the artists' practices and relevant artistic and social context in greater depth, offering alternative viewpoints on their respective homelands.
Program
In conjunction with "Gathering," Park will come to the National Museum of Asian Art to screen his short film Night Fishing and to discuss his work. 
Night Fishing 
Sunday, Oct. 22; 2 p.m. 
Meyer Auditorium
In Person: Park Chan-kyong 
Shot entirely on an iPhone, this surreal short was co-directed by Park and his brother, Park Chan-wook, and won the Golden Bear for Best Short Film at the 61st Berlin International Film Festival. In it, a fisherman feels a tug on his line, and much to his surprise, pulls a woman (K-pop star Lee Jung-hyun) out of the water. She comes alive and is revealed to be a shaman priestess who performs a ritual in honor of a drowned man. Like "Citizen's Forest," a video work on view in the exhibition, Night Fishing was inspired by Park's fascination with Korean shamanism. (Dir.: PARKing CHANce [Park Chan-wook and Park Chan-kyong], Korea, Korea, 2011, 33 min., DCP, Korean with English subtitles) 
Korean Art Initiatives
The exhibition "Park Chan-kyong: Gathering" is part of a larger initiative to raise the profile of Korean art and culture in the museum's galleries and programs, and on the National Mall. In early 2024, the National Museum of Asian Art will install a specially commissioned edition of the sculpture "Public Figures" by Korean artist Do Ho Suh in front of the Freer Gallery to celebrate the museum's centennial. When the museum opened its doors as the Freer Gallery of Art in 1923, it was one of the first in the U.S. to display Korean art. Today, the museum cares for close to 800 Korean objects; the entire Korean collection can be viewed online.

The museum recently announced an endowed curatorial position in Korean art and culture that will grow the Korea program and collection, thanks to a matching gift from the Korea Foundation. The curator will also contribute to the design of a new annual celebration of Korean art and culture that will coincide with the mid-autumn festival of Chuseok and expand the museum's engagement with the Korean and Korean American community. With the growing prominence of Korean culture across the globe, the museum has increasingly shared its historical art collections alongside Korean popular culture in programming featuring film, food, music and performance.
Credits
Support for this exhibition is provided by the Ministry of Culture, Sports and Tourism of the Republic of Korea.
About the National Museum of Asian Art
The Smithsonian's National Museum of Asian Art is committed to preserving, exhibiting, researching and interpreting art in ways that deepen our collective understanding of Asia and the world. Home to more than 46,000 objects, the museum stewards one of North America's largest and most comprehensive collections of Asian art, with works dating from antiquity to the present from China, Japan, Korea, South Asia, Southeast Asia and the Islamic world. Its rich holdings bring the arts of Asia into direct dialogue with an important collection of 19th- and early 20th-century American works, providing an essential platform for creative collaboration and cultural exchange between the United States, Asia and the Middle East.

Beginning with a 1906 gift that paved the way for the museum's opening in 1923, the National Museum of Asian Art is a leading resource for visitors, students and scholars in the United States and internationally. Its galleries, laboratories, archives and library are located on the National Mall in Washington, D.C., and are part of the world's largest museum complex, which typically reports more than 27 million visits each year. The museum is free and open to the public 364 days a year (closed Dec. 25), making its exhibitions, programs, learning opportunities and digital initiatives accessible to global audiences.
For more information about the museum, visit www.asia.si.edu and follow updates on Instagram: @natasianart, Twitter: @NatAsianArt and Facebook: @NatAsianArt.
 
###
SI-233-2023