National Museum of the American Indian in New York Hosts Screening of MTV World's "Rebel Music"
Native American Activism Takes Center Stage in Night of Performance, Discussion
October 23, 2015
News Release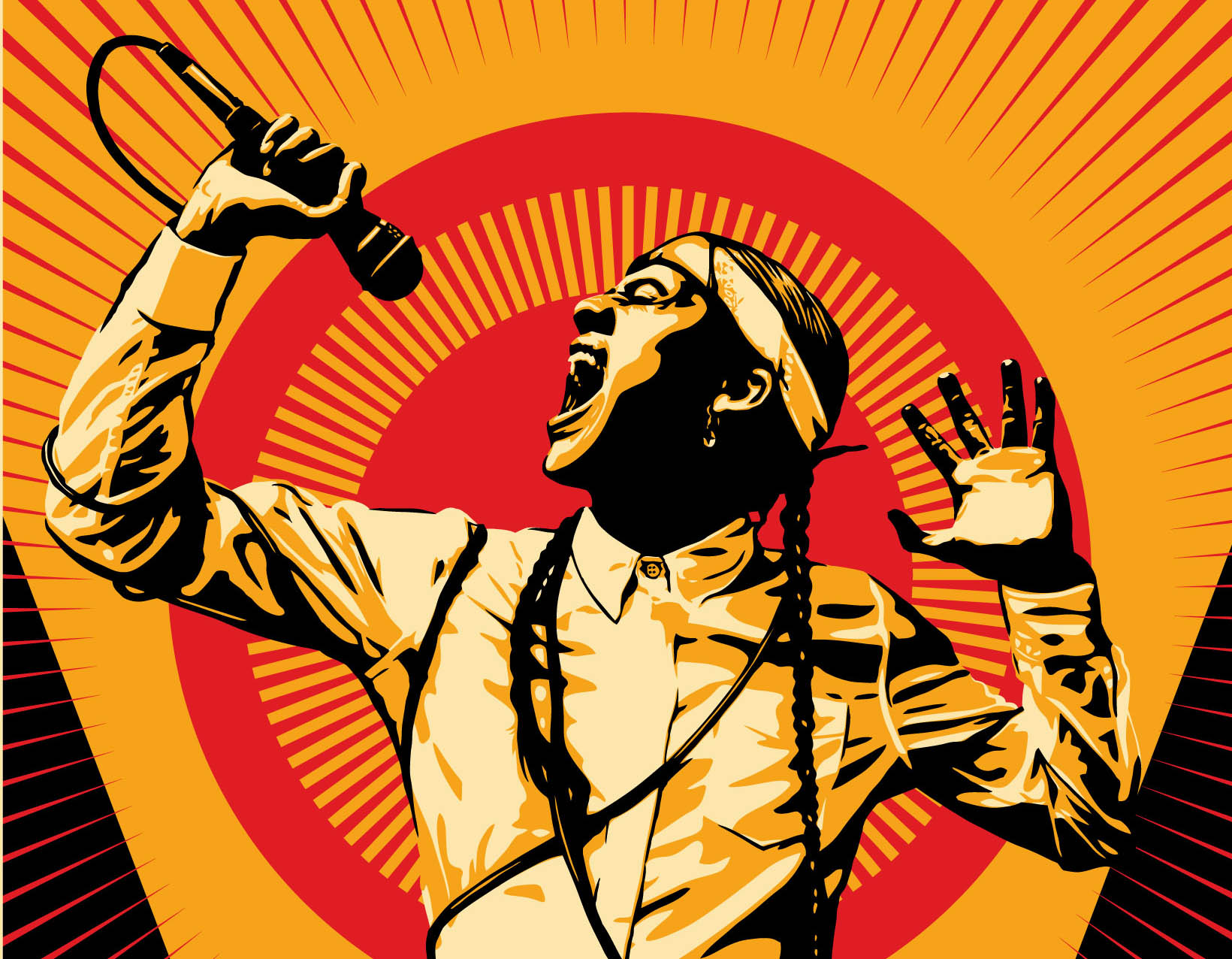 MTV World's Rebel Music series shines a light on young people who are wielding the unlimited power of music and art to connect, inspire and ignite action. The series' groundbreaking "Rebel Music: Native America 7th Generation Rises" episode will be screened at the Smithsonian's National Museum of the American Indian, George Gustav Heye Center in New York, Thursday, Nov. 5, from 6 to 8 p.m. in the lower-level auditorium. The evening features a musical performance by Frank Waln (Sicangu Lakota), a hip-hop artist featured in the series, and a panel discussion with Rebel Music creator Nusrat Durrani, Waln and award-winning journalist Simon Moya-Smith (Oglala Lakota). Admission is free.
Rebel Music highlights activists from across the globe who are using music to make a difference in their communities. The program takes audiences to nearly a dozen countries, including Turkey, Afghanistan, Egypt and more to share stories of courage and heroism. In "Native America," the audience is introduced to four Native artists across North America who are tackling issues facing indigenous cultures such as the environment, women's rights and youth empowerment. These four activists are part of an effort to move forward from injustices done to indigenous peoples in the past that have had negative consequences on communities to this day. Waln uses his music to rally awareness of environmental exploitation and cultural appropriation; Inez Jasper (Ojibwe/Métis) works to be a role model for women and girls in First Nations Canada, where violence against indigenous women is at an all-time high; and Nataanii Means (Oglala Lakota/Diné/Omaha/Dakota) and Mike Cliff (Oglala Lakota) work with the "Native Lives Matter" movement to end higher-than-average youth suicide rates and to promote positive self-worth.
A panel discussion, moderated by museum Film and Video Specialist Cynthia Benitez and featuring Durrani, Waln and Moya-Smith, will take place at the conclusion of the program and focus on the impetus for the series' creation and how it has had an impact on global activism. The issues facing indigenous cultures of North America will also be explored and a Q&A session will follow the discussion. Durrani is a senior vice president at Viacom Media Networks and general manager of MTV World. His programming and creative content work has been lauded by The New York Times, Fast Company, Time and Forbes. Moya-Smith is a culture editor at Indian Country Today and a contributing columnist and writer for CNN and MTV. His work concentrates on issues and public policy affecting Native American communities.
Rebel Music is executive produced by Durrani; activist and acclaimed artist, Shepard Fairey; and global CEO of Y&R, David Sable. Music direction is provided by singer-songwriter Laura Jane Grace of the band Against Me! This screening is a collaboration between the museum and MTV World. Seasons one and two of Rebel Music can be viewed on YouTube and at RebelMusic.com. The public can follow Rebel Music on Facebook and Twitter (@rebelmusicdoc) and join the conversation on social media using the hashtag #RebelMusic.
About the National Museum of the American Indian
The National Museum of the American Indian is committed to advancing knowledge and understanding of the Native cultures of the Western Hemisphere—past, present and future—through partnership with Native people and others. To learn more about the museum's mission, visit AmericanIndian.si.edu. Follow the museum on Facebook, Twitter and Instagram.
# # #
SI-480-2015