National Museum of the American Indian Holds Events to Celebrate "Vantage Point" Exhibition
September 16, 2010
News Release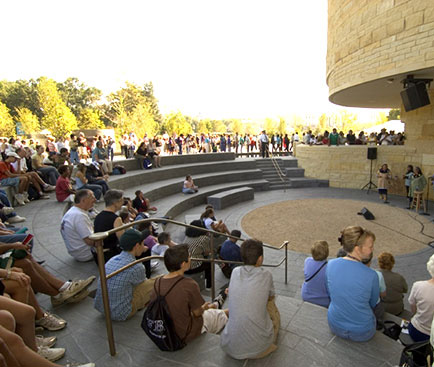 The Smithsonian's National Museum of the American Indian presents public programs in association with "Vantage Point: The Contemporary Native Art Collection" exhibition that will include a gallery talk with artists, hands-on workshops for kids and performance art. The exhibition opens Saturday, Sept. 25, and extends through Aug. 7, 2011.
"Vantage Point" highlights the museum's young but vital collection of contemporary art, with significant works by 25 artists in media ranging from paintings, drawings and photography to video projection and mixed-media installation. These complex and richly layered works speak to the concerns and experiences of Native people today, addressing memory, history, the significance of place for Native communities and the continuing relevance of cultural traditions.
Marie Watt (Seneca) will be in the Potomac Atrium Saturday, Sept. 25, at 11 a.m. and again at 2 p.m. to stitch together reclaimed fabrics, and the public can help create her next work of art. Watt, a multidisciplinary artist, studied at Willamette University, the Institute of American Indian Arts and Yale University. Interested in the symbolism, structure and use of everyday objects, Watt utilizes a variety of materials in her art including textiles, alabaster, slate and corn husks.
There will be a Gallery Talk with artists Truman Lowe (Ho-Chunk) and Watt Sunday, Sept. 26, at 11 a.m. in the W. Richard West Jr. Contemporary Arts Gallery/3M Gallery, third level, to discuss their installations. Exhibition curator, Rebecca Trautmann, will introduce the artists and talk about the exhibition in general.
Kids ages 11-14 are invited to join a hands-on activity with Truman Lowe Sunday, Sept. 26, at 1 p.m. in rooms 4018/9 as he usesstripped willow branches to create artworks addressing personal and cultural memory. Participants will work with sticks and patterns from objects in the museum's galleries to create a collaborative sculptural work. Class size is limited to 15 participants. Advance registration is required at http://bit.ly/beY4p6.
In observance of Columbus Day, performance artist James Luna (Puyoukichum [Luiseño]) invites the public to "Take a Picture with a Real Indian" Monday, Oct. 11, at 4:15 p.m. at the Christopher Columbus statue outside of Union Station. Luna employs humor, irony and penetrating insight to confront commonly held perceptions of Native Americans. In this restaging of his acclaimed performance work, he will involve members of the audience, who can take away photographs of themselves with the artist.
Artist Joe Feddersen (Colville Confederated Tribes) leads a hands-on printmaking workshop for kids and families Sunday, Oct. 24, at 11 a.m. and 2 p.m. in the third-level classroom. Feddersen is an accomplished printmaker whose work incorporates the basketry designs and landscape of the Columbia River Basin while exploring a modernist aesthetic. Class size is limited to 15. Advance registration is required for the 11 a.m. class at http://bit.ly/9Y6EwW or the 2 p.m. class at http://bit.ly/9Y5nDK.
For updates and more information about these events, visit www.AmericanIndian.si.edu.
# # #
SI-404A-2010