National Museum of African Art Releases "Heroes" Publication
Donation to African Libraries and Universities; First Collection Book To Debut Museum's Fully Integrated Approach
August 11, 2023
News Release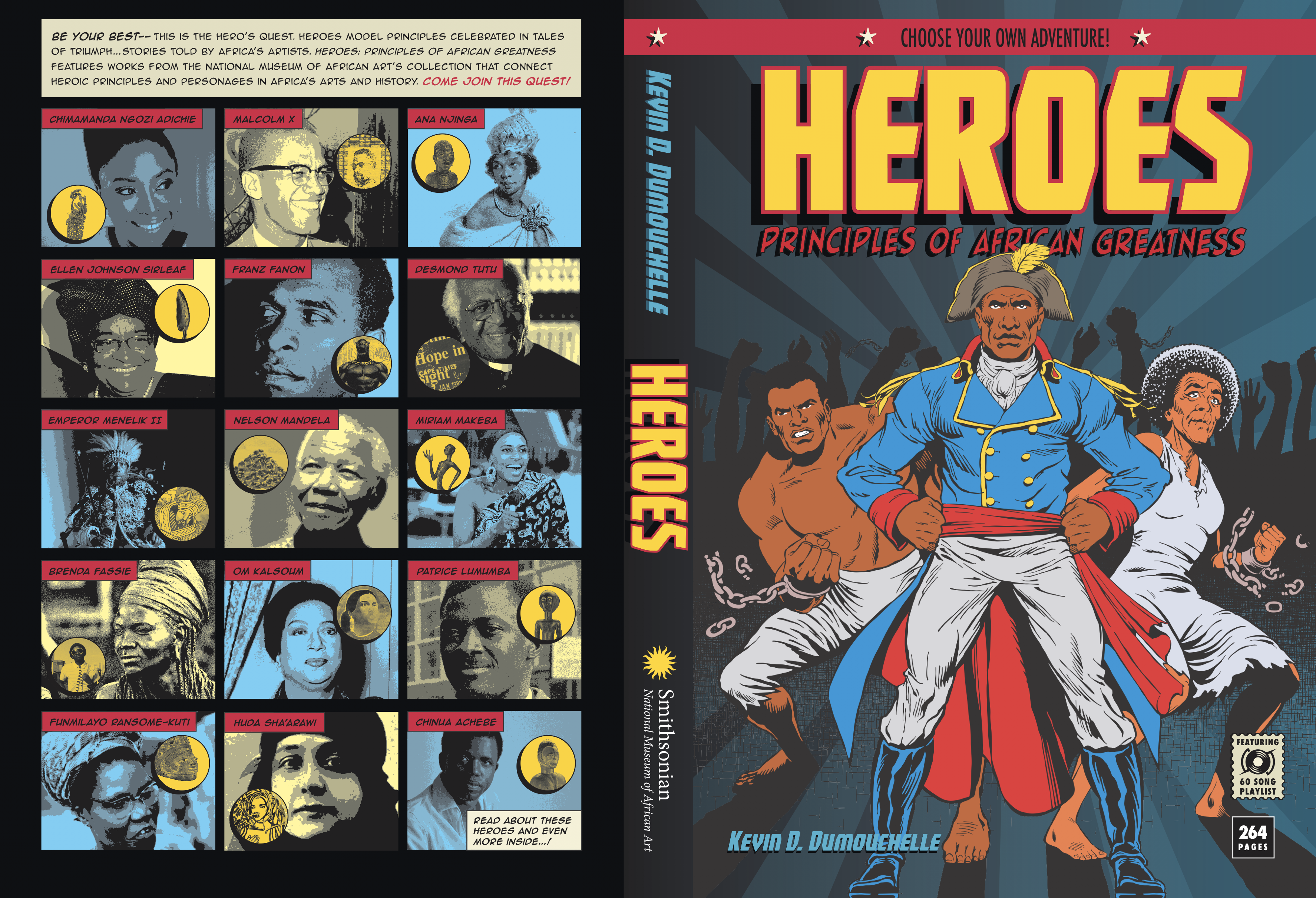 The Smithsonian's National Museum of African Art will release the catalog to its landmark, award-winning, multi-platform project "Heroes: Principles of African Greatness" Sept. 3. Initiated and led by curator Kevin D. Dumouchelle, the "Heroes" project has grown from an in-person exhibition built of more than 50 art works from the museum's collection, which ran from 2019 to 2022, to an ongoing multimedia digital experience featuring videos, an interactive tour, a curated playlist and finally, a book published by Hirmer Publishers and jointly distributed by the University of Chicago Press. The book, authored by Dumouchelle, will be available in bookstores worldwide and is currently available to pre-order.
"Heroes gives readers an opportunity to imagine a new future inspired by the visions and lives, the triumphs and the tragedies, of Africa's arts and history," Dumouchelle said. "Building from the creative genius of the African artists featured in the project, Heroes encourages all who engage with it to explore how its art works narrate stories connected to African history while also inspiring connections to their own lives and experiences."
The project is built around the core principles of heroic achievement—from strength and valor to assertions of dignity, resistance, pride and collective action—illustrated by a given artist. Artworks range from larger-than-life sculptures by artists such as Senegal's Ousmane Sow to 12th-century ceramic figures from Mali to miniature copper-alloy figures and books and photos from the museum's library and archival collections. The featured principle serves as a bridge to introducing a figure in African history—from well-known political leaders such as Kwame Nkrumah to less widely celebrated individuals, such as Nigerian women's rights and anti-colonial campaigner Funmilayo Ransome-Kuti or South African LGBTQ+ rights activists Beverly Palesa Ditsie and Simon Nkoli. Readers are introduced to each figure with key facts from their lives and statements in their own words, while videos and a fully integrated playlist, available in the project's accompanying digital platforms, enrich and expand the opportunity for empathetic engagement.
"Among the heroes in history featured in this project is Nigerian authorial legend Chinua Achebe, who held that 'If you do not like someone's story, write your own,'" Dumouchelle said. "Living in a moment in which it is still often difficult to like many of the narratives circulating in the West about Africa, I was inspired to share the stories revealed by the artists in our collection with our visitors so that they can experience the continent's artistic genius and rich, important history in terms that are identifiable with their own experiences. Designed to meet a reader at their own level of interest—whether through big abstract ideas, intimate stories of personal achievement, close examinations of artistic imagination and excellence or via extra-sensory audio and digital interaction—I hope that the book may inspire future artists, storytellers and, indeed, potential heroes in the years to come."
Designed in a bright, colorful and accessible graphic-novel style, the book is open-ended in layout and framed as an invitation to "choose your own adventure." Heroes is the first collection-focused catalog from the museum to apply the National Museum of African Art's field-leading exhibition practice of inviting connections between works by African artists across the full spectrum of time, media and geographies represented in the museum's collections. The book is accompanied by a series of digital entry points, including a full exhibition website, a set of seven curated Google Arts & Culture interactive exhibitions (Part 1 | Part 2 | Part 3 | Part 4 | Part 5 | Part 6 | Part 7 ), as well as a playlist available on YouTube, Spotify and Apple Music of its connected songs.
As part of the museum's longstanding commitment to and collaboration with institutions of higher learning on the continent, more than 100 copies of the catalog will be donated to universities and art institutions across Africa.
"The museum could not be prouder that we will have the opportunity to share this critically acclaimed platform for connecting readers to not only key figures in Africa's arts and history but also to new possibilities within themselves with educators and students across the continent," said John Lapiana, interim director of the National Museum of African Art. "It is another demonstration of this museum's longstanding commitment to building a space centering African creative achievement and voices, and of its enduring partnerships across the continent."
Book Specs
264 pages, 200 color illustrations
Languages: English
Publisher: Hirmer Publishers
U.S. Distribution: University of Chicago Press
About Kevin D. Dumouchelle, Curator, National Museum of African Art
Dumouchelle joined the National Museum of African Art in October 2016. His most recent exhibition, "Heroes: Principles of African Greatness," which ran from 2019 to 2022, was awarded a Smithsonian Excellence in Exhibitions Award. Dumouchelle was the lead curator for "Visionary: Viewpoints on Africa's Arts" (2017), the museum's award-winning permanent galleries, which present the full range of time, place and media represented in the National Museum's collection. He further led as coordinating curator for "Caravans of Gold, Fragments in Time: Art, Culture, and Exchange in Medieval Saharan Africa" (2020–2022), as he did for "World on the Horizon: Swahili Arts Across the Indian Ocean" (2018) and "Good as Gold: Fashioning Senegalese Women" (2018). His next project, provisionally titled "Out: LGBTQ+ Artist Activists of Africa," is in development and will debut at the Smithsonian. Previously, Dumouchelle headed the Brooklyn Museum's collections of the arts of both Africa and the Pacific Islands for a decade. He has written books and articles on a wide range of topics and curated exhibitions on both contemporary and historical African art. Dumouchelle holds doctoral and master's degrees in art history and archaeology from Columbia University.
###
SI-244-2023