National Museum of African Art Presents "Central Nigeria Unmasked: Arts of the Benue River Valley"
August 22, 2011
News Release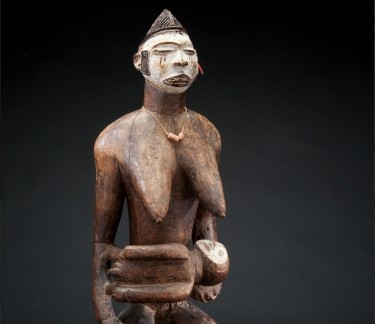 Media preview: Thursday, Sept. 13; 9:30–11:30 a.m.
---
"Central Nigeria Unmasked: Arts of the Benue River Valley" will be on view at the Smithsonian's National Museum of African Art from Sept. 14 through March 4, 2012.This international exhibition presents a comprehensive view of the arts produced in the region and includes some of the most abstract, dramatic and inventive sculpture in sub-Saharan Africa.
The exhibition features more than 148 objects used in a range of ritual contexts, with genres as varied and complex as the vast region itself. It will demonstrate how the history of central Nigeria can be "unmasked" through the dynamic interrelationships of its peoples and their arts.
The exhibition includes full-bodied maternal images, sleek columnar statues, helmet masks adorned with naturalistic human faces, horizontal masks designed as stylized animal-human fusions, imaginative anthropomorphic ceramic vessels and elaborate regalia forged in iron and cast in copper alloys.
"This exhibition is a treasure trove of outstanding works of art, placed for the first time within a broader context," said curator Karen Milbourne. "This exhibition tells the story of how individual artists have experimented with styles and communities have exchanged ideas and objects. It sheds light on a heretofore little understood but long admired art-producing region."
"Central Nigeria Unmasked: Arts of the Benue River Valley" is organized by the Fowler Museum at UCLA in association with the Musée du quai Branly in Paris.
Educational Programs and Catalog
Public programs, including a Talking Drums workshop and lecture in late 2011, will complement the exhibition. For further information, visit africa.si.edu. 
Support
Major support for the exhibition is provided by the National Endowment for the Arts, the Fowler Museum's Shirley and Ralph Shapiro Director's Discretionary Fund, Jay and Deborah Last,
Joseph and Barbara Goldenberg, Robert T. Wall Family and Jill and Barry Kitnick. Major funding for the publication is provided by The Ahmanson Foundation with additional support from the Ethnic Arts Council of Los Angeles. The planning phase of this project was funded by a grant from the National Endowment for the Humanities.
The National Museum of African Art venue of "Central Nigeria Unmasked" is sponsored by ThisdayLive and Arise magazine. Additional support provided by Chevron and Arik Air.
About the National Museum of African Art
The National Museum of African Art is America's only museum dedicated to the collection, conservation, study and exhibition of traditional and contemporary African art. The museum is open daily from 10 a.m. to 5:30 p.m., except Dec. 25. Admission is free. It is located at 950 Independence Avenue S.W., near the Smithsonian Metrorail station on the Blue and Orange lines. For more information about this exhibition, call (202) 633-4600 or visit the museum's website at Africa.si.edu. For general Smithsonian information, call (202) 633-1000 or TTY (202) 633-5285.
# # #
Note: To arrange an interview with the curator, or for selected high-resolution images, contact Eddie Burke at (202) 633-4660 or BurkeE@si.edu.
SI-367-2011