National Museum of African Art to Participate in Art Museum Day
Celebration Will Feature Live Music, Meet and Greet with Johnnetta Betsch Cole and Twitter Exchange
May 17, 2012
News Release
Addthis Share Tools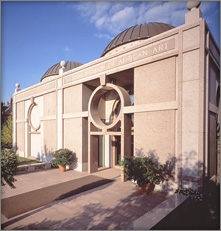 The Smithsonian's National Museum of African Art will join museums all over the world in celebrating Art Museum Day Friday, May 18. The museum will honor the occasion from 12 to 1 p.m. with a live performance by Jabari Exum of Farafina Kan and a meet and greet with Johnnetta Betsch Cole, director of the museum.
"I visit my art museum because …." is the tagline for this year's Art Museum Day and attendees will be invited to share their responses to the tagline via Twitter and on forms available at the museum. The completed forms will be posted in a mini-installation in the museum's pavilion. The public can also share their responses via Twitter and on the Museum of African Art's Facebook page with the hashtag #ArtMuseumDay.
"We are delighted to celebrate Art Museum Day 2012," said Johnetta B. Cole. "I know how important art is to helping spark conversation, stimulate interaction and share beauty and creativity. The museum is proud to offer a day for our visitors near and far to celebrate Art Museum Day."
"Art museums create opportunities for the public to engage directly with works of art in new and meaningful ways—from transformative educational initiatives to innovative public partnerships," said Chris Anagnos, executive director of the Association of Art Museum Directors. "AAMD believes that art should be accessible and relevant to all, and we are pleased to bring together more than 120 art museums to celebrate the power of art and to encourage visitors to share their museum experiences."
Participation in the international event highlights the value of the visual arts in society and provides new opportunities for audiences to participate in wide-ranging programs and record their encounters with works of art.
About AAMD
AAMD member museums—located across the United States, Canada and Mexico—include regional museums and large international institutions. International Museum Day is organized annually around the world by the International Council of Museums. AAMD's Art Museum Day is an opportunity to focus attention on the role of art museums in North America as part of ICOM's global celebration of museums.
A comprehensive list of participating AAMD member art museums will be available in the newsroom of AAMD's website (http://www.aamd.org/newsroom/).
Exhibitions Currently on View at the National Museum of African Art
"Lalla Essaydi: Revisions," through Feb. 24, 2013
Walt Disney Tishman Collection: Permanent
"African Mosaic: A Decade of Collecting": Ongoing
Upcoming Exhibitions at the National Museum of African Art
"African Cosmos: Stellar Arts": June 19–Dec. 9
About the National Museum of African Art
The National Museum of African Art is America's first museum dedicated to the collection, conservation, study and exhibition of traditional and contemporary African art. The museum is open daily from 10 a.m. to 5:30 p.m., except Dec. 25. Admission is free. The museum is located at 950 Independence Avenue S.W., near the Smithsonian Metrorail station on the Blue and Orange lines. For more information, call (202) 633-4600 or visit the National Museum of African Art's website at africa.si.edu. For general Smithsonian information, call (202) 633-1000.
For more information, contact Eddie Burke, public affairs specialist at the National Museum of African Art, (202) 633-4660; BurkeE@si.edu.
# # #
SI-242A-2012