National Museum of African Art Opens Its Doors for Fourth Annual Community Day, Sept. 10
Fashion Show to Feature Pieces Inspired by Museum's "Artists in Dialogue 2" Exhibition
August 30, 2011
News Release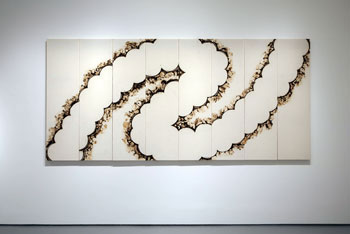 The Smithsonian's National Museum of African Art's annual Community Day is Saturday, Sept. 10, from 1 p.m. to 6:30 p.m. This year's theme is "The Power of the Word: A Dramatic State of Affairs." Each September, the museum opens its doors so visitors of all ages may experience special performances and events intended to inspire them to learn more about the culture and people of Africa and its diaspora through music, dance, film and art. This event is free.
"Community Day at the museum is all about the joy of celebrating the diversity and the similarities among us," said Johnnetta Betsch Cole, director of the museum. "It is a day when girls and boys, women and men, from communities as nearby as Anacostia and Georgetown and as distant as communities from around the world come together. All are welcome to witness and participate in the making of visual arts, music, dance, fashion and theater that come from Africa, the very cradle of humankind."
Emceed by Diallo Sumbry and Dehejia Maat, Community Day offers something for everyone, including art activities, face painting, storytelling by Bill Grimmett, West African dance by Nazu and spoken word by Omecongo.
Among this year's highlights are performances by Afro funk band Chopteeth and a fashion show by Morgan State University influenced by the museum's contemporary exhibition "Artists in Dialogue 2." In it, models will respond and interpret the innovative artistic styles of Henrique Oliveira and Sandile Zulu through fashion.
"Artists in Dialogue 2"
"Artists in Dialogue 2: Sandile Zulu and Henrique Oliveira" will be on view at the museum through Dec. 4. It is the second in a series of exhibitions in which two artists are invited to create new works at the museum, each in response to the other. In January, Zulu, who lives in Johannesburg, joined Oliveira, who lives in Sao Paolo, to install the site-specific works in the museum.
In the exhibition, the artists inspire one another's work as they continue their imaginative extensions of the canvas. Each artist "paints" with unlikely materials, such as weathered wood and fire, to create work in dialogue with each other. Audiences will see how materials and concepts unite diverse individuals, cultures and places.
About the National Museum of African Art
The National Museum of African Art is America's only museum dedicated to the collection, conservation, study and exhibition of traditional and contemporary African art. The museum is open daily from 10 a.m. to 5:30 p.m., except Dec. 25. Admission is free. The museum is located at 950 Independence Avenue S.W., near the Smithsonian Metrorail station on the Blue and Orange lines. For more information about this exhibition, call (202) 633-4600 or visit the museum's website at Africa.si.edu. For general Smithsonian information, call (202) 633-1000 or TTY (202) 633-5285.
###
Note: To arrange an interview with the artists or for selected high-resolution images, contact Eddie Burke at (202) 633-4660 or BurkeE@si.edu
SI-372A-2011