National Museum of African American History and Culture Wins Webby Award
April 26, 2017
News Release
Addthis Share Tools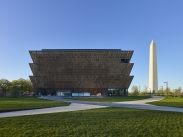 The Smithsonian's National Museum of African American History and Culture has won a Webby award for its dynamic website. The museum won in the category of "Cultural Institutions" along with the Metropolitan Museum of Art and The Tate of London. Presented by the International Academy of Digital Arts and Sciences (IADAS), the Webby is the leading international award honoring excellence on the Internet. Award recipients include websites, film and video, advertising, media and PR, mobile sites and apps, podcasts and digital audio.
Established in 1996, the Webby Awards received more than 13,000 entries from all 50 states and 70 countries worldwide.
Since its opening in September 2016, the museum has garnered high levels of engagement across its various web and social-media platforms, averaging more than 110,000 unique visitors per week. In March, the museum's website had more than 440,000 unique visitors and more than 1.7 million page views.
Visitors have used the museum site to order free passes, search more than 8,000 digitized objects from the collection, explore unique stories and learn about the museum's 12 inaugural exhibitions and its educational and public programs.
The website also features a "mobile first" responsive design that has increased its accessibility to visitors across a range of connected mobile devices.
"We are excited and honored by this recognition for our website," said Allison Wilcox, the museum's assistant director for information technology. "The incredible support our visitors have shown is a reflection of the work of our museum colleagues; their contributions have made the website a valuable resource for people planning their museum visit." 
About the National Museum of African American History and Culture
The National Museum of African American History and Culture opened Sept. 24, 2016, on the National Mall in Washington, D.C. Occupying a prominent location next to the Washington Monument, the nearly 400,000-square-foot museum is the nation's largest and most comprehensive cultural destination devoted exclusively to exploring, documenting and showcasing the African American story and its impact on American and world history. For more information about the museum, visit nmaahc.si.edu, follow @NMAAHC on Twitter, Facebook, Instagram and Snapchat or call Smithsonian information at (202) 633-1000.
# # #
SI-243-2017