National Museum of African American History and Culture's April Events Include Jazz Concerts, Panel Discussions
April 12, 2017
News Release
Addthis Share Tools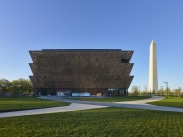 The Smithsonian's National Museum of African American History and Culture continues its grand-opening year event series in April, including discussions of the Biafran-Nigerian Civil War and the Los Angeles Riots. In celebration of Jazz History Month, there will also be performances by Corey Henry's Revival and Randy Weston. The events will take place in the museum's Oprah Winfrey Theater. All events are free and open to the public. Seating is limited and on a first-come, first-seated basis. Registration is strongly suggested. Tickets are available at www.etix.com.
On Friday, April 21, from 7 to 9 p.m., the museum will present "An Evening with Chimamamda Ngozi Adichie," renowned author and 2008 MacArthur Foundation Fellow, who will discuss the Biafran-Nigerian Civil War, which took place between 1967 and 1970. This lecture is presented in association with an international conference entitled "Remembering Biafra: History, Memory and Global Impact of the Nigerian Civil War" presented by the George Washington School of International Affairs, the Institute of African Studies. This program will be live streamed at http://www.ustream.tv/channel/zCPF4U3hFPc.
On Saturday, April 22, from 7 to 9 p.m., there will be a concert of sacred music with Grammy Award-winning keyboardist Corey Henry and his "Revival" project, which includes spoken-word artists and gospel jazz performers.
April 2017 marks the 25th anniversary of the Los Angeles riots and uprising—a historic moment triggered by the beating of Rodney King. On Wednesday, April 26, from 7 to 9 p.m., the museum will host a screening of the powerful new film LA 92 from National Geographic Documentary Films. LA 92 is a riveting look back at racial discrimination in Los Angeles and the controversial Rodney King trial and subsequent riots. The film will be followed by a discussion with the filmmakers and other special guests. The event is presented by the museum's Earl and Amanda Stafford Center for African American Media Arts (CAAMA).
On Thursday, April 27, at 7 p.m., the Smithsonian Asian Pacific American Center and the museum remember the Los Angeles Riots with the event "History, Race and Rebellion: The LA Rebellion 25 Years Later." It will consist of presentations in a variety of formats, each offering different vantage points. Speakers include:
Angela Oh, social and political activist and writer
Patrice Cullors, artist, organizer and co-founder of Black Live Matter
Cathy Dang, community organizer and executive director of CAAAV: Organizing Asian Communities
Hertencia Paterson, aunt of Akai Gurly, shot and killed by police in New York
Tyree Boyd-Pates, curator at the California African American Museum
Online audiences are invited to participate via a Facebook Live stream from the museum's Facebook page and by joining 2NMAAHC and @SmithsonainAPA on Twitter using #HRRLive.
On Saturday, April 29, from 7 to 9 p.m., the celebration of Jazz Appreciation Month concludes with "Musical Crossroads: Randy Weston in Concert." Weston was described as one of the world's great visionary pianists and composers. He will perform works from his vast repertoire of compositions inspired by African traditional music.
The National Museum of African American History and Culture opened Sept. 24, 2016, on the National Mall in Washington, D.C. Occupying a prominent location next to the Washington Monument, the nearly 400,000-square-foot museum is the nation's largest and most comprehensive cultural destination devoted exclusively to exploring, documenting and showcasing the African American story and its impact on American and world history. For more information about the museum, visit nmaahc.si.edu.  
# # #
SI-210-2017