National Museum of African American History and Culture Releases New Book on Black Music and Its Global Impact
Objects and Essays Explore 400 Years of Musical Culture
March 1, 2023
News Release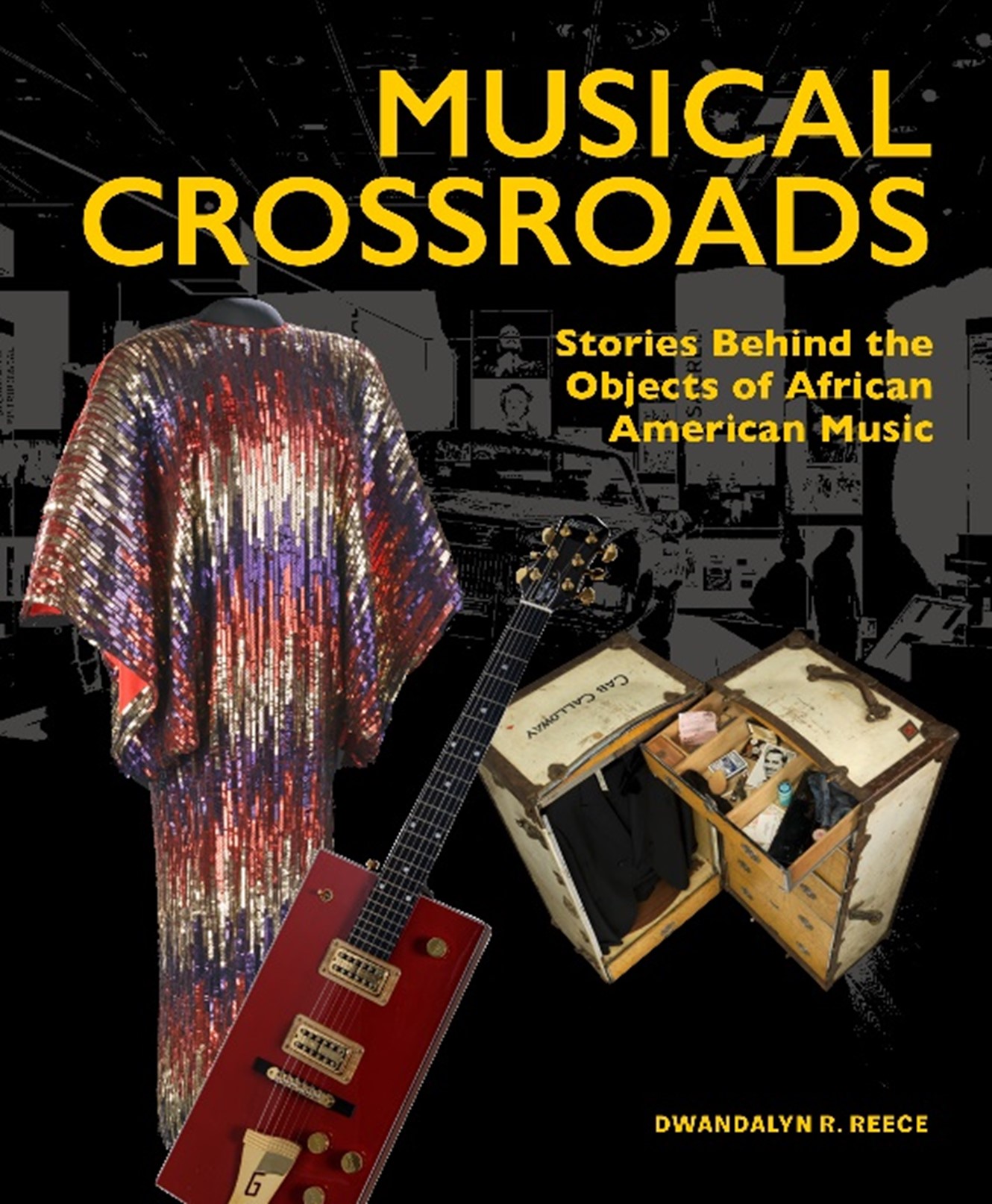 The Smithsonian's National Museum of African American History and Culture (NMAAHC) has released a new book spotlighting objects in its music collection to show the compelling ways Black music has shaped American identity from the 19th century to the present.  
 Rigorously researched by a team of NMAAHC scholars, Musical Crossroads: Stories Behind the Objects of African American Music is richly illustrated with more than 200 images of objects in the museum's music and performing arts collection. These include the obvious—Thelonious Monk's piano, Whitney Houston's Soul Train Award and Marian Anderson's outfit from her 1939 Lincoln Memorial concert—and the less obvious—Little Richard's Bible, a poem by James Baldwin, the clock worn by Flavor Flav and Hall Johnson's camera.  
The editor of Musical Crossroads and author of its main essays is Dwandalyn R. Reece, the museum's associate director for curatorial affairs and the curator of the "Musical Crossroads" exhibition at the museum who played the leading role in developing the museum's music collection. 
The book also features a foreword by Kevin Young, the Andrew W. Mellon Director of NMAAHC.   
"Harriet Tubman's hymnal, Charlie Parker's saxophone, Chuck Berry's Cadillac Eldorado, Sammy Davis Jr.'s childhood tap shoes, the Parliament Funkadelic Mothership—these are among the nearly 4,000 items that make up the music collection stewarded by the National Museum of African American History and Culture," Young said. "These musical materials tell a story of Black innovation, survival and ingenuity. For the enslaved, their bodies could become an instrument in an oppressive system where much of their music was outlawed; their spirits undaunted, they achieved, as Harriett Tubman's hymnal testifies, a higher calling of faith and freedom."    
Musical Crossroads is divided into five thematic chapters:  
Music and the Meaning of Things  
Roots and Branches  
Music in the Community, Music of the Community 
I Wish I Knew How It Would Feel To Be Free 
The Power(s) of Black Music 
Featured objects include a 19th-century gourd banjo, Diahann Carroll's Tony Award, instruments and uniforms from Florida A&M's Marching "100," Big Mama Thornton's harmonica, Radio Raheem's original boombox used in Spike Lee's 1989 film, Do the Right Thing, Janet Jackson's key earring, Ray Barretto's conga and André 3000's rainbow boa.   
Reece wrote, "Music is the great equalizer around the world. No matter where it originates or what form it takes, it has played a crucial role in shaping the human experience and preserving the history of that experience for centuries. The museum's music collection includes celebrated artists, diverse music genres, high-profile professionals, institutions and historical events, as well as artifacts that reflect the role music plays in the day-to-day lives of individuals in their homes, churches, schools, and local communities." 
Essays explore various topics, including minstrelsy, bebop, dance, Black-owned record labels, education and religion. Key places are spotlighted, including New Orleans, Atlanta and Cleveland. Among the individual artists profiled are Ernie Fields, Hall Johnson, Shirley Verrett, Paul Robeson, Queen Latifah, Janelle Monáe, Prince, Terri Lyne Carrington, Ray Charles, Luther Vandross, Whitney Houston and Ella Jenkins. 
The publication's core team includes: 
Dwandalyn R. Reece has more than 30 years of experience as a scholar, performer, grant maker and curator, including 12 years as NMAAHC's curator of music and performing arts from 2009 to 2021. Reece curated the museum's "Musical Crossroads" exhibition, which won the Secretary's Research Prize in 2017.   
Timothy Anne Burnside is a public historian and museum professional with nearly 20 years of experience at the Smithsonian. At NMAAHC, she develops exhibitions and programs focusing on music.  
Hannah Grantham is a curatorial research assistant at NMAAHC with a background in musicology and the study of musical instruments.  
Steven W. Lewis is curator of music and performing arts at NMAAHC. Prior to joining the staff, he served as the founding curator of the National Museum of African American Music in Nashville, Tennessee. 
Douglas T. Remley is the publications and rights specialist at NMAAHC where he coordinates the museum's publications and online features highlighting the museum's collections and exhibitions.   
Other NMAAHC staff essayists include Tuliza Fleming, Vanessa L. Moorer, Kelly Elaine Navies, Deborah Tulani Salahu-Din, Kevin M. Strait, Angela Tate and Eric Lewis Williams.   
Musical Crossroads is published in collaboration with GILES based in the U.K. 
"Musical Crossroads models for both scholar and novice how instruments, photographs, clothing, and other forms of ephemera offer insights that affirm, but also have the potential to challenge and expand our understanding of black musicking in America. This book is essential reading for anyone interested in the history of African American music, its relationship to the formation of American identity and its larger impact on global communities." 
—Tammy L. Kernodle 
University Distinguished Professor of Music, Miami University (Ohio) and immediate past president, Society for American Music  
About the National Museum of African American History and Culture 
Since opening Sept. 24, 2016, the National Museum of African American History and Culture has welcomed more than 7.5 million in-person visitors and millions more through its digital presence. Occupying a prominent location next to the Washington Monument on the National Mall in Washington, D.C., the nearly 400,000-square-foot museum is the nation's largest and most comprehensive cultural destination devoted exclusively to exploring, documenting and showcasing the African American story and its impact on American and world history. For more information about the museum, visit nmaahc.si.edu follow @NMAAHC on Twitter, Facebook and Instagram or call Smithsonian information at (202) 633-1000. 
# # #
SI-2-2023