National Museum of African American History and Culture Releases New Book on Afrofuturism  
Photographs, Essays Explore Ways Black People Create Empowering Futures
March 21, 2023
News Release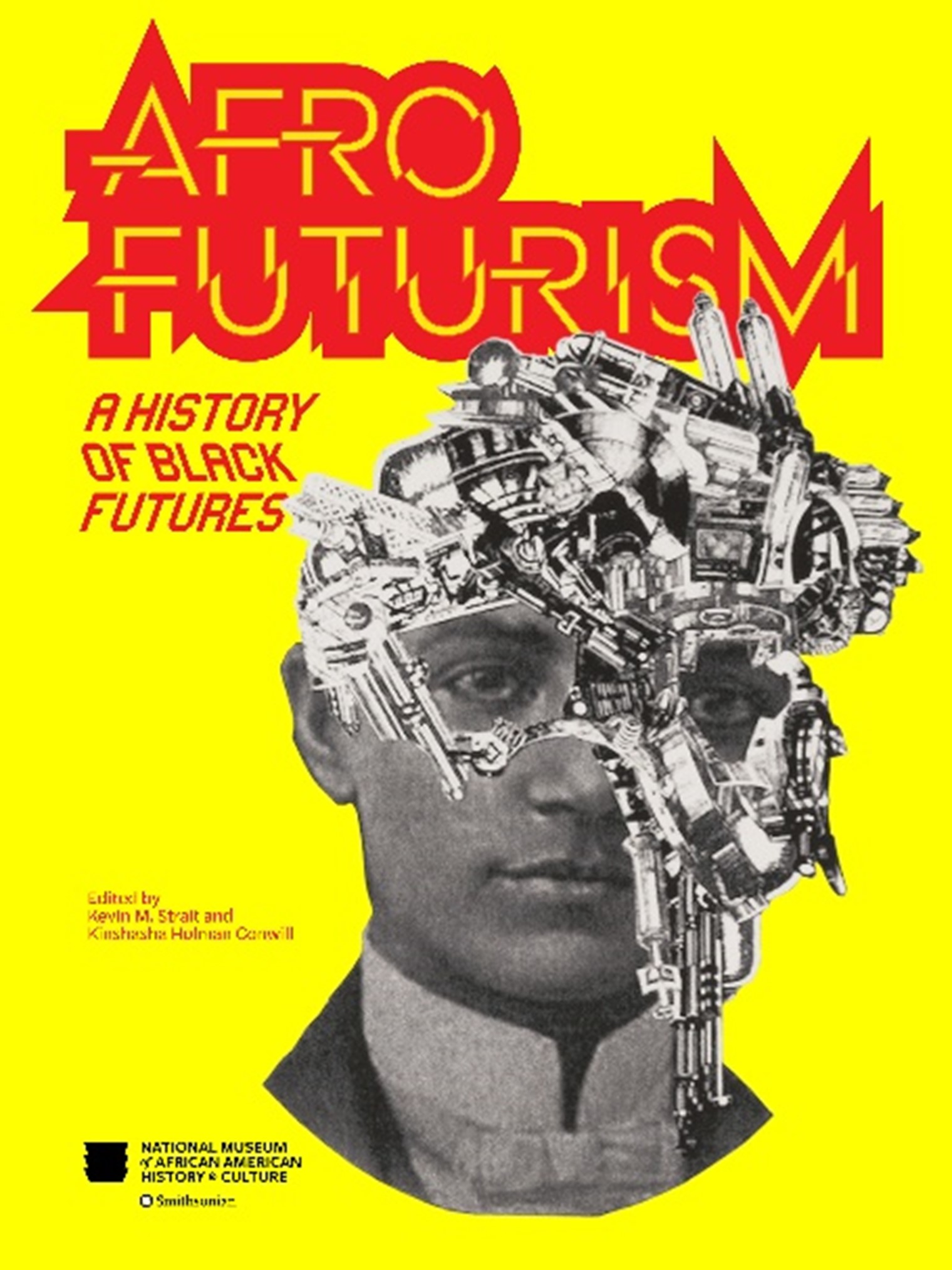 The Smithsonian's National Museum of African American History and Culture (NMAAHC) has released a new book investigating the evolving concept of Afrofuturism, a lens used to reimagine the futures and possibilities of Black people across the globe and explore its expression through literature, music, art, film, fashion and activism.  
Richly illustrated, Afrofuturism: A History of Black Futures features more than 125 photographs, many spotlighting items from Smithsonian collections. These include the Black Panther costume from Captain America: Civil War worn by Chadwick Boseman, the red Starfleet uniform worn by Nichelle Nichols as Lt. Nyota Uhura in the TV series Star Trek, a costume from Broadway's The Wiz, the Parliament-Funkadelic Mothership, Sun Ra's space harp and a space age-style costume worn by Nona Hendryx as a member of Labelle. 
The 216-page, hardcover book is the companion to the exhibition "Afrofuturism: A History of Black Futures," on view at NMAAHC in the Bank of America Special Exhibitions Gallery from March 24 until March 24, 2024. 
It is published by Smithsonian Books in association with NMAAHC. Its co-editors are Kevin M. Strait, the curator of the "Afrofuturism" exhibition, and Kinshasha Holman Conwill, deputy director emerita of NMAAHC and co-editor of numerous books, including Make Good the Promises: Reclaiming Reconstruction and Its Legacies. 
The foreword is by Kevin Young, the Andrew W. Mellon Director of NMAAHC. 
"To consider Afrofuturism is to consider what the museum has long been dedicated to—that is, the bright future that Black people imagined and brought into being even while confronting a frequently perilous past," Young said. "These brilliant essays do just that, accompanied by iconic Smithsonian objects from the collections alongside historic photographs, comics and stunning artworks. From its contents to its stellar design, this book illustrates Afrofuturism as a movement that always looks forward even as it looks back."  
Chapters include essays by a diverse group of 21 artists and scholars who reflect on themes such as legacy, alienation and activism. They include:
Nona Hendryx, vocalist, composer, multi-media artist and activist, tackling issues of love and politics. 
N.K. Jemisin, the first author in the history of the science-fiction genre to win three consecutive Best Novel Hugo Awards for her "Broken Earth" trilogy.
Mark Anthony Neal, the James B. Duke Distinguished Professor of African and African American Studies at Duke University and host-curator for more than a decade of the video podcast "Left of Black" in collaboration with the John Hope Franklin Humanities Institute at Duke. 
Alondra Nelson, who established the "Afrofuturism listserv" in 1998 and has written and lectured widely on the intersections of science, technology and social inequality.  
Vernon Reid, guitarist, founder of the genre-breaking band Living Colour and co-founder of The Black Rock Coalition.
Ytasha L. Womack, author of the critically acclaimed book Afrofuturism: The World of Black Sci-Fi and Fantasy Culture and co-curator of the Afrofuturism Festival at Carnegie Hall in 2022.
Also among the essayists are historians from NMAAHC: Ariana Curtis, Tuliza Fleming, Steven Lewis, Loren E. Miller, Elaine Nichols, William S. Pretzer, Angela Tate and Michelle Joan Wilkinson. 
"Afrofuturism has existed for a long as there has been a radical voice in African American artistry and activism," Strait writes in the book's introduction. "Whether tracing the ancient cosmologies of African civilizations, mining the difficult legacies of enslavement, or constructing worlds of tomorrow, African Americans have always reimagined the past and reexamined the present in order to determine the future." 
The book's four chapters are: 
"Space Is the Place" reflects on space, space travel and how Black women have changed the face of space flight. Matthew Shindell, curator of the Smithsonian's National Air and Space Museum, spotlights the work of astronaut Mae Jemison and NASA mathematician Katherine Johnson.  
"Speculative Worlds" explores the rich history of Black comic books and the work of speculative fiction writers Octavia Butler and Samuel Delany. 
"Visualizing Afrofuturism" analyzes the vast visual culture of Afrofuturism through fashion, hairstyles and adornment. It also considers the impact of artists Alma Thomas, Amy Sherald, Jefferson Pinder and Damon Davis and designs by Black architects.  
"Musical Futures" celebrates the work of various artists, including Sun Ra, Patti Labelle, Nona Hendryx, Sarah Dash, Parliament-Funkadelic, Pete Cosey and the Association for the Advancement of Creative Musicians, Betty Davis, Vernon Reid and Jimi Hendrix. 
Contributors to the book are Reynaldo Anderson, Tiffany E. Barber, Herb Boyd, Ariana Curtis, Eve L. Ewing, Tuliza Fleming, Nona Hendryx, N.K. Jemisin, John Jennings, Steven Lewis, Mark Anthony Neal, Alondra Nelson, De Nichols, Elaine Nichols, William S. Pretzer, Vernon Reid, Matthew Shindell, Angela Tate, Michelle Joan Ytasha L. Womack, Alisha R. Wormsley and Kevin Young. For purchase information, visit the Smithsonian Store or Smithsonian Books.
About the National Museum of African American History and Culture  
Since opening Sept. 24, 2016, the National Museum of African American History and Culture has welcomed more than 9 million in-person visitors and millions more through its digital presence. Occupying a prominent location next to the Washington Monument on the National Mall in Washington, D.C., the nearly 400,000-square-foot museum is the nation's largest and most comprehensive cultural destination devoted exclusively to exploring, documenting and showcasing the African American story and its impact on American and world history. For more information about the museum, visit nmaahc.si.edu follow @NMAAHC on Twitter, Facebook and Instagram or call Smithsonian information at (202) 633-1000.  
# # #
SI-81-2023