National Museum of African American History and Culture Presents "gOD-Talk: A Black Millennials and Faith Conversation Series" in Association With the Pew Research Center
August 9, 2018
News Release
Addthis Share Tools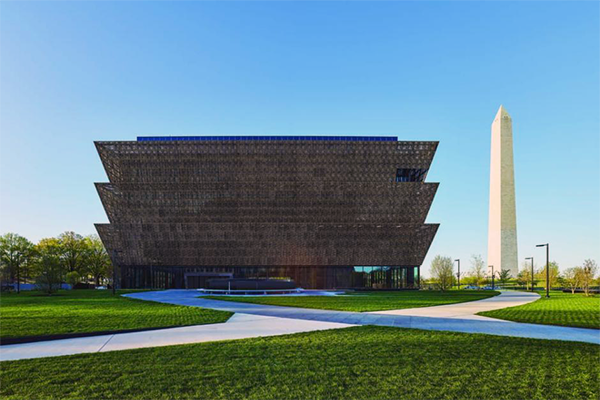 The Smithsonian's National Museum of African American History and Culture, in association with the Pew Research Center, is launching a national series of panel discussions exploring how and why African Americans in their 20s and 30s are creating new ways to engage with religion and spirituality. The pilot for the six-part series will be presented in Los Angeles in partnership with the California African American Museum Aug. 24 from 7 p.m. to 9:30 p.m. PDT. Panelists include leading millennial voices; among them are activists, entertainers, athletes, scholars and religious leaders.
The project, "gOD-Talk: A Black Millennials and Faith Conversation Series," grows out of the Pew Research Center's ongoing research, which shows that millennials (individuals born between 1981 and 1996) are moving away from established religious traditions and becoming more spiritual as they age. Spearheading the planning for this series is the new Center for the Study of African American Religious Life (CSAARL) at the National Museum of African American History and Culture headed by Brad R. Braxton, Ph.D.
"The gOD-Talk series is an innovative exploration of how emerging generations of African Americans are 'remixing' spirituality to engage and enrich the world," Braxton said.
"Among millennials there are serious questions concerning the relevance and the purpose of organized religion in the 21st century," said Teddy R. Reeves, CSAARL museum specialist. "That is why they are finding and creating new spaces to have the kinds of conversations that are not offered in traditional religious settings. They are determined to find ways to have deeper discussions in a number of areas, including gender/LGBTQ issues, prosperity and class, sex and sexuality, and social justice activism."
The Los Angeles program is presented in conjunction with the exhibition "How Sweet the Sound: Gospel Music in Los Angeles," on view through Aug. 26 at the California African American Museum.
Panelists include:
Teddy R. Reeves, museum specialist of religion at CSAARL (moderator)
Tyree Boyd-Pates, history curator at the California African American Museum
Besheer Mohamed, senior researcher at Pew Research Center
Rev. Michael J.T. Fisher, pastor of Greater Zion Church Family, recording artist and KJLH radio host
Patrisse Cullors, activist, author of When They Call You a Terrorist: A Black Lives Matter Memoir and co-founder of the Black Lives Matter movement
Husain Abdullah, retired Kansas City Chiefs safety
Ryon Cobb, assistant professor, University of Texas at Arlington
Devi Brown, author of Crystal Bliss: Attract Love. Feed Your Spirit. Manifest Your Dreams, owner and founder of Karma Bliss and radio personality
Tre'vell Anderson, Los Angeles Times film reporter
Candice Benbow, writer and theologian
DJ B-Hen, celebrity disc jockey and philanthropist
The public is welcome to join this free event at the California African American Museum in Exposition Park at 600 State Dr. in Los Angeles. Space is limited, and registration is required at https://nmaahc.si.edu/god-talk-black-millennials-and-faith-conversation. The public can join the conversation by following @NMAAHC on Facebook, Instagram, Twitter and Snapchat using the hashtags #gODTalk and #BlackFaith. Media interested attending may RSVP by contacting Janessa Sambola at sambolaj@si.edu.
About the National Museum of African American History and Culture  
The National Museum of African American History and Culture opened Sept. 24, 2016, on the National Mall in Washington, D.C. Occupying a five-acre site adjacent to the Washington Monument, the nearly 400,000-square-foot museum is the nation's largest and most comprehensive cultural destination devoted exclusively to exploring, documenting and showcasing the African American story and its impact on American and world history. For more information about the museum, visit nmaahc.si.edu or call Smithsonian information at (202) 633-1000.  
About the Center for the Study of African American Religious Life
The Center for the Study of African American Religious Life promotes scholarship, collects religious artifacts and produces public programming to expand the ways religion is acknowledged and explored by the nation's research and cultural institutions. The center provides resources and convening opportunities to study the central role religion has played in shaping African American history and culture with a global community of faith leaders, scholars and the public.
About the California African American Museum
The California African American Museum (CAAM) explores the art, history and culture of African Americans, with an emphasis on California and the West. Chartered by the State of California in 1977, the museum began formal operations in 1981 and is a state-supported agency and a Smithsonian Affiliate. In addition to presenting exhibitions and public programs, CAAM houses a permanent collection of more than 4,000 works of art, artifacts and historical documents, and a publicly accessible research library containing more than 20,000 volumes.
# # #
SI-450-2018