National Museum of African American History and Culture Hosts First Interactive Virtual Tour
Virtual Tour Honors Juneteenth
June 19, 2017
News Release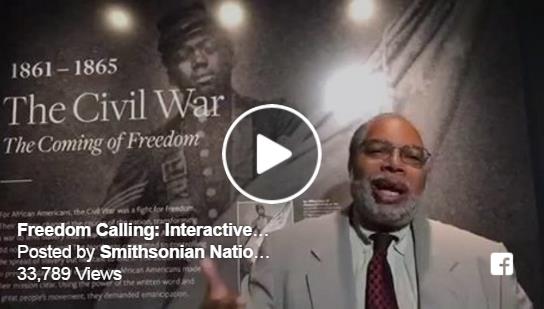 The Smithsonian's National Museum of African American History and Culture (NMAAHC) celebrated the Juneteenth holiday with its first interactive virtual tour led by the museum's founding director, Lonnie G. Bunch III. The virtual tour was hosted on the museum's Facebook page Monday, June 19, at 8:30 a.m. Eastern time at www.facebook.com/nmaahc. Following the tour, visitors asked Bunch questions on Facebook Live.  
Juneteenth is the oldest-known celebration commemorating the end of slavery in the United States. This inaugural interactive tour is another example of how NMAAHC is redefining the modern museum experience and making the museum's exhibitions available to people anywhere in the world.
This marks the first time the museum has offered an interactive digital tour of the exhibition. Bunch led viewers on a virtual walking tour through the history galleries highlighting the story of the international slave trade, emancipation and the period of resistance that followed.
Virtual-tour participants saw and heard the stories behind some of the museum's most popular objects, including Nat Turner's bible, freedom papers of formerly enslaved people and the Sibley tent that housed African American soldiers that fought for the Union. The goal of this tour was to highlight this culturally important holiday that commemorates the end of slavery.
About the National Museum of African American History and Culture
The National Museum of African American History and Culture opened Sept. 24, 2016, on the National Mall in Washington, D.C. Occupying a prominent location next to the Washington Monument, the nearly 400,000-square-foot museum is the nation's largest and most comprehensive cultural destination devoted exclusively to exploring, documenting and showcasing the African American story and its impact on American and world history. For more information about the museum, visit nmaahc.si.edu, follow @NMAAHC on Twitter, Facebook, Instagram and Snapchat—or call Smithsonian information at (202) 633-1000.
# # #
SI-360-2017