National Museum of African American History and Culture Brings "Treasures" to Houston Oct. 29
October 14, 2011
News Release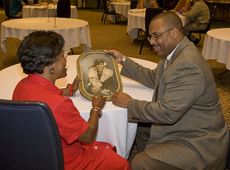 The Smithsonian's National Museum of African American History and Culture and the Houston Public Library will co-host a program to help Houston-area residents identify and preserve items of historical and cultural significance tucked away in the attics, closets and basements of their homes. The free event will feature presentations, hands-on activities and preservation tips.
The program will take place Saturday, Oct. 29, from 10 a.m. to 4 p.m., at the Houston Public Library Central Library, 500 McKinney Street, Houston. Free and open to the public, the event is the 11th in a series from the Smithsonian museum's signature program "Save Our African American Treasures: A National Collections Initiative of Discovery and Preservation." All are welcome.
"We are extremely proud to bring 'Save Our African American Treasures' to Houston," said Lonnie Bunch, director of the Smithsonian museum. "We encourage people to become aware of their artifacts, to protect and to preserve them so the story of African Americans in this country can be told. If we do not act now to preserve these items, the tangible evidence of a critical component of American history will be lost."
"We are excited to host and to partner with the National Museum of African American History and Culture's efforts to preserve African American history," said Rhea Brown Lawson, director of the Houston Public Library. "It is extremely important for the African American community to learn how to effectively preserve, and to also share, family, church, educational and organizational documents, photos and artifacts.
Participants can bring up to three personal items for a 20-minute, one-on-one professional consultation with experts on how to care for them. The specialists will serve as reviewers, not appraisers, and will not determine items' monetary values. Objects such as books, paper and textiles no larger than a shopping bag can be reviewed. No furniture, carpets, firearms and paintings are allowed. Additional information is available at nmaahc.si.edu, by emailing treasures@si.edu or by calling (877) 733-9599.
The "Treasures" program also includes the following activities throughout the day:
The Gregory School: The African American Library at the Gregory School is the newest special collections unit operated by the Houston Public Library. Learn how it developed and about the unique collections and services it provides.
Preservation Presentations: Informal basic preservation sessions will take place during the day. The sessions will provide information on preserving clothing and textiles, family photographs and papers, digital memories and a session explaining the process of establishing provenance of an object. Participants will have the opportunity to ask questions.
Hands-on Preservation: In this hands-on activity, participants are invited to learn how to properly store letters, pack garments and prepare photographs for preservation storage and presentation.
"Save our African American Treasures" is made possible with support from the Bank of America Charitable Foundation and the W.K. Kellogg Foundation. The grants also support the pre-design and construction of the museum on the National Mall in Washington, D.C., scheduled to open in 2015.
As a companion to the series, the museum has produced African American Treasures: A Preservation Guide, a 30-page guidebook that is distributed free to attendees to highlight the importance of proper preservation techniques. The guidebook is part of the "Treasures" kit. Also distributed will be white cotton gloves, archival tissue papers and archival documents sleeves to help people keep their personal treasures safe.
The National Museum of African American History and Culture was established in 2003 by an Act of Congress, making it the 19th Smithsonian Institution museum. Scheduled for completion in 2015, it will be built on the National Mall in Washington, D.C., on a five-acre tract adjacent to the Washington Monument. Currently, during the pre-building phase, the museum is producing publications, hosting public programs and assembling collections. It is presenting exhibitions at other museums across the country and at its own gallery at the National Museum of American History. For more information about the museum, visit nmaahc.si.edu or call Smithsonian information at (202) 633-1000, (202) 633-5285 (TTY).
The Houston Public Library (HPL) operates 35 neighborhood libraries, three HPL Express Libraries, a Central Library, the Houston Metropolitan Research Center, the Clayton Library Center for Genealogical Research, The African American Library at the Gregory School, and the Parent Resource Library located in the Children's Museum of Houston. Serving more than 4 million customers per year, HPL is committed to excellent customer service and equitable access to information and programs by providing library customers with free use of a diverse collection of printed materials and electronic resources, Internet, laptop and computer use, and a variety of database and reference resources with live assistance online 24/7. For further information, visit the Houston Public Library at www.houstonlibrary.org or call 832-393-1313.
# # #
SI-435-2011