National Air and Space Museum Expands Educational Program with GE Aviation Sponsorship
September 28, 2015
News Release
Addthis Share Tools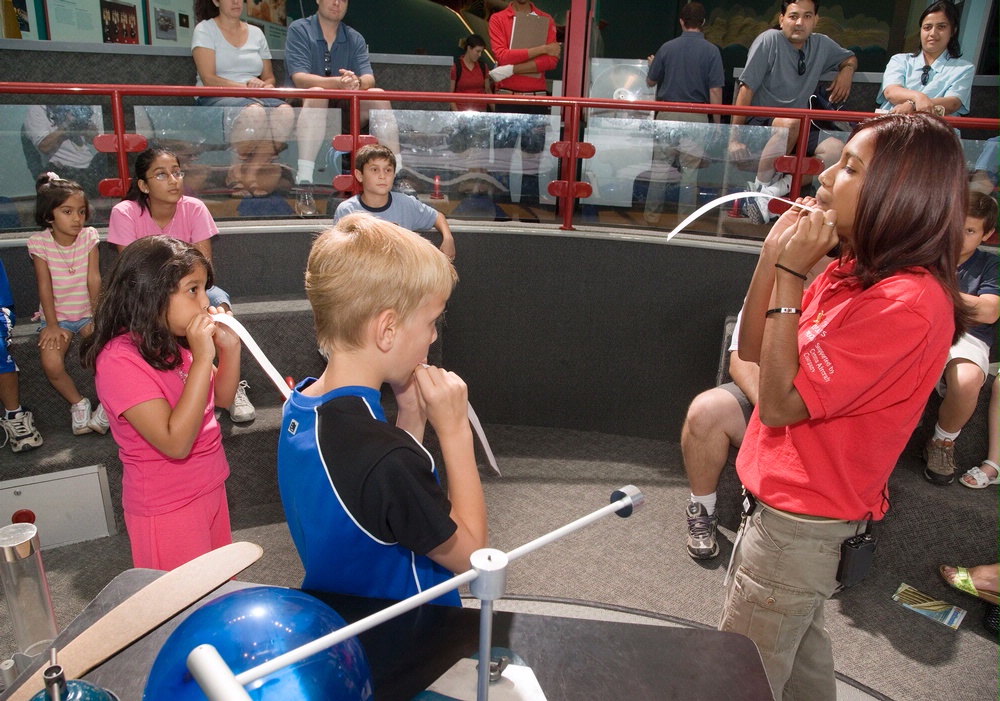 The Smithsonian's National Air and Space Museum has received a $5 million sponsorship from GE Aviation to expand its "Explainers" program over the next five years. Explainers are high school and college students who perform educational demonstrations in museum galleries and assist with events, such as family days. The sponsorship will allow the museum to expand activities at its flagship building in Washington, D.C., and its Chantilly, Va., location, the Steven F. Udvar-Hazy Center. It will also help establish a new Explainers offering: online video conferencing to schools. Initially, the online conferences will be offered exclusively in selected public schools in Cincinnati.
"GE Aviation's generous commitment to the Explainers will allow us to break down the walls and reach students in classrooms," said Gen. J.R. "Jack" Dailey, the John and Adrienne Mars Director of the museum. "This sponsorship will lead the museum to a national program."
Explainers work part-time at both buildings to interpret exhibitions and staff educational stations, focusing on the science of flight, the study of planets and the universe, and STEM (science, technology, engineering and math) concepts. The GE sponsorship will double the number of Explainer positions and increase onsite coverage at the Udvar-Hazy Center from weekends only to Thursday through Sunday.
The GE Aviation sponsorship will also support the Electronic Outreach Explainers, an 18-month pilot program with Cincinnati classroom students, and it includes training for Explainers who work behind a camera, along with instruction on teaching and conducting interactive demonstrations in front of a live classroom audience.
"This is an important next step for the Explainers program and our work to accelerate STEM education," said David Joyce, president and CEO of GE Aviation and chairman of the National Air and Space Museum Board.  "We are using technology to reach schools and kids who may not have the opportunity to come to the museum, and positioning the National Air and Space Museum as an institutional role model for what a focus on STEM education can really accomplish beyond the walls of the museum.  The Explainers are perfect ambassadors for the museum and we are excited to sponsor this program."
Attendance at the National Air and Space Museum's Washington building is about 7 million visitors a year; at the Udvar-Hazy Center, attendance is about 1.3 million. The museum estimates more than a million learning experiences were conducted with kids and their parents at its sites in 2014, and many more occurred through digital outreach.
The museum recruits Explainers through area schools, guidance counselors, Work-Study programs and college job fairs. For more information about the Explainers program and how to apply for a position, visit the museum's website.
The National Air and Space Museum building on the National Mall in Washington, D.C., is located at Sixth Street and Independence Avenue S.W. The museum's Steven F. Udvar-Hazy Center is located in Chantilly, Va., near Washington Dulles International Airport. The museum's research, collections, exhibitions and programs focus on aeronautical history, space history and planetary studies. Both buildings are open from 10 a.m. until 5:30 p.m. every day (closed Dec. 25).
# # #
SI-434-2015