"NASA | ART: 50 Years of Exploration" Opens at the Smithsonian's National Air and Space Museum
May 24, 2011
News Release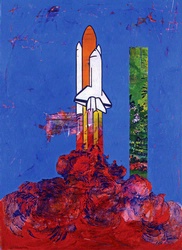 You do not have to be a rocket scientist or an astronaut to work for NASA. Engineers, pilots, physicists, astrobiologists and, yes, artists, too, have helped further the mission of the space agency. In 1962, NASA administrator James E. Webb invited a group of artists to illustrate and interpret the agency's missions and projects. Artists, participating in the NASA art program, many of them renowned, have been documenting the extraordinary adventure of spaceflight ever since. Granted special access to historic moments, they have offered their perspectives on what they have witnessed.
"NASA | ART," on view from May 28 to Oct. 9, features works by artists as diverse as Annie Leibovitz, Alexander Calder, Nam June Paik, Norman Rockwell, Andy Warhol and William Wegman. The exhibition includes drawings, photographs, sculpture and other art forms and media from the collections of NASA and the National Air and Space Museum. These more than 70 works—ranging from the illustrative to the abstract—present a different view of NASA than the one in history books or news shows.
Several of the artists have captured the faces and personalities of the men and women who have flown in space. Other members of the team—scientists, engineers, technicians, managers and thousands of others who made the space program possible—are also portrayed. Bunkers, gantries, radio dishes and the towering Vehicle Assembly Building of NASA's Kennedy Space Center in Florida attracted other program artists, some of whom were struck by the co-existence of the space-age architecture of the Cape with the beaches, swamps, birds and animals that surround the space-age facility.  
The exhibition is organized by the Smithsonian Institution Traveling Exhibition Service (SITES) and NASA in cooperation with the Smithsonian's National Air and Space Museum.
SITES has been sharing the wealth of Smithsonian collections and research programs with millions of people outside Washington, D.C., for more than 50 years. SITES connects Americans to their shared cultural heritage through a wide range of exhibitions about art, science and history, which are shown wherever people live, work and play. Exhibition descriptions and tour schedules are available at www.sites.si.edu.
The National Air and Space Museum building on the National Mall in Washington, D.C., is located at Sixth Street and Independence Avenue S.W. The museum's Steven F. Udvar-Hazy Center is located in Chantilly, Va., near Washington Dulles International Airport. Both facilities are open daily from 10 a.m. until 5:30 p.m. (closed Dec. 25). Admission is free, but there is a $15 fee for parking at the Udvar-Hazy Center.
# # #
SI-221-2011