Mr. Peanut Comes to the Smithsonian
National Museum of American History Goes Nuts for Marketing Icon
December 5, 2013
News Release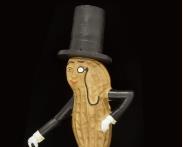 An early 20th-century Mr. Peanut figure will come to the Smithsonian's National Museum of American History as part of an initiative to tell the story of American marketing. Made of cast-iron, the figure adorned a Planters' factory fence post and was donated to the museum by Kraft Foods.
The brand icon was born in 1916 when schoolboy Antonio Gentile submitted his sketch to a logo contest put out by Planters. Mr. Peanut will be included in the "Marketing Moments" section of the upcoming business exhibition "American Enterprise" (working title), set to open in summer 2015.
"American advertising has gone through a tremendous transformation since the early years of the nation," said John Gray, director of the museum. "But while it has become a high-tech industry deeply affecting the American experience, icons like Mr. Peanut demonstrate the resilience of branding and the use of spokes-characters throughout much of that transformation."
"American Enterprise" will be an 8,000-square-foot multimedia experience in the Mars Hall of American Business aimed at telling the nation's story of business and innovation by tracing the country's development from a small dependent agricultural nation to one of the world's largest economies. For details, visit http://americanenterprise.si.edu.
Through incomparable collections, rigorous research and dynamic public outreach, the National Museum of American History explores the richness and complexity of American history. The museum helps people understand the past in order to make sense of the present and shape a more humane future. For more information, visit http://americanhistory.si.edu. The museum is located at 14th Street and Constitution Avenue N.W., and is open daily from 10 a.m. to 5:30 p.m. (closed Dec. 25). Admission is free. For Smithsonian information, the public may call (202) 633-1000.
# # #
SI-487-2013