"Little Black Books: Address Books from the Archives of American Art" Reveals Artists' Personal and Professional Connections
Exhibition Will Be on View at the Archives of American Art Aug. 7– Nov. 1
July 6, 2015
News Release
Addthis Share Tools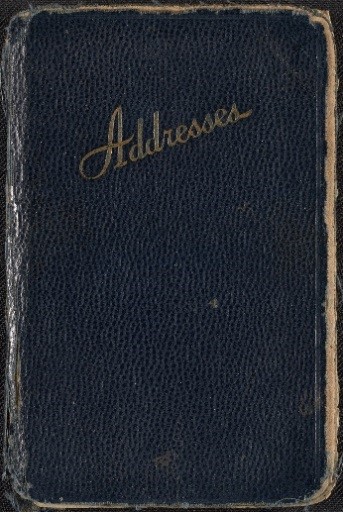 This summer, the Smithsonian's Archives of American Art will showcase for the first time a selection of the personal address books of influential American artists. From Jackson Pollock and Lee Krasner to Joseph Cornell and Ad Reinhardt, "Little Black Books: Address Books from the Archives of American Art" will uncover fascinating webs of personal and professional connections. The exhibition will be on view at the Lawrence A. Fleischman Gallery at the Smithsonian's Donald W. Reynolds Center for American Art and Portraiture from Aug. 7 through Nov. 1.
In this era of digital communication, contacts are quickly updated, deleted and shared. But long before smartphones and computers, traditional address books stored this important and sometimes confidential information. Like diaries, these pocket-sized books, their dog-eared pages grimy with tangled ink and pencil marks, reveal much about their owners, creating a rich paper trail of relationships while tracking the journeys of family and friends. 
"Little Black Books" will relate the names condensed in address books in unexpected ways to oral history recordings, correspondence, sketches and photographs in the Archives of American Art. Together, these primary resources give us a rare opportunity to glimpse into the everyday lives and social networks of artists.
Highlights include:
Printmaker Kathleen Blackshear's elaborate system for tracking the dissemination of her annual holiday card and illustrator Bernarda Bryson Shahn's address book that doubled as a sketchbook
Joseph Cornell's address book, which comprises a wide network of avant-garde pen pals even though he rarely ventured beyond New York City
Oral-history recordings that give voice to Ad Reinhardt and the art-world personalities listed in his book
Jackson Pollock and Lee Krasner's address book, which lists the many artists who were frequent visitors to the Pollock-Krasner house in East Hampton
Textile designer Dorothy Liebes' contacts, which she listed into curious categories, such as 'boys," "extra girls," "restaurants" and "Philadelphia"
Palmer Hayden's address book, which tracks his contacts in Paris and often doubled as his notebook
"Bringing together all of these primary resources from our own collection gives us a rare opportunity to see these artists, many of whom are well known, in a new and instructive light," said Kate Haw, director of the Archives of American Art.
About the Smithsonian's Archives of American Art
Founded in 1954, the Archives of American Art fosters advanced research through the accumulation and dissemination of primary sources, unequaled in historical depth and breadth, that document more than 200 years of the nation's artists and art communities. The Archives provides access to these materials through its exhibitions and publications, including the Archives of American Art Journal, the longest-running scholarly journal in the field of American art. An international leader in the digitizing of archival collections, the Archives also makes more than 2 million digital images freely available online. The Archives' oral history collection includes more than 2,200 audio interviews, the largest accumulation of in-depth, first-person accounts of the American art world. For more information, visit the Archives website at www.aaa.si.edu and follow the Archives on Twitter at @ArchivesAmerArt.
# # #
SI-323-2015