Leo Mazow Is Awarded the 25th Annual Eldredge Prize for His Book Thomas Hart Benton and the American Sound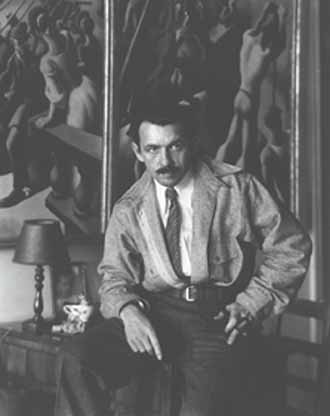 The Smithsonian American Art Museum has awarded the Charles C. Eldredge Prize for Distinguished Scholarship in American Art to Leo Mazow for his book Thomas Hart Benton and the American Sound (Pennsylvania State University Press, 2012). His book is recognized for its "new and unexpected ways of thinking about a canonical artist, supported by pioneering archival research and supple visual and textual analysis."
"Leo Mazow's book offers a new model for examining artworks that combines formal, archival and social analysis with fascinating results," said Elizabeth Broun, The Margaret and Terry Stent Director of the Smithsonian American Art Museum.
The three jurors who awarded the $3,000 prize were David Cateforis, professor of art history at The University of Kansas; Rachael Ziady DeLue, associate professor in the department of art and archaeology at Princeton University; and Erica E. Hirshler, Croll Senior Curator of American Paintings at the Museum of Fine Arts, Boston.
The jurors wrote "Mazow's Thomas Hart Benton and the American Sound reverberates with potent ideas about the relationship between the history of visual art and sound. By contextualizing Benton's paintings within a sonic environment—a world of radio, recordings, the whistles of trains and the scream of machinery—Mazow illuminates our understanding of the artist's formal designs and rhythms and expands the manner in which we perceive his vernacular subjects. Delightfully written in language that sings and shouts along with its themes, Mazow's book offers an entirely new way of relating Benton's work to the sounds of his time."
Mazow is associate professor of art history at the University of Arkansas. Before his arrival at the University of Arkansas in 2010, he was curator of American art at the Palmer Museum of Art at The Pennsylvania State University. While there, Mazow organized and contributed to the accompanying catalogs for numerous exhibitions, including "Taxing Visions: Financial Episodes in Late 19th-Century American Art" (2010, co-curator), "Shallow Creek: Thomas Hart Benton and American Waterways" (2007), "Picturing the Banjo" (2005) and "Arneson and the Object" (2004). Mazow has published articles on regionalism, New York dada and American landscape painting in such journals as Art Bulletin, American Art and Winterthur Portfolio. Thomas Hart Benton and the American Sound was supported by a Wyeth Foundation for American Art Publication Grant, administered by the College Art Association, and by a senior fellowship at the Smithsonian American Art Museum. He currently is working on a book project titled Hopper's Hotels: Edward Hopper and the Promise of American Mobility. Mazow earned a doctorate from the University of North Carolina at Chapel Hill in 1996.
The Eldredge Prize, named in honor of the former director of the museum (1982-1988), is sponsored by the American Art Forum, a patrons' support organization. This annual award, initiated in 1989, recognizes originality and thoroughness of research, excellence of writing and clarity of method. Single-author, book-length publications in the field of American art history appearing within the three previous calendar years are eligible. Dec. 1 is the deadline for next year's nominations.
Recent Eldredge Prize recipients include Maurie D. McInnis (2012) for her book Slaves Waiting for Sale: Abolitionist Art and the American Slave Trade and Kristina Wilson (2011) for The Modern Eye: Stieglitz, MoMA, and the Art of Exhibition, 1925–1934. A complete list of past winners is available online at americanart.si.edu/research/awards/eldredge.
The museum's research programs include fellowships for pre- and postdoctoral scholars, extensive photographic collections documenting American art and artists and unparalleled art research databases. An active publications program of books, catalogs and the journal American Art complements the museum's exhibitions and educational programs.
Eldredge Prize Lecture
Mazow will present the annual Eldredge Prize lecture in the museum's McEvoy Auditorium Thursday, Sept. 26, at 4 p.m. A reception follows the event. The lecture and reception are free and open to the public.
About the Smithsonian American Art Museum
The Smithsonian American Art Museum celebrates the vision and creativity of Americans with artworks in all media spanning four centuries. Its National Historic Landmark building is located at Eighth and G streets N.W., above the Gallery Place/Chinatown Metrorail station. Museum hours are 11:30 a.m. to 7 p.m. daily (closed Dec. 25). Admission is free. Follow the museum on Twitter, Facebook, Flickr, Pinterest, ArtBabble, iTunes and YouTube. Museum information (recorded): (202) 633-7970. Smithsonian Information: (202) 633-1000. Website: americanart.si.edu.
# # #
SI-162-2013