Learning the ABCs of Design
Cooper-Hewitt to Celebrate NYCxDesign with School-wide Design in the Classroom, Design Tales for Toddlers and Innovative Educational Design Expo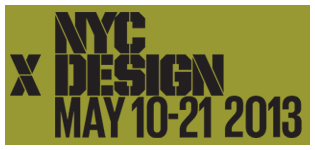 The Smithsonian's Cooper-Hewitt, National Design Museum will celebrate NYCxDesign—New York City's inaugural citywide event to showcase and promote design of all disciplines—with several educational initiatives, including a programmatic takeover of Public School 3 in lower Manhattan, Design Tales for toddlers and a design expo for teachers.
From May 10 to May 16, the entire student body of P.S. 3 will participate in Design in the Classroom, Cooper-Hewitt's ongoing program that sends design educators into classrooms for free hands-on workshops. The museum will also offer programs to engage the littlest designers in visualization and creative play at Design Tales, held May 14, May 16 and May 21 at the Cooper-Hewitt Design Center (111 Central Park North, New York). On May 15, Cooper-Hewitt will host the Innovative Educational Design Expo, in collaboration with the GreenLab committee of the NEST+m public school, highlighting schools in New York that are creating stimulating environments for K-12 students.
"Our education programs introduce design thinking from an early age and teach children to approach challenges in a visual and constructive way," said Caroline Baumann, acting director of the museum. "Thanks to generous support from Target, we are very pleased to be able to take this opportunity of our renovation at the 91st Street campus and bring our free programs into the NYC classroom, impacting thousands of young minds across all five boroughs."
The Design in the Classroom program imparts essential 21st-century skills, such as critical thinking, visual literacy, teamwork and problem solving and can be used to enhance the teaching of any subject matter, including mathematics, science, environmental studies, language arts, history and visual arts. By participating in the 45-minute workshop, children engage in the design process through active observation, critical discussion, the act of making, visual communication and presentation and critique.
"Design thinking supports what many of our teachers are already doing in the classroom and can strengthen problem-solving skills across curricula," said principal Lisa Siegman of P.S. 3. "We are incredibly excited to bring Cooper-Hewitt's educators into our school, for what I know will be a rich and rewarding experience for all the students."
The Design Tales program at the Cooper-Hewitt Design Center, held at 10 a.m. and 11:30 a.m. May 14, May 16 and May 21, explores design basics for preschoolers ages 2 to 5, and aims to teach kids that design is all around them by making them active participants in the design process. Toddlers participate in interactive reading sessions that focus on design-based books that reinforce basic elements of design such as shape, line, color and texture, as well as ideas such as material, functionality and form.
The Innovative Educational Design Expo, held May 15 from 5 to 8 p.m. at the Cooper-Hewitt Design Center, will feature an open house for educators to meet representatives from different groups creating groundbreaking classroom environments for K-12 students. The expo will be followed by brief presentations from NEST+m, Cooper-Hewitt and other innovative practitioners, with an opportunity for discussion afterwards.
About Design in the Classroom
Design in the Classroom reached nearly 17,000 students across all five boroughs during its inaugural 2011-2012 academic year, a 50 percent increase compared to the 2009-2010 numbers of on-site programs at the museum. The museum is on track to reach 19,000 students by the end of the 2012-2013 school year.
Every K-12 New York teacher is eligible to register for the free workshop, which is aligned to core curriculum, and includes all materials, teaching resources and a visiting Cooper-Hewitt design educator. After the workshops teachers have access to resources to help them continue to integrate design thinking into their classes, including recommended activities and selected key lesson plans from Cooper-Hewitt's online Educator Resource Center, which has more than 400 free standards-based K-12 design-focused lesson plans written primarily by classroom teachers from around the country.
About the Cooper-Hewitt Design Center
More than 12,000 people have been served since the Cooper-Hewitt Design Center opened in May 2012. The museum offers educational programs that explore the role of design in everyday life, including Target Design Kids, drop-in design programs, with free workshops for children ages 5 and older; evening public programs for adults, including the Design Talks and Harlem Focus series; and professional development programs for K-12 educators.
Target Design K-12: Design in the Classroom is made possible by the generous support of Target.
The Cooper-Hewitt Design Center is made possible by the generous sponsorship of Target.
Additional support is provided by Maharam and Suzanne Tick/Tandus Flooring. Special thanks to Todd Oldham Studio.
About the Smithsonian's Cooper-Hewitt, National Design Museum
Founded in 1897, Cooper-Hewitt is the only museum in the nation devoted exclusively to historic and contemporary design. The museum presents compelling perspectives on the impact of design on daily life through active educational programs, exhibitions and publications.
Cooper-Hewitt's main facility, housed in the Carnegie Mansion, is undergoing renovation as part of a $64 million capital campaign that includes enlarged and enhanced facilities for exhibitions, collections display, education programming and the National Design Library, and an increased endowment. During the renovation, Cooper-Hewitt's usual schedule of exhibitions, education programs and events are being staged at various off-site locations. The renovated facility is scheduled to reopen in fall 2014.
# # #
SI-164-2013